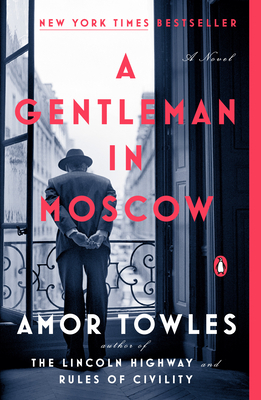 ----
A winning, stylish novel." --NPR.org
"Enjoyable, elegant."--Seattle Times
"This is an old fashioned sort of romance, filled with delicious detail."--Louise Erdrich
"Towles gets good mileage from the considerable charm of his protagonist and the peculiar world he inhabits."--The New Yorker
"Irresistible"--O, The Oprah Magazine
"'The Grand Budapest Hotel' and 'Eloise' meets all the Bond villains."--TheSkimm
"Special keys, secret compartments, gold coins, vials of coveted liquid, old-fashioned pistols, duels and scars, hidden assignations (discreet and smoky), stolen passports, a ruby necklace, mysterious letters on elegant hotel stationery . . . a luscious stage set, backdrop for a downright Casablanca-like drama."--The San Francisco Chronicle
----
We've loved Amor Towles' charming novel A Gentleman in Moscow since it was first published. It's atmospheric, transporting, and engrossing in all the right ways. Our one quibble? There wasn't a paperback edition.
If you've put off reading this lovely book, wait no longer. The long-anticipated paperback edition will be published on March 26. Preorder your copy now, then schedule a vacation day so you can enjoy this glorious Russian treat.
----
Enter to win a "Book Club in a Bag"
Talking about a book with friends is one of life's simple pleasures. To make that easy for you, CGB is offering a "book club in a bag." Order a copy of A Gentleman in Moscow before March 26, and you can enter a drawing for
a tote bag

four copies of A Gentleman in Moscow
an advance copy of The Secrets We Keep

a map of Moscow
Get a jump on finding your book club's next great pick. Enter to win an advance copy of The Secrets We Keep. At the height of the Cold War, two secretaries are pulled out of the typing pool at the CIA and given the assignment of a lifetime. Their mission: to smuggle Doctor Zhivago out of the USSR, where no one dare publish it, and help Pasternak's magnum opus make its way into print around the world. The Secrets We Keep will be published September 17, but you can read it early. Stop by the bookstore in March for details.