They can't leap tall buildings in a single bound, but that doesn't stop these real-life crime fighters.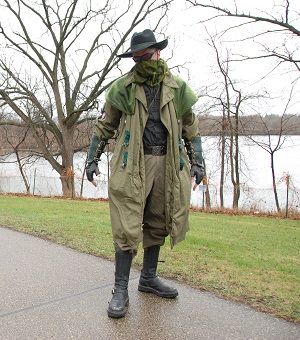 Heroes in the Night takes us into the strange subculture of Real Life Superheroes (RLSHs), this book examines citizens who have adopted comic book–style personas and have hit the streets to fight injustice in a variety of ways. Some RLSHs concentrate on humanitarian or activist missions--helping the homeless, gathering donations for food banks, or delivering toys to children--while others actively patrol their neighborhoods looking for crime to fight. By day, these modern Clark Kents work as dishwashers, pencil pushers, and executives in Fortune 500 companies, but by night they become heroes for the people. Through historic research and extensive interviews, Heroes in the Night tells of not only their shining, triumphant moments, but also some of their ill-advised, terrifying disasters.
Author Tea Krulos will be joined by two of Minnesota's own superheroes: Razorhawk and Geist are founding members of the Great Lakes Alliance, a team of Minnesota-based Real Life Superheroes. They actively patrol the streets looking for crime and organize charity events.
Razorhawk, a former semi-pro wrestler from Minneapolis, operates his own RLSH costume design company, Atomic Hero Wear. He was the winner of Stan Lee's RLSH-themed reality  show Academy of Heroes. He also organizes a large scale annual RLSH meet up in San Diego called HOPE. It is a hand out of supplies to San Diego's homeless population that coincides with San Diego Comic Con.
Geist, also known as the Emerald Cowboy, operates out of Rochester, MN where he patrols for crime, paints over gang graffiti and commits random acts of kindness.
----
Tea Krulos is a freelance journalist from Milwaukee, WI. His work has appeared in a variety of publications including Milwaukee magazine, the Guardian, New York Press, Boston Phoenix, Third Coast Digest, Sheherd Express, and Riverwest Currents. Heroes in the Night is his first book. He lives on the east side of Milwaukee with his comic book collection. Find him online at www.heroesinthenight.blogspot.com.
Event date:
Sunday, October 20, 2013 - 4:00pm

$16.95
ISBN: 9781613747759
Availability: Special Order Only - Please Contact Us
Published: Chicago Review Press - October 2013
---