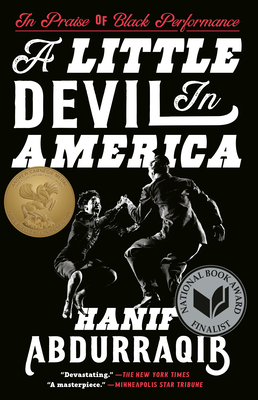 A Little Devil in America: In Praise of Black Performance
Publication Date:
March 8th, 2022
Publisher:
Random House Trade Paperbacks
Description
NATIONAL BOOK AWARD FINALIST • A sweeping, genre-bending "masterpiece" (Minneapolis Star Tribune) exploring Black art, music, and culture in all their glory and complexity—from Soul Train, Aretha Franklin, and James Brown to The Fresh Prince of Bel-Air, Whitney Houston, and Beyoncé

ONE OF THE TEN BEST BOOKS OF THE YEAR: Chicago Tribune, The Philadelphia Inquirer, The Dallas Morning News, Publishers Weekly
"Gorgeous essays that reveal the resilience, heartbreak, and joy within Black performance."—Brit Bennett, #1 New York Times bestselling author of The Vanishing Half
"I was a devil in other countries, and I was a little devil in America, too." Inspired by these few words, spoken by Josephine Baker at the 1963 March on Washington, MacArthur "Genius Grant" Fellow and bestselling author Hanif Abdurraqib has written a profound and lasting reflection on how Black performance is inextricably woven into the fabric of American culture. Each moment in every performance he examines—whether it's the twenty-seven seconds in "Gimme Shelter" in which Merry Clayton wails the words "rape, murder," a schoolyard fistfight, a dance marathon, or the instant in a game of spades right after the cards are dealt—has layers of resonance in Black and white cultures, the politics of American empire, and Abdurraqib's own personal history of love, grief, and performance.
Touching on Michael Jackson, Patti LaBelle, Billy Dee Williams, the Wu-Tan Clan, Dave Chappelle, and more, Abdurraqib writes prose brimming with jubilation and pain. With care and generosity, he explains the poignancy of performances big and small, each one feeling intensely familiar and vital, both timeless and desperately urgent. Filled with sharp insight, humor, and heart, A Little Devil in America exalts the Black performance that unfolds in specific moments in time and space—from midcentury Paris to the moon, and back down again to a cramped living room in Columbus, Ohio.
WINNER OF THE ANDREW CARNEGIE MEDAL AND THE GORDON BURN PRIZE • FINALIST FOR THE NATIONAL BOOK CRITICS CIRCLE AWARD AND THE PEN/DIAMONSTEIN-SPIELVOGEL AWARD
ONE OF THE BEST BOOKS OF THE YEAR: The New York Times Book Review, Time, The Boston Globe, NPR, Rolling Stone, Esquire, BuzzFeed, Thrillist, She Reads, BookRiot, BookPage, Electric Lit, The Rumpus, LitHub, Library Journal, Booklist
Praise for A Little Devil in America: In Praise of Black Performance
"To call [Hanif] Abdurraqib anything less than one of the best writers working in America, and to call this book anything less than a masterpiece, would be doing him, and literature as a whole, a disservice."—Minneapolis Star Tribune
"Hanif is one of the most exciting writers of his generation."—Los Angeles Review of Books
"Abdurraqib sees performance as a site of radical questioning, experimentation, and dream-making. This book is not a work of theory. It is sensual."—Vulture
"Poignant . . . Abdurraqib has written an important book on the transformative power of . . . love."—The New York Times
"Hanif Abdurraqib's genius is in pinpointing those moments in American cultural history when Black people made lightning strike. But Black performance, Black artistry, Black freedom too often came at devastating price. The real devil in America is America itself, the one who stole the soul that he, through open eyes and with fearless prose, snatches back. This is searing, revelatory, filled with utter heartbreak, and unstoppable joy."—Marlon James, author of Black Leopard, Red Wolf

"Hanif Abdurraqib has a way of taking slices of our cultural landscape, examining them, and transforming them into observations and analyses that leave me underlining the entire page. In A Little Devil iIn America, Abdurraqib brilliantly braids together history, criticism, and prose so stunning that it makes you want to read every word out loud just so you can hear its music. Everything Abdurraqib writes is a must-read, but this is his best yet. It is one of the most dynamic books I have ever read."—Clint Smith, author of Counting Descent
"A rapturous exploration of Black genius . . . Whether heralding unsung entertainers or reexamining legends, Hanif Abdurraqib weaves together gorgeous essays that reveal the resilience, heartbreak, and joy within Black performance. I read this book breathlessly."—Brit Bennett, author of The Vanishing Half
"Abdurraqib is one of the most brilliant writers I've ever read. A Little Devil in America needs to be on every bedside table, every high school and college desktop—in this age of revolution, this is that one book that everyone needs to read. Pure genius. I'm not trying to get at even some of the brilliance Hanif gets to with this book—there is just too much. From Black exceptionalism to Josephine Baker to old heads—he brings it and clarifies it, then shapes it into every bit of medicine we need right now."—Jacqueline Woodson
"Staggeringly intimate . . . Filled with nuance and lyricism, Abdurraqib's luminous survey is
stunning."—Publishers Weekly (starred review)
 
"Social criticism, pop culture, and autobiography come together neatly in these pages, and every sentence is sharp, provocative, and self-aware. Another winner from Abdurraqib."—Kirkus Reviews (starred review)