The Director: My Years Assisting J. Edgar Hoover (Paperback)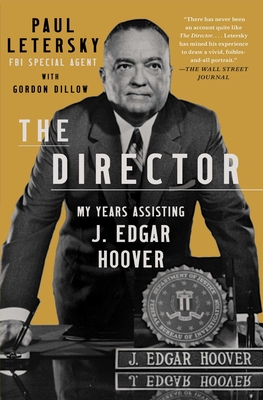 $18.99

Not in our store, available to order
Description
---
The first book ever written about FBI Director J. Edgar Hoover by a member of his personal staff—his former assistant, Paul Letersky—offers unprecedented, "clear-eyed and compelling" (Mark Olshaker, coauthor of Mindhunter) insight into an American legend.

The 1960s and 1970s were arguably among America's most turbulent post-Civil War decades. While the Vietnam War continued seemingly without end, protests and riots ravaged most cities, the Kennedys and MLK were assassinated, and corruption found its way to the highest levels of politics, culminating in Watergate.

In 1965, at the beginning of the chaos, twenty-two-year-old Paul Letersky was assigned to assist the legendary FBI director J. Edgar Hoover who'd just turned seventy and had, by then, led the Bureau for an incredible forty-one years. Hoover was a rare and complex man who walked confidently among the most powerful. His personal privacy was more tightly guarded than the secret "files" he carefully collected—and that were so feared by politicians and celebrities. Through Letersky's close working relationship with Hoover, and the trust and confidence he gained from Hoover's most loyal senior assistant, Helen Gandy, Paul became one of the few able to enter the Director's secretive—and sometimes perilous—world.

Since Hoover's death half a century ago, millions of words have been written about the man and hundreds of hours of TV dramas and A-list Hollywood films produced. But until now, there has been virtually no account from someone who, for a period of years, spent hours with the Director on a daily basis.

Balanced, honest, and keenly observed, this "vivid, foibles-and-all portrait of the fabled scourge of gangsters, Klansmen, and communists" (The Wall Street Journal) sheds new light on one of the most powerful law enforcement figures in American history.
About the Author
---
Paul Letersky is a former FBI agent whose early service included two years working directly for FBI Director J. Edgar Hoover as a personal assistant. Letersky would go on to become a Special Agent and participate in events that grabbed national headlines. After leaving the FBI, he became vice president of Pan American World Airways. Letersky lives in Oregon.

Gordon Dillow has been a reporter, columnist, and war correspondent for more than thirty years. He has written for a number of newspapers, including The Wall Street Journal and Los Angeles Times, and is the author or coauthor of numerous books. He lives in Scottsdale, Arizona.
Praise For…
---
"There has never been an account quite like The Director…Letersky has mined his experience to draw a vivid, foibles-and-all portrait of the fabled scourge of gangsters, Klansmen, and communists."
—Wall Street Journal

"[Recounts] Letersky's years in the FBI's innermost circles….A fly-on-the-wall portrait of interest to students of crime—and rumor."
—Kirkus Reviews

"A fascinating and long overdue look, from the inner sanctum, at J. Edgar Hoover's decades-spanning dictatorial grip on the FBI. Paul Letersky takes you deep inside the psyche of the man who knew all the secrets and played them like a card shark. With a fistful of aces, Hoover imposed his will while protecting his own mysterious inner life."
—Tom Brokaw, Special Correspondent for NBC News and bestselling author of The Greatest Generation

"There have been plenty of books about J. Edgar Hoover but this one brings new meaning to the term, 'the devil is in the details'…. Letersky is a fine writer and storyteller and he told me things I never knew about the man—love him or hate him—who was a major figure in American history."
—Bob Schieffer, CBS News

"Fascinating and engaging… Letersky brings to life a bygone era of G-Men, galoots, and molls—and, delightfully, Hoover's motherly gatekeeper "Miss Gandy," who plays Moneypenny to the author's Bond."
—Chris Whipple, New York Times bestselling author of The Gatekeepers and The Spymasters

"I have been writing about the FBI for a quarter century, and as a kid I even trick-or-treated at J. Edgar Hoover's house. Even so, I discovered in former Special Agent Paul Letersky's The Director new and fascinating insights...Neither a paean nor a hatchet job, this clear-eyed and compelling account of the author's years with the director, followed by his adventures as a street agent, is a welcome contribution to the history of law enforcement and the culture of its most famous agency."
—Mark Olshaker, coauthor of Mindhunter, The Killer Across the Table, and The Killer's Shadow

"I entered the FBI under Mr. Hoover who turned out to be the best Director I served under in my twenty-seven years at the Bureau. This book is an honest and accurate portrayal of Hoover's personality and acts of kindness as well as the control he had over not just the FBI but politicians. A must read."
—Joe Pistone aka Donnie Brasco, former FBI Special Agent

"Folksy and fascinating. Letersky had unusual personal access to Hoover and he documents many of his boss' worst instincts and rigid eccentricities, but also debunks some of the pointless and nasty rumors."
—Sanford J. Ungar, former Director of Voice of America and host of "All Things Considered," and author of FBI: An Uncensored Look Behind the Walls

"For a span of decades that defies belief, J. Edgar Hoover wielded more power than any other lawman in American history. Paul Letersky's rich eyewitness stories of a supercop who could be both steel-fisted and strangely soft makes this by far the most illuminating portrait of Hoover I've read."
—Don Brown, former prosecutor and bestselling author of Travesty of Justice

"Though I worked for the FBI for a quarter century, I found many of the things Letersky talks about in The Director shockingly new, simply because no one dared speak them until now. The book rounds out what we know about J. Edgar Hoover. Yes, he was demanding, odd at times, secretive, and vindictive, but he was far more complex than most people imagine. Only could a person working by his side, who answered his phone and read his mail and dealt with his fits of pique and bursts of enthusiasm, give us this insight."
—Joe Navarro, former Special Agent and author of Three Minutes to Doomsday

"Letersky draws back the curtain of history to offer a rare, cinematic glimpse into the psychology and motivation of the Bureau's first Director, J. Edgar Hoover….A must read for anyone interested in the most celebrated of American law enforcement agencies."
—Robert K. Wittman, Founder of the FBI Art Crime Team and New York Times bestselling author of Priceless and The Devil's Diary

"Anyone interested in American history will find fascinating what the book reveals about 'The Director' and his agents. As a former member of Special Operations who learned to make maximum use of intel, I found entertaining what Letersky shows about the power of secrets."
—Tom Satterly, author of All Secure and, also, retired Delta Force operator whose life was portrayed in Black Hawk Down