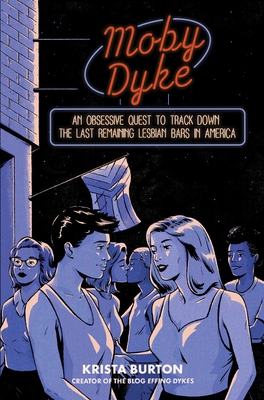 Moby Dyke: An Obsessive Quest To Track Down The Last Remaining Lesbian Bars In America
Publication Date:
June 6th, 2023
Publisher:
Simon & Schuster
Next Chapter Booksellers
1 on hand, as of Dec 8 10:52pm
(Non Fiction)
On Our Shelves Now
Description
A former Rookie contributor and creator of the popular blog Effing Dykes investigates the disappearance of America's lesbian bars by visiting the last few in existence.
Lesbian bars have always been treasured safe spaces for their customers, providing not only a good time but a shelter from societal alienation and outright persecution. In 1987, there were 206 of them in America. Today, only a couple dozen remain. How and why did this happen? What has been lost—or possibly gained—by such a decline? What transpires when marginalized communities become more accepted and mainstream?
In Moby Dyke, Krista Burton attempts to answer these questions firsthand, venturing on an epic cross-country pilgrimage to the last few remaining dyke bars. Her pilgrimage includes taking in her first drag show since the onset of the pandemic at The Back Door in Bloomington, Indiana; competing in dildo races at Houston's Pearl Bar; and, despite her deep-seated hatred of karaoke, joining a group serenade at Nashville's Lipstick Lounge and enjoying the dreaded pastime for the first time in her life. While Burton sets out on the excursion to assess the current state of lesbian bars, she also winds up examining her own personal journey, from coming out to her Mormon parents to recently marrying her husband, a trans man whose presence on the trip underscores the important conversation about who precisely is welcome in certain queer spaces—and how they and their occupants continue to evolve.
Moby Dyke is an insightful and hilarious travelogue that celebrates the kind of community that can only be found in windowless rooms soundtracked by Britney Spears-heavy playlists and illuminated by overhead holiday lights no matter the time of year.
Praise for Moby Dyke: An Obsessive Quest To Track Down The Last Remaining Lesbian Bars In America
"Moby Dyke is a hilarious adventure story, a full-throated love letter to lesbian bars, and an open-hearted memoir all wrapped up in one glorious package. Come for the bars and stay for the people inside them." —Emma Straub, bestselling author of This Time Tomorrow and All Adults Here
"Krista Burton's voice is one of a kind and this is the exact book I've wanted from her. Moby Dyke is hilarious and perceptive, expertly weaving cultural and personal history with observations that made me laugh in public. I hope to copy down a drunk thought as eloquently as Krista does, and to read many more books that are this in love with their subjects." —Tavi Gevinson, actor, writer and founder/editor of Rookie 
"As warm, lively, and funny as your favorite regular at your favorite queer bar." —Rax King, author of Tacky: Love Letters to the Worst Culture We Have to Offer
"This book is a masterpiece--simultaneously a hilarious memoir, rip-roaring travel diary, and thoughtful trip through history. Burton writes with such ferocious personality that you'll feel as though you are right there with her, zipping around unknown cities on scooters and panicking on the highway in rental cars while trying to grasp the last beacons of a vanishing gay cultural touchstone. Engaging, witty, heart-filled and heartfelt—I couldn't put it down." —Danielle Henderson, author of The Ugly Cry and creator of Feminist Ryan Gosling
"A celebration of [the] places that have long served as safe havens for the lesbian community. But Burton's stories about her own life also shine—she brings the introspective and observational humor that made her blog, Effing Dykes, so popular."—Marie Lodi, Bust
"Engaging, entertaining and insightful...a fun but thought-provoking book that's a perfect read for the start of summer." —Jaime Herndon, BookRiot
"Burton's keen observations and sense of humor are on full display...An infectious celebration of the joy and resilience of queer spaces." —Publishers Weekly
"A lighthearted, honest narrative...Fans of travel memoirs and Burton's zealous personality will delight in this white-whale hunt." —Kirkus Reviews
"A hilarious and affectionate investigation into the past and future of queer gathering spots...An accomplished and very funny journalist, Burton is able to track serious issues around queer belonging in a fresh and lively voice. The personal narrative underlying her pursuit of lesbian bars--including her marriage to Davin, a trans man, and coming out to her conservative Mormon family--is as topical and good-humored as the interviews and reportage contained here." —Catherine Hollis, BookPage
"Endearing…Easy to read and personal, Burton's story will make any reader want to follow in her footsteps."—Emily Dzibuan, Booklist
"Part celebration and part elegy...stirring up necessary conversations about who is welcome where."—Michelle Hart, Electric Lit
"Burton writes in an upbeat, engaging voice that makes you feel like you're chatting with her over beers...[One of] of the best queer American travelogues since Edmund White's States of Desire was published way back in 1980."—Passport Magazine