Indecent Advances: A Hidden History of True Crime and Prejudice Before Stonewall (Paperback)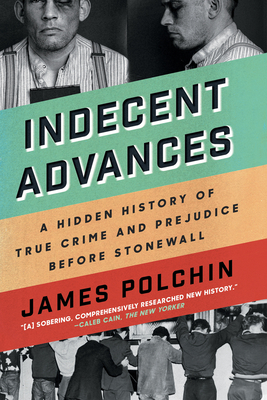 $16.95
Not in Our Store - Available to Order
Description
---
" A] fascinating new book on the treatment of gay men in true crime and crime fiction that] reexamines the violence that people at the Stonewall Inn had faced every day, and the rage crackling up underneath . . . What makes Polchin's readings stand out is the way he pursues an underlying story across several seemingly separate crimes." ―Alexander Chee, The New Republic
Stories of murder have never been just about killers and victims. Instead, crime stories take the shape of their times and reflect cultural notions and prejudices. In Indecent Advances, James Polchin recovers and recounts queer stories from the crime pages―often lurid and euphemistic―that reveal the hidden history of violence against gay men.
What was left unsaid in the crime pages provides insight into the figure of the queer man as both criminal and victim, offering readers tales of vice and violence that aligned gender and sexual deviance with tragic, gruesome endings. Victims were often reported as having made "indecent advances," forcing the accused's hands in self-defense and reducing murder charges to manslaughter.
Published in time for the fiftieth anniversary of the Stonewall uprising on June 28, 1969, Indecent Advances investigates how queer men navigated a society that criminalized them and displayed little compassion for the violence they endured. Polchin shows, with masterful insight, how this discrimination was ultimately transformed by activists to help shape the burgeoning gay rights movement in the years leading up to Stonewall.
About the Author
---
JAMES POLCHIN, PhD, has taught at the Princeton Writing Program, the Parsons School of Design, the New School for Public Engagement, and the Creative Nonfiction Foundation. A clinical professor at New York University, he lives in New York City with his husband, the photographer Greg Salvatori. Indecent Advances is his first book.