Bushcraft Basics: A Common Sense Wilderness Survival Handbook (Paperback)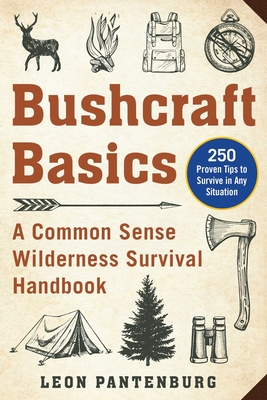 $14.99
Email or call for price
Description
---
Be ready for any emergency, at any time. Could you survive in the wilderness on your own? From clothing recommendations to picking the best firestarter, expert survival instructor Leon Pantenburg shares his immense knowledge of bushcraft and survivalist skills so that anyone—backpackers, preppers, city dwellers, and more—can be ready for a possible emergency.
In
Bushcraft Survival
, Pantenburg delivers practical tips and anecdotes that cater to readers who are looking to improve their outdoor skills and prepare for every potential disaster. Drawing from his personal experience as an avid outdoorsman and years as a journalist, Pantenburg lays out easy-to-follow steps to prep for both short and long-term survival situations.
As natural disasters become increasingly present and people continue to rely on reality television shows for survival tips, developing bushcraft abilities is becoming more and more important. In this thorough handbook, Pantenburg covers a wide range of topics, including:  
Developing a survival mindset
Crafting survival kits
Choosing clothing best suited to survival
Picking materials and objects to help you survive
Building a variety of shelters
Deciding what survival tools you should pack and which you should leave at home
Effectively make a fire using different techniques
Filled with time-tested techniques and first-hand experience, 
Bushcraft Survival 
is the ideal book for those who want to step up their hiking or camping game, as well as those who are searching for relevant advice on emergency preparedness. 
About the Author
---
Leon Pantenburg is the author of Survival Common Sense, a bushcrafting/wilderness survival website and blog that has been in continuous operation since October, 2009. Pantenburg is a wilderness enthusiast, and while he doesn't claim to be an expert survivalist, he has interviewed many who are. As a newspaperman and journalist for four decades covering all sorts of news stories, he has seen his share of floods and forest fires, hurricanes and tornadoes, earthquakes, mudslides, and other natural disasters. He's also reported on too many tragic outcomes from wilderness emergencies where common sense actions might have changed the tragic outcome. After graduating from Iowa State University in Ames, he completed a six-month, 2,552-mile solo Mississippi River canoe trip from the headwaters at Lake Itasca, Minnesota, to the Gulf of Mexico. His wilderness backpacking experience includes extended solos through Yellowstone's backcountry, hiking the John Muir Trail in California, and numerous shorter trips along the Pacific Crest Trail. From 2001 through 2017, when he relocated to Mississippi, Pantenburg was actively involved in a Boy Scout Troop in Bend, Oregon as an assistant Scoutmaster and as a Scoutmaster Wilderness Skills Trainer for the Boy Scouts' Fremont District. He now teaches common sense techniques to the average person in order to avert potential disasters. He resides in Mississippi with his family.