Between the World and Me (Hardcover)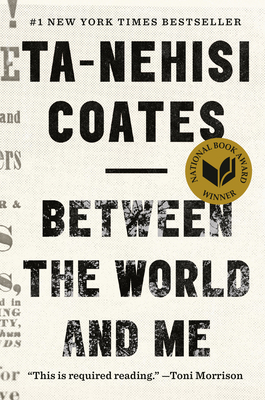 Staff Reviews
---
"To crib Toni Morrison's blurb, Between the World and Me ought to be required reading. Ta-Nehisi Coates says he doesn't 'want to be anyone's expert,' but that isn't to say there aren't some crucial truths inside this book. Poetic and tragic and timely."
— Sam
September 2015 Indie Next List
---
"Coates writes about fear and its corrosive effects on our culture from a very personal perspective. He persuades us that we need a new way of understanding American history, a new story, and new names for ourselves and others in order for humanity to survive and thrive. Between the World and Me is urgently needed and should be required reading for everyone in America: high school and college students, church group members, business people, and especially all law enforcement and justice department personnel. This is a book I wish did not need to be written, but I am grateful to Coates for having the courage to share his views."
— Liza Bernard (M), Norwich Bookstore, Norwich, VT
Description
---
Hailed by Toni Morrison as "required reading," a bold and personal literary exploration of America's racial history by "the single best writer on the subject of race in the United States" (The New York Observer)

#1 NEW YORK TIMES BESTSELLER | NATIONAL BOOK AWARD WINNER | NAACP IMAGE AWARD WINNER | PULITZER PRIZE FINALIST | NATIONAL BOOK CRITICS CIRCLE AWARD FINALIST | NAMED ONE OF THE TEN BEST BOOKS OF THE YEAR BY The New York Times Book Review • O: The Oprah Magazine • The Washington Post • People • Entertainment Weekly • Vogue • Los Angeles Times • San Francisco Chronicle • Chicago Tribune • New York • Newsday • Library Journal • Publishers Weekly

In a profound work that pivots from the biggest questions about American history and ideals to the most intimate concerns of a father for his son, Ta-Nehisi Coates offers a powerful new framework for understanding our nation's history and current crisis. Americans have built an empire on the idea of "race," a falsehood that damages us all but falls most heavily on the bodies of black women and men—bodies exploited through slavery and segregation, and, today, threatened, locked up, and murdered out of all proportion. What is it like to inhabit a black body and find a way to live within it? And how can we all honestly reckon with this fraught history and free ourselves from its burden?

Between the World and Me is Ta-Nehisi Coates's attempt to answer these questions in a letter to his adolescent son. Coates shares with his son—and readers—the story of his awakening to the truth about his place in the world through a series of revelatory experiences, from Howard University to Civil War battlefields, from the South Side of Chicago to Paris, from his childhood home to the living rooms of mothers whose children's lives were taken as American plunder. Beautifully woven from personal narrative, reimagined history, and fresh, emotionally charged reportage, Between the World and Me clearly illuminates the past, bracingly confronts our present, and offers a transcendent vision for a way forward.

Praise for Between the World and Me

"Powerful . . . a searing meditation on what it means to be black in America today."—Michiko Kakutani, The New York Times

"Eloquent . . . in the tradition of James Baldwin with echoes of Ralph Ellison's Invisible Man . . . an autobiography of the black body in America."—The Boston Globe

"Brilliant . . . [Coates] is firing on all cylinders."—The Washington Post

"Urgent, lyrical, and devastating . . . a new classic of our time."—Vogue

"A crucial book during this moment of generational awakening."—The New Yorker

"Titanic and timely . . . essential reading."—Entertainment Weekly
About the Author
---
Ta-Nehisi Coates is a national correspondent for The Atlantic. His book Between the World and Me won the National Book Award in 2015. Coates is the recipient of a MacArthur Fellowship. He lives in New York City with his wife and son.
Praise For…
---
"I've been wondering who might fill the intellectual void that plagued me after James Baldwin died. Clearly it is Ta-Nehisi Coates. The language of Between the World and Me, like Coates's journey, is visceral, eloquent, and beautifully redemptive. And its examination of the hazards and hopes of black male life is as profound as it is revelatory. This is required reading."—Toni Morrison

"Powerful and passionate . . . profoundly moving . . . a searing meditation on what it means to be black in America today."—Michiko Kakutani, The New York Times

"Really powerful and emotional."—John Legend, The Wall Street Journal

"Extraordinary . . . [Coates] writes an impassioned letter to his teenage son—a letter both loving and full of a parent's dread—counseling him on the history of American violence against the black body, the young African-American's extreme vulnerability to wrongful arrest, police violence, and disproportionate incarceration."—David Remnick, The New Yorker

"Brilliant . . . a riveting meditation on the state of race in America . . . [Coates] is firing on all cylinders, and it is something to behold: a mature writer entirely consumed by a momentous subject and working at the extreme of his considerable powers at the very moment national events most conform to his vision."—The Washington Post

"An eloquent blend of history, reportage, and memoir written in the tradition of James Baldwin with echoes of Ralph Ellison's Invisible Man . . . It is less a typical memoir of a particular time and place than an autobiography of the black body in America. . . . Coates writes with tenderness, especially of his wife, child, and extended family, and with frankness. . . . Coates's success, in this book and elsewhere, is due to his lucidity and innate dignity, his respect for himself and for others. He refuses to preach or talk down to white readers or to plead for acceptance: He never wonders why we just can't all get along. He knows government policies make getting along near impossible."—The Boston Globe

"For someone who proudly calls himself an atheist, Coates gives us a whole lot of 'Can I get an amen?' in this slim and essential volume of familial joy and rigorous struggle. . . . [He] has become the most sought-after public intellectual on the issue of race in America, with good reason. Between the World and Me . . . is at once a magnification and a distillation of our existence as black people in a country we were not meant to survive. It is a straight tribute to our strength, endurance and grace. . . . [Coates] speaks resolutely and vividly to all of black America."—Los Angeles Times

"A crucial book during this moment of generational awakening."—The New Yorker

"A work that's both titanic and timely, Between the World and Me is the latest essential reading in America's social canon."—Entertainment Weekly

"Coates delivers a beautiful lyrical call for consciousness in the face of racial discrimination in America. . . . Between the World and Me is in the same mode of The Fire Next Time; it is a book designed to wake you up. . . . An exhortation against blindness."—The Guardian

"Coates has crafted a deeply moving and poignant letter to his own son. . . . [His] book is a compelling mix of history, analysis and memoir. Between the World and Me is a much-needed artifact to document the times we are living in [from] one of the leading public intellectuals of our generation. . . . The experience of having a sage elder speak directly to you in such lyrical, gorgeous prose—language bursting with the revelatory thought and love of black life—is a beautiful thing."—The Root

"Rife with love, sadness, anger and struggle, Between the World and Me charts a path through the American gauntlet for both the black child who will inevitably walk the world alone and for the black parent who must let that child walk away."—Newsday

"Poignant, revelatory and exceedingly wise, Between the World and Me is an essential clarion call to our collective conscience. We ignore it at our own peril."—San Francisco Chronicle

"Masterfully written . . . powerful storytelling."—New York Post

"One of the most riveting and heartfelt books to appear in some time . . . The book achieves a level of clarity and eloquence reminiscent of Ralph Ellison's classic Invisible Man. . . . The perspective [Coates] brings to American life is one that no responsible citizen or serious scholar can safely ignore."—Foreign Affairs

"Urgent, lyrical, and devastating in its precision, Coates has penned a new classic of our time."—Vogue

"Powerful."—The Economist

"A work of rare beauty and revelatory honesty . . . Between the World and Me is a love letter written in a moral emergency, one that Coates exposes with the precision of an autopsy and the force of an exorcism. . . . Coates is frequently lauded as one of America's most important writers on the subject of race today, but this in fact undersells him: Coates is one of America's most important writers on the subject of America today. . . . [He's] a polymath whose breadth of knowledge on matters ranging from literature to pop culture to French philosophy to the Civil War bleeds through every page of his book, distilled into profound moments of discovery, immensely erudite but never showy."—Slate

"The most important book I've read in years . . . an illuminating, edifying, educational, inspiring experience."—Smithsonian Asian Pacific American Center

"It's an indescribably enlightening, enraging, important document about being black in America today. Coates is perhaps the best we have, and this book is perhaps the best he's ever been."—Deadspin

"Vital reading at this moment in America."—U.S. News & World Report

"[Coates] has crafted a highly provocative, thoughtfully presented, and beautifully written narrative. . . . Much of what Coates writes may be difficult for a majority of Americans to process, but that's the incisive wisdom of it. Read it, think about it, take a deep breath and read it again. The spirit of James Baldwin lives within its pages."—The Christian Science Monitor

"Part memoir, part diary, and wholly necessary, it is precisely the document this country needs right now."—New Republic

"A moving testament to what it means to be black and an American in our troubled age . . . Between the World and Me feels of-the-moment, but like James Baldwin's celebrated 1963 treatise The Fire Next Time, it stands to become a classic on the subject of race in America."—The Seattle Times

"Riveting . . . Coates delivers a fiery soliloquy dissecting the tradition of the erasure of African-Americans beginning with the deeply personal."—Minneapolis Star Tribune

"[Between the World and Me] is not a Pollyanna, coming-of-age memoir about how idyllic life was growing up in America. It is raw. It is searing. . . . [It's] a book that should be read and shared by everyone, as it is a story that painfully and honestly explores the age-old question of what it means to grow up black and male in America."—The Baltimore Sun

"A searing indictment of America's legacy of violence, institutional and otherwise, against blacks."—Chicago Tribune

"I know that this book is addressed to the author's son, and by obvious analogy to all boys and young men of color as they pass, inexorably, into harm's way. I hope that I will be forgiven, then, for feeling that Ta-Nehisi Coates was speaking to me, too, one father to another, teaching me that real courage is the courage to be vulnerable, to admit having fallen short of the mark, to stay open-hearted and curious in the face of hate and lies, to remain skeptical when there is so much comfort in easy belief, to acknowledge the limits of our power to protect our children from harm and, hardest of all, to see how the burden of our need to protect becomes a burden on them, one that we must, sooner or later, have the wisdom and the awful courage to surrender."—Michael Chabon

"Ta-Nehisi Coates is the James Baldwin of our era, and this is his cri de coeur. A brilliant thinker at the top of his powers, he has distilled four hundred years of history and his own anguish and wisdom into a prayer for his beloved son and an invocation to the conscience of his country. Between the World and Me is an instant classic and a gift to us all."—Isabel Wilkerson, author of The Warmth of Other Suns
Coverage from NPR