Discounted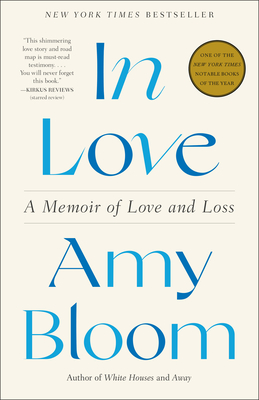 In Love: A Memoir of Love and Loss
Previous price:

$19.00
Current price:

$18.00
Publication Date:
February 21st, 2023
Publisher:
Random House Trade Paperbacks
Next Chapter Booksellers
1 on hand, as of Dec 5 10:37pm
(Biography\Autobiog)
On Our Shelves Now
Amy Bloom's memoir of falling in love with and supporting her husband through early Alzheimer's is a memorable story of dying. Far from depressing, Bloom's warm, funny, and human voice takes us to Switzerland on a powerful trip.
March 2022 Indie Next List
Description
NEW YORK TIMES BESTSELLER • A powerful memoir of a love that leads two people to find a courageous way to part—and a woman's struggle to go forward in the face of loss—that "enriches the reader's life with urgency and gratitude" (The Washington Post)
"A pleasure to read . . . Rarely has a memoir about death been so full of life. . . . Bloom has a talent for mixing the prosaic and profound, the slapstick and the serious."—USA Today
ONE OF THE TEN BEST BOOKS OF THE YEAR: Publishers Weekly
ONE OF THE BEST BOOKS OF THE YEAR: The New York Times Book Review, Time, Entertainment Weekly, NPR, The Washington Post, The Boston Globe, USA Today, Real Simple, Prospect (UK), She Reads, Kirkus Reviews
Amy Bloom began to notice changes in her husband, Brian: He retired early from a new job he loved; he withdrew from close friendships; he talked mostly about the past. Suddenly, it seemed there was a glass wall between them, and their long walks and talks stopped. Their world was altered forever when an MRI confirmed what they could no longer ignore: Brian had Alzheimer's disease.
Forced to confront the truth of the diagnosis and its impact on the future he had envisioned, Brian was determined to die on his feet, not live on his knees. Supporting each other in their last journey together, Brian and Amy made the unimaginably difficult and painful decision to go to Dignitas, an organization based in Switzerland that empowers a person to end their own life with dignity and peace.
In this heartbreaking and surprising memoir, Bloom sheds light on a part of life we so often shy away from discussing—its ending. Written in Bloom's captivating, insightful voice and with her trademark wit and candor, In Love is an unforgettable portrait of a beautiful marriage, and a boundary-defying love.
Shortlisted for the Rathbones Folio Prize
Praise for In Love: A Memoir of Love and Loss
"Bloom has a talent for mixing the prosaic and profound, the slapstick and the serious, which makes the book, despite its depressing subject matter, a pleasure to read. Rarely has a memoir about death been so full of life."—USA Today
"As with all great books about dying, In Love: A Memoir of Love and Loss does not terrorize with grim statistics and forewarnings but rather destigmatizes euthanasia and enriches the reader's life with urgency and gratitude. It renews those joys of being 'In Love' with the people around us—despite the numbing effects of routine and familiarity which so often cause happiness to lapse in middle age."—The Washington Post
"I'm not sure why I hadn't until now read Bloom's fiction. . . . Not reading her: my loss. Bloom has one of those warm, wised-up, tolerantly misanthropic New York voices, in the manner of Laurie Colwin and Sloane Crosley and Allegra Goodman and Nora Ephron, and an ability to deepen her tone at will."—Dwight Garner, The New York Times
"Reading this book is, purely and simply, a transcendent experience. In Love is a thrillingly beautiful, laser-eyed book about love, life, mortality, and, most remarkably, the ways in which no one of the three can be separated from the others. Prepare yourself to be heartbroken, expanded, unsettled, and filled with hope."—Michael Cunningham, author of A Home at the End of the World

"I read In Love in one sitting on a long flight and a flight never went by so fast. I am full of admiration for this important memoir. The mastery of this book draws us in and delivers us, by the last page, changed."—Amy Tan, author of The Joy Luck Club
"In Love is a buoyant and entrancing memoir about one of the worst things that can happen to a couple. Bloom's unfiltered glimpse into a working marriage is both a touchingly besotted portrait of her husband and a wrenching account of his gradual retreat from her. Their resolute approach to his death yields a story pulsing with raw life."—Alison Bechdel, author of Fun Home
"This is a beautiful, necessary book for anyone who loves their partner deeply and wonders and worries what the end might be like: poignant, kind, funny, and ultimately redemptive. One cries a lot, in the best of ways."—Alain de Botton, author of The Course of Love

"A remarkable book from one of the United States's most consistently brilliant writers . . . The subject is death, so the end is inevitable; but Bloom's story is full of surprises and some of the most heartbreaking, honest, and funniest writing you'll ever read."—Roddy Doyle, author of Paddy Clarke Ha Ha Ha

"This shimmering love story and road map is must-read testimony. . . . You will never forget this book, and if you do, let's hope someone close to you remembers."—Kirkus Reviews (starred review)
"A stunning portrayal of how love can reveal itself in life's most difficult moments."—Publishers Weekly (starred review)