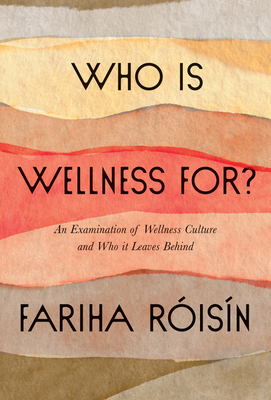 Who Is Wellness For?: An Examination of Wellness Culture and Who It Leaves Behind
Publication Date:
June 14th, 2022
Next Chapter Booksellers
1 on hand, as of Dec 8 10:52pm
(Non Fiction)
On Our Shelves Now
Description
The multi-disciplinary artist and author of Like a Bird and How to Cure a Ghost explores the commodification and appropriation of wellness through the lens of social justice, providing resources to help anyone participate in self-care, regardless of race, identity, socioeconomic status or able-bodiedness.
Growing up in Australia, Fariha Róisín, a Bangladeshi Muslim, struggled to fit in. In attempts to assimilate, she distanced herself from her South Asian heritage and identity. Years later, living in the United States, she realized that the customs, practices, and even food of her native culture that had once made her different—everything from ashwagandha to prayer—were now being homogenized and marketed for good health, often at a premium by white people to white people.
In this thought-provoking book, part memoir, part journalistic investigation, the acclaimed writer and poet explores the way in which the progressive health industry has appropriated and commodified global healing traditions. She reveals how wellness culture has become a luxury good built on the wisdom of Black, brown, and Indigenous people—while ignoring and excluding them.
Who Is Wellness For? is divided into four sections, beginning with The Mind, in which Fariha examines the art of meditation and the importance of intuition. In part two, The Body, she investigates the physiology of trauma, detailing her own journey with fatphobia and gender dysmorphia, as well as her own chronic illness. In part three, Self-Care, she argues against the self-care industrial complex but cautious us against abandoning care completely and offers practical advice. She ends with Justice, arguing that if we truly want to be well, we must be invested in everyone's well being and shift toward nurturance culture. 
Deeply intimate and revelatory, Who Is Wellness For? forces us to confront the imbalance in health and healing and carves a path towards self-care that is inclusionary for all.
Praise for Who Is Wellness For?: An Examination of Wellness Culture and Who It Leaves Behind
"Who is Wellness For? is a crucial look at the commodification of care that's timely and precise, yet deeply soulful. Treading a fine line between cynic and disciple, Fariha Róisín guides us through modalities of healing with a critical and compassionate eye. Who is Wellness For? is a plea for empathy, hope, and yes, self-care." — Stephanie Danler, author of Sweetbitter and Stray
"In Who is Wellness For?, Fariha Róisín offers no quick fixes or easy answers to processing the human condition. Yet, if truth has the power to heal, then Róisín's work is the best kind of healing." — Ashley Ford, author of Somebody's Daughter
"In an age of desensitization, Fariha Róisín's Who Is Wellness For? is an act of resistance. Stimulating, dispersive, and kaleidoscopic, Who Is Wellness For? insists on a multivalent definition of mental, physical, personal, and social wellness. Refusing any false delineations between memoir and social commentary, Róisín creates a clear yet complex tapestry that reveals the conjoined domains of self and collective." — Jessica Dore, LSW, author of Tarot for Change: Using the Cards for Self-Care, Acceptance and Growth
"In Who is Wellness For?, Fariha teaches us that our collective survival is miraculous, and that we need to consistently honor that blessing. Her integrity to healing shows that the work is grueling and vulnerable, yet deeply necessary. I have sobbed, sighed, and smiled while reading this book, and I am deeply moved that we get to witness Fariha hold herself while so generously guiding us toward holding ourselves too." — Mimi Zhu, author of Be Not Afraid of Love
"In Who is Wellness For?, Fariha Róisín investigates how cultural and indigenous forms of wellness are often repackaged and resold, upholding and reinforcing colonial structures of oppression, disempowerment and cultural appropriation. So, how do we break free from Wellness Inc.? Fariha provides both an escape and a solution, allowing readers to move towards a new pathway to healing." — Céline Semaan, founder of Slow Factory Foundation
"In this vital work, Fariha Roisin deconstructs, and then tenderly rebuilds, the concept of "wellness" with stunning insight, giving us a new, liberatory vision of what true healing can look like— not just for ourselves, but for all of us. Weaving together an encyclopedic knowledge of the wellness-industrial-complex with her own compelling journey towards healing, Roisin offers a truly holistic roadmap to a softer world. Everyone must read this book." — Zeba Blay, author of Carefree Black Girls
"In Who Is Wellness For?, Fariha Roisin offers us a courageous and profound exploration of what it truly means to heal—ourselves, our communities, the larger culture, and the planet as a whole. With vulnerability and grace, she describes her continued healing journey, providing us with a beautiful and tender portrait of what true wellness is alongside an analysis of the many social and political realities throughout history that have shaped our shared trauma. Brave, generous, and expansive, Who Is Wellness For? provides insights and guidance for how to live compassionately for the collective." — Sebene Selassie, author of You Belong: A Call for Connection
"In this blistering blend of memoir and cultural criticism, novelist Róisín (Like a Bird) traces her path to healing as an abuse survivor and takes an unsparing look at the appropriation and corruption of Eastern spiritual practices for Western audiences. . . . Ultimately, Róisín's answer to the question her title poses is that 'wellness isn't for anyone if it isn't for everyone,' and through vivid writing and striking curiosity, she makes a solid case for making it so. This profoundly enriching survey nails it." — Publishers Weekly, Starred Review