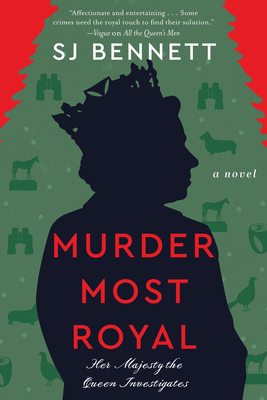 Murder Most Royal: A Novel (Her Majesty the Queen Investigates #3)
Publication Date:
September 26th, 2023
Publisher:
William Morrow
Next Chapter Booksellers
5 on hand, as of Dec 2 11:24pm
(Mystery)
On Our Shelves Now
Description
"One imagines Christmas at the royal family's country house at Sandringham Estate bustling with drama, but Bennett's version raises the stakes... Bennett charmingly portrays relationships between royal family members." — Washington Post
Evidence that an aristocrat has gone missing—and was possibly murdered—near Sandringham House sets Queen Elizabeth II on the path to discover unsavory family secrets and much more in this new installment of the series the New York Times Book Review calls "sheer entertainment."
Queen Elizabeth II is looking forward to a traditional Christmas gathering with her family in Sandringham when a shocking discovery interrupts holiday plans. A severed hand has been found—but even more unsettling, she recognizes the signet ring still attached to a finger. It belongs to a scion of the St Cyr family, her old friends from nearby Ladybridge Hall. Despite the personal connection, the Queen wants to leave the investigation to the police—that is, until newspapers drag her name into the matter.
As reporters speculate about the proximity of the crime to the Crown and the police fail to investigate a suspicious accident on her doorstep, Elizabeth quietly begins to mull over the mystery herself. With help from her Assistant Private Secretary, Rozie Oshodi, she delves into the interlocking layers of fact and fiction surrounding the high-profile case. Someone in the quiet county of Norfolk seems to have a secret worth killing for, and the Queen is determined to find out who and what that is—even if that means discovering that someone in her close circle is a murderer.
Praise for Murder Most Royal: A Novel (Her Majesty the Queen Investigates #3)
"[A] pitch-perfect murder mystery… If The Crown were crossed with Miss Marple…, the result would probably be something like this charming whodunnit." — Ruth Ware on The Windsor Knot
"Sheer entertainment… Bennett infuses wit and an arch sensibility into her prose… This is not mere froth, it is pure confection." — New York Times Book Review on The Windsor Knot
"[An] enjoyable, good-natured sequel to 2020's The Windsor Knot… Highlights include the breakfast table talk between the queen and Prince Philip and, of course, references to the monarch's beloved corgis. Bennett respectfully portrays the queen while providing edifying details of palace life. Dog lovers and Anglophiles will rejoice." — Publishers Weekly on All the Queen's Men
"The Queen shows a little Sherlock Holmes and a dash of George Smiley. She also charms the reader in all her scenes."  — Toronto Star on The Windsor Knot
"Her Majesty, … unshockable and mystery-savvy, … uses her long but subtle reach, powers of observation, and decades (and decades!) of sizing up people to solve several crimes… Mystery readers—and royalists, of course—will enjoy their audience with QEII." — Booklist on The Windsor Knot
"Hilarious, affectionate, and so well observed... I loved it." — Joanne Harris, author of Chocolat on The Windsor Knot
"[An] amusingly decorous debut…the queen makes a wonderfully self-effacing sleuth." — Kirkus Reviews on The Windsor Knot
"Bennett portrays the perceptive, resourceful Queen--her thought processes, intuitions and actions--with great wit and affection… A fast-moving, spirited and suspenseful plot. Readers will be enchanted by Bennett's inventive portrayal of a deeply engaging icon."  — Shelf Awareness on The Windsor Knot
"SJ Bennett brilliantly sets up the Queen as detective… Our super-sleuth Queen unites sharp intuition and first-class memory with a lifetime of observation to outwit the police and MI5. She is Miss Marple with a crown." — Daily Mirror (UK) on The Windsor Knot
"The quirkiest, funniest and most-needed crime novel of the year—do not miss." — The Sun (UK)
"S.J. Bennett's crime-fiction novel presents an affectionate and entertaining depiction of The Queen as an amateur private investigator. Taking place in the autumn of 2016, The Queen must come to grips not only with the shifting context of the time, but also how it connects to a shocking death of a staffer within the Palace. The novel hones in on The Queen's eye to see the real story behind events, and how some crimes need the royal touch to find their solution." — Vogue (Australia) on All the Queen's Men