Melissa Doffing & Susan Koefod, Let Them Eat Crêpes
Melissa Doffing and Susan Koefod, the editors of Let Them Eat Crêpes: Stories Featuring the French Pancake share some of the tasty stories from the collection.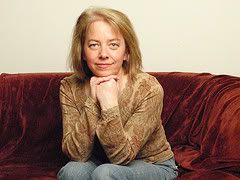 If you ask Doffing and Koefod, crêpes are the new cupcake. The it food. In this unique anthology, they explore relationships and culture through memorable encounter with the sometimes sweet, sometimes savory treat.
A combination of food and travel writing, Let Them Eat Crêpes delights with delectable descriptions of crepes, vignettes of foreign places, and memories of food that connect us to place, time, and loved ones.

"A treat to read! These well-turned essays about crêpes will take you from Colombia to Helsinki and many points in between. Share the joys of these cross-cultural experiences as a gift or savor it all to yourself -this collection is delicious either way." --Kate St. Vincent Vogl, Lost & Found: A Memoir of Mothers.
Event date:
Thursday, December 2, 2010 - 7:30pm