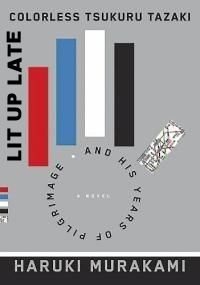 "Lit Up Late" gives you three good reasons to stay up and read--Murakami, Mitchell, and Darnielle.
Can't wait to get your hands on three of this fall's most-anticipated books? Common Good Books, Magers & Quinn Booksellers, and Moon Palace Books are staying up late so that you don't have to wait another second. Get three great books as soon as they become available--no delivery hassles, no waiting list, nothing but pure reading pleasure.
Lit Up Late is a mini-series of three late-night literary events in August and September. Mingle with your fellow book lovers, enjoy some music and food, and get your books while the rest of the world is asleep at the switch.
11:30pm, Monday, August 11, at Common Good Books--Colorless Tsukuru Tazaki and His Years of Pilgrimage by Haruki Murakami

11:30pm, Monday, September 1, at Magers & Quinn Booksellers--The Bone Clocks by David Mitchell

11:30pm, Monday, September 15, at Moon Palace Books--Wolf in White Van by John Darnielle
Punches and prizes
Each late night event will feature fun and frivolity, but the truly dedicated have a shot at a very grand prize. Get your Lit Up Late punch card at any of the three participating bookstores. When you buy the featured book at midnight, you get a punch. Attend all three events and buy all three books, and you're eligible to win our grand prize. One lucky winner will receive a free night at the St Paul Hotel, to get away from it all and read in luxury. (Winners must be present at Moon Palace to win.)
About the books
Colorless Tsukuru Tazaki and His Years of Pilgrimage is the long-awaited new novel from the award-winning, internationally best-selling author Haruki Murakami--a book that sold more than a million copies the first week it went on sale in Japan. It tells the remarkable story of Tsukuru Tazaki, a young man haunted by a great loss; of dreams and nightmares that have unintended consequences for the world around us; and of a journey into the past that is necessary to mend the present. It is a story of love, friendship, and heartbreak for the ages.
David Mitchell is the author of Cloud Atlas and one of the leading literary voices of his generation. His hypnotic new novel, The Bone Clocks, is a kaleidoscopic novel that begs to be taken apart and put back together by a writer the Washington Post calls "the novelist who's been showing us the future of fiction."
John Darnielle is a writer, composer, guitarist, and vocalist for the band the Mountain Goats; he is widely considered one of the best lyricists of his generation. His audacious and gripping debut novel Wolf in White Van is a marvel of storytelling brio and genuine literary delicacy. Daniel Handler calls it "quiet, mysterious, menacing, taking you places you will never, never get out of your head"
About the bookstores
Common Good Books (38 S Snelling Ave, St Paul MN 55105; 651/225-8989) is the largest independent bookstore in St Paul. They offer a full selection of books and magazine as well as a full program of readings and author events. Please visit www.commongoodbooks.com for details.
Magers and Quinn Booksellers (3038 Hennepin Ave S, Minneapolis MN 55408; 612/822-4611) is an independently owned new and used bookseller located in the heart of Uptown in Minneapolis, near the lakes for which the city is famous. Their collection covers all subjects and features many unusual and hard-to-find editions, as well as thousands of new releases. Find more information at www.magersandquinn.com.
Moon Palace Books (2820 E 33rd St, Minneapolis MN 55406; 612/454-1505) is an independent bookstore located in the Longfellow neighborhood at Minnehaha Ave and East 33rdst right behind Peace Coffee Wonderland Park and the Trylon microcinema. They've got used books. They've got new books.  They've got your book.  www.moonpalacebooks.com
Event date:
Monday, August 11, 2014 - 11:30pm
to
Tuesday, August 12, 2014 - 12:30am

$25.95
ISBN: 9780385352109
Availability: Not in Our Store - Available to Order
Published: Knopf - August 12th, 2014
---

$30.00
ISBN: 9781400065677
Availability: Hard to Find
Published: Random House - September 2nd, 2014
---

$24.00
ISBN: 9780374292089
Availability: Hard to Find
Published: Farrar, Straus and Giroux - September 16th, 2014
---