Kiersten Hall Presents Jellybeans
Thirty-five jellybeans come together to share a sweet and thoughtful poem promoting kindness and inclusivity with children, 0 to 6 years. Join in their adventure as they discover their unique qualities while realizing they are all, ultimately, the same. The JELLYBEANS book is sure to be a favorite among children and their family members.
Kiersten Hall has been writing stories all her life...in her head. She is finally taking the time to put those stories down on paper for others to read. Besides her four published titles, there are 13 other titles waiting in the files to be written with more ideas entering whenever something piques Kiersten's 'vivid' imagination. She is striving to release at least one book per year and is looking forward to sharing her stories with the world!
For Media Inquiries Please Contact:
Kiersten Hall
khallbooks@gmail.com
---
For more information about events at Next Chapter Booksellers, please contact
Riley Davis--651/225-8989; riley@nextchapterbooksellers.com
A complete schedule of our upcoming events is always available at www.nextchapterbooksellers.com.
# # #
Event date:
Saturday, November 2, 2019 - 2:00pm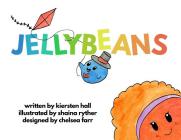 $16.95
ISBN: 9781733771726
Availability: On Our Shelves
Published: K Hall Books - June 5th, 2019
---