Hábitos Atómicos (Paperback)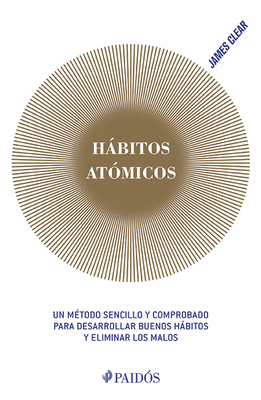 Description
---
M's de 4 millones de ejemplares vendidos en todo el mundo. Un libro fascinante que cambiar el modo en que vivimos nuestro d a a d a.
Sumamente pr ctico y til. MARK MANSON, autor de El sutil arte de que (casi todo) te importe una mi*rda
Paso a paso, cambiar tu rutina. Financial Times
A menudo pensamos que para cambiar de vida tenemos que pensar en hacer cambios grandes. Nada m's lejos de la realidad. Seg n el reconocido experto en h bitos James Clear, el cambio real proviene del resultado de cientos de peque as decisiones: hacer dos flexiones al d a, levantarse cinco minutos antes o hacer una corta llamada telef nica.
Clear llama a estas decisiones "h bitos at micos" tan peque os como una part cula, pero tan poderosos como un tsunami. En este libro innovador nos revela exactamente c mo esos cambios min sculos pueden crecer hasta llegar a cambiar nuestra carrera profesional, nuestras relaciones y todos los aspectos de nuestra vida.
De mis libros favoritos de todos los tiempos. ARIANNA HUFFINGTON, fundadora de The Huffington Post
Un discurso que se apoya en bases cient ficas, manual de instrucciones para implantar cambios a nuestro favor. IMA SANCH S, La Vanguardia
Te har's fan. CECILIA M ZQUIZ, directora de Cosmopolitan
Demuestra que cualquier meta est al alcance de la mano, siempre y cuando empecemos desde lo m's simple. ABC Bienestar
Profundiza en todos aquellos aspectos necesarios para llevar una vida ordenada, productiva y orientada a disfrutar de los procesos, no solo de los resultados. Xataka
ENGLISH DESCRIPTION

The #1 New York Times bestseller. Over 4 million copies sold

Tiny Changes, Remarkable Results
No matter your goals, Atomic Habits offers a proven framework for improving--every day. James Clear, one of the world's leading experts on habit formation, reveals practical strategies that will teach you exactly how to form good habits, break bad ones, and master the tiny behaviors that lead to remarkable results. If you're having trouble changing your habits, the problem isn't you. The problem is your system. Bad habits repeat themselves again and again not because you don't want to change, but because you have the wrong system for change. You do not rise to the level of your goals. You fall to the level of your systems. Here, you'll get a proven system that can take you to new heights. Clear is known for his ability to distill complex topics into simple behaviors that can be easily applied to daily life and work. Here, he draws on the most proven ideas from biology, psychology, and neuroscience to create an easy-to-understand guide for making good habits inevitable and bad habits impossible. Along the way, readers will be inspired and entertained with true stories from Olympic gold medalists, award-winning artists, business leaders, life-saving physicians, and star comedians who have used the science of small habits to master their craft and vault to the top of their field. Learn how to:
make time for new habits (even when life gets crazy);
overcome a lack of motivation and willpower;
design your environment to make success easier;
get back on track when you fall off course;
...and much more.
Atomic Habits will reshape the way you think about progress and success, and give you the tools and strategies you need to transform your habits--whether you are a team looking to win a championship, an organization hoping to redefine an industry, or simply an individual who wishes to quit smoking, lose weight, reduce stress, or achieve any other goal.