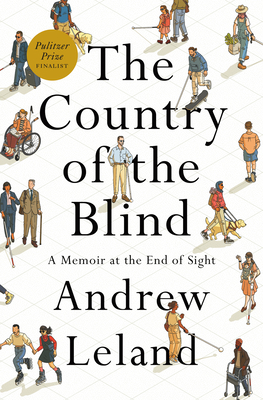 The Country of the Blind: A Memoir at the End of Sight
Publication Date:
July 18th, 2023
Next Chapter Booksellers
3 on hand, as of Dec 8 10:52pm
(Biography\Autobiog)
On Our Shelves Now
Description
Named one of the best books of the year by: THE NEW YORKER • THE WASHINGTON POST • THE ATLANTIC • NPR • PUBLISHERS WEEKLY • LITHUB
A witty, winning, and revelatory personal narrative of the author's transition from sightedness to blindness and his quest to learn about blindness as a rich culture all its own
"After reading Andrew Leland's memoir, The Country of the Blind, you will look at the English language differently . . . Leland rigorously explores the disability's most troubling corners . . . A wonderful cross-disciplinary wander." —The New York Times Book Review
We meet Andrew Leland as he's suspended in the liminal state of the soon-to-be blind: he's midway through his life with retinitis pigmentosa, a condition that ushers those who live with it from sightedness to blindness over years, even decades. He grew up with full vision, but starting in his teenage years, his sight began to degrade from the outside in, such that he now sees the world as if through a narrow tube. Soon—but without knowing exactly when—he will likely have no vision left.
Full of apprehension but also dogged curiosity, Leland embarks on a sweeping exploration of the state of being that awaits him: not only the physical experience of blindness but also its language, politics, and customs. He negotiates his changing relationships with his wife and son, and with his own sense of self, as he moves from his mainstream, "typical" life to one with a disability. Part memoir, part historical and cultural investigation, The Country of the Blind represents Leland's determination not to merely survive this transition but to grow from it—to seek out and revel in that which makes blindness enlightening.
Thought-provoking and brimming with warmth and humor, The Country of the Blind is a deeply personal and intellectually exhilarating tour of a way of being that most of us have never paused to consider—and from which we have much to learn.
Praise for The Country of the Blind: A Memoir at the End of Sight
"After reading Andrew Leland's memoir, The Country of the Blind, you will look at the English language differently . . . [Leland's] prose is jazzy and intelligent . . . Leland rigorously explores the disability's most troubling corners . . . A wonderful cross-disciplinary wander." —The New York Times Book Review
"Engaging . . . The most memorable parts of [Leland's] account are intimate moments of pure autobiography . . . Leland offers his own experience as a bridge between the blind and sighted worlds." —The Wall Street Journal
"Nerdy, often funny . . . and delicately tender . . . It's a delight to tag along with Leland as he chronicles his new world of perception and what blind normalcy—and agency, and adventure—might come to feel like." —Sophia Nguyen, The Washington Post
"A thoughtful, beautifully expressed memoir . . . [It] articulates . . . with energy and honesty how being held between seeing and blindness has changed [Leland] and his views on our ableist world . . . His sensitivity to storytelling, history, and literature is everywhere evident when reporting on his own eyesight . . . His fine sensibility, lucid writing, and dignified treatment of his subject feel anything but indulgent. This book invites us all to rethink what it means to desire, to read, to be independent, to sit with uncertainty, and to assume a new identity." —The Guardian
"I'll cut to the chase—this is the best book I've read this year and also one of the best books I've ever read in my life. No descriptor feels capacious enough: an intellectually rigorous memoir, a moving cultural history, a brilliant study of blindness, disability, and adaptation. My love and admiration for this book know no bounds, and I'm beyond excited for the new era in disability writing that its publication portends." —Sophia M. Stewart, The Millions' Most Anticipated Books of 2023
"Andrew Leland writes about his own gradual blindness using cultural histories and the politics of disability to upend what we assumed we knew. It's one of the year's best." —The Chicago Tribune, "52 Books for Summer 2023"

"Informative and engaging." —The Pittsburgh Post-Gazette
"Leland . . . writes compellingly of his ever-shifting relationship to vision . . . The book that results is a provocative blend of memoir, reporting, and cultural commentary." —The Nation
"A witty, thoughtful memoir." —People
"A moving and fascinating account of the blind community—its politics, customs, and pioneers—and a personal exploration of making a sometimes frightening, sometimes invigorating life transition as a writer, husband, and father. A brilliant investigative memoir written with humor and heart." —Lit Hub

"Leland delivers a masterful exploration of disability in his brilliant debut . . . Enriched by its sparkling prose, this is an extraordinary and intellectually rigorous account of adapting to change." —Publishers Weekly (starred review)
"Leland is . . . part of a new vanguard of writers who interrogate disability with refreshing intellectual rigor, and this book-length study of blindness masterfully melds histories both personal and cultural." —Publishers Weekly, Summer Reads preview
"Leland provides both fascinating capsule histories of the topics he's pondering, as with a survey of the disability rights movement, and searching glimpses into his own existential struggle to understand what it means for him to be blind . . . When the author gets personal, he does so with such honesty and vulnerability that by the end, readers will understand when he concludes, 'The process of retinal degeneration has turned out to be one of the most generative experiences of my life' . . . Emotional but never sentimental, this quest for insight delivers for its readers." —Kirkus
"This informative and engaging memoir will appeal to readers who like to be entertained as they broaden their awareness of disability and others' lives." —Library Journal
"Leland writes with astounding humor and humility about ability, disability, the confusions between them, the confusions of middle age, marriage, and parenthood, language in all its beauty and bias, and more to the n-th power. Approaching what he calls the end of sight, he has summoned up that higher vision." —Joshua Cohen, Pulitzer Prize-winning author of The Netanyahus
"In The Country of the Blind, Andrew Leland tells the story of his gradual transition into the blindness community with sensitivity and insight. He vividly describes his new sensory perceptions and emotions and outlines controversies about the training of the blind. His experiences will resonate powerfully with those in the autism community and beyond. A valuable book." —Temple Grandin, author of Visual Thinking
"Andrew Leland has written an important and masterful book, one filled with deep thought and feeling, vulnerability and humor, and absolutely gorgeous prose. Rare is the writer who can gift the reader the kind of expansive generosity The Country of the Blind offers with ease on every page." —Chloé Cooper Jones, author of Easy Beauty
"The Country of the Blind is about seeing—but also about marriage and family and the moral and emotional challenge of accommodating the parts of ourselves that scare us. A warm, profound, and unforgettable meditation on how we adjust to new ways of being in the world." —Rachel Aviv, author of Strangers to Ourselves
"This is such a gorgeous book. Andrew Leland manages to deftly balance the personal, historical and political as he documents—documents is too sterile a word; he gently sings about—his becoming blind. There is a great nonfiction book here about the history of blindness and the pioneers who have built a world of access and empowerment. But crucially, Leland weaves into that larger tapestry the deeply touching story of how he, his wife Lily, and his son Oscar face their myriad new challenges—with open minds and abundant wit, and always fearlessly together." —Dave Eggers, author of The Circle and A Heartbreaking Work of Staggering Genius
"The Country of the Blind is a wonderful and necessary book. Superbly researched and eloquently written, it is part expertly guided tour, part intensely personal story told with candor and sensitivity. It will make the journey easier for anyone facing life-altering circumstances, and it will make a positive change in the world by celebrating a community that is underrepresented and misunderstood." —Georgina Kleege, author of Sight Unseen and More Than Meets the Eye