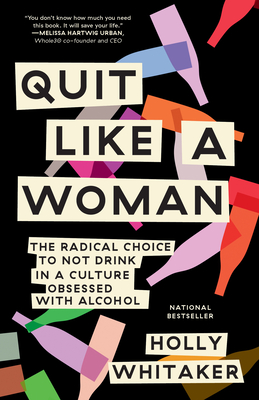 Quit Like a Woman: The Radical Choice to Not Drink in a Culture Obsessed with Alcohol
Publication Date:
January 12th, 2021
Publisher:
Dial Press Trade Paperback
Next Chapter Booksellers
1 on hand, as of Dec 8 10:52pm
(Psychology)
On Our Shelves Now
Description
NEW YORK TIMES BESTSELLER • "An unflinching examination of how our drinking culture hurts women and a gorgeous memoir of how one woman healed herself."—Glennon Doyle, #1 New York Times bestselling author of Untamed
"You don't know how much you need this book, or maybe you do. Either way, it will save your life."—Melissa Hartwig Urban, Whole30 co-founder and CEO
The founder of the first female-focused recovery program offers a groundbreaking look at alcohol and a radical new path to sobriety.
We live in a world obsessed with drinking. We drink at baby showers and work events, brunch and book club, graduations and funerals. Yet no one ever questions alcohol's ubiquity—in fact, the only thing ever questioned is why someone doesn't drink. It is a qualifier for belonging and if you don't imbibe, you are considered an anomaly. As a society, we are obsessed with health and wellness, yet we uphold alcohol as some kind of magic elixir, though it is anything but.
When Holly Whitaker decided to seek help after one too many benders, she embarked on a journey that led not only to her own sobriety, but revealed the insidious role alcohol plays in our society and in the lives of women in particular. What's more, she could not ignore the ways that alcohol companies were targeting women, just as the tobacco industry had successfully done generations before. Fueled by her own emerging feminism, she also realized that the predominant systems of recovery are archaic, patriarchal, and ineffective for the unique needs of women and other historically oppressed people—who don't need to lose their egos and surrender to a male concept of God, as the tenets of Alcoholics Anonymous state, but who need to cultivate a deeper understanding of their own identities and take control of their lives. When Holly found an alternate way out of her own addiction, she felt a calling to create a sober community with resources for anyone questioning their relationship with drinking, so that they might find their way as well. Her resultant feminine-centric recovery program focuses on getting at the root causes that lead people to overindulge and provides the tools necessary to break the cycle of addiction, showing us what is possible when we remove alcohol and destroy our belief system around it.
Written in a relatable voice that is honest and witty, Quit Like a Woman is at once a groundbreaking look at drinking culture and a road map to cutting out alcohol in order to live our best lives without the crutch of intoxication. You will never look at drinking the same way again.
Praise for Quit Like a Woman: The Radical Choice to Not Drink in a Culture Obsessed with Alcohol
"An unflinching examination of how our drinking culture hurts women and a gorgeous memoir of how one woman healed herself. It will change your relationship with alcohol—and it has the power to change your relationship with your entire life."—Glennon Doyle, #1 New York Times bestselling author of Untamed
 
"A funny, fast-paced, and bracingly candid dispatch from the realm of the self-actualized, but Holly Whitaker is no polished model of self-help evangelism, nor is her memoir-manifesto selling a one-size-fits-all solution. Her story is a messy human one and all the more convincing that sobriety is a feminist issue."—Melissa Febos, author of Whip Smart and Abandon Me
 
"As a culture, we have a weird and often dysfunctional relationship with alcohol. This thoughtful, moving book will help a lot of people get to a healthier place."—Johann Hari, author of Chasing the Scream and Lost Connections
 
"Holly Whitaker is a genius: brilliantly clever, fearless, snort-out-loud funny."—Catherine Gray, author of The Unexpected Joy of Being Sober
 
"Brave and revolutionary, Whitaker has written a compulsively readable book about creating a life you don't want to escape. Funny, insightful, and candid, it is a must-read for anyone embarking on the adventure of abandoning alcohol."—Ann Dowsett Johnston, author of Drink: The Intimate Relationship Between Women and Alcohol
 
"A vital, timely, and intriguing analysis of women and alcohol . . . Whitaker cuts to the quick of the issues, skillfully using gripping anecdotes and well-researched insights to educate, liberate, and provide real hope and tangible steps for anyone looking to quit like a woman."—Annie Grace, author of This Naked Mind: Control Alcohol, Find Freedom, Discover Happiness & Change Your Life
 
"Raw, vulnerable, and unapologetic. Holly Whitaker brings these ingredients together for a fresh and needed perspective as well as a great read."—Jud Brewer, MD, PhD, author of The Craving Mind: From Cigarettes to Smartphones to Love—Why We Get Hooked and How We Can Break Bad Habits
"Following in the footsteps of titles such as Rachel Hollis's Girl, Wash Your Face, Whitaker aims her first book at modern, urban women—specifically those who are concerned that they might have a problem with alcohol. Part self-help, part recovery memoir, this personal account provides useful and inspiring techniques for addiction recovery."—Library Journal
"In this blending of memoir and advocacy for an alcohol-free lifestyle, Whitaker . . . offer[s] inspiration to others in need of guidance or permission to find their own paths."—Booklist