Ukraine: A Nation on the Borderland (Paperback)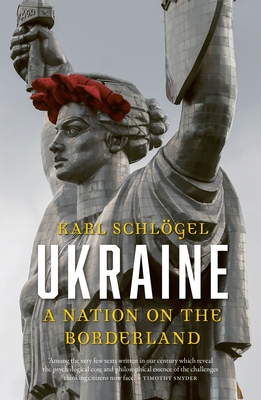 Description
---
Ukraine is a country caught in a political tug of war: looking East to Russia and West to the European Union, this pivotal nation has long been a pawn in a global ideological game. And since Russia's annexation of Crimea in March 2014 in response to the Ukrainian Euromaidan protests against oligarchical corruption, the game has become one of life and death.

In Ukraine: A Nation on the Borderland, Karl Schlögel presents a picture of a country which lies on Europe's borderland and in Russia's shadow. In recent years, Ukraine has been faced, along with Western Europe, with the political conundrum resulting from Russia's actions and the ongoing Information War. As well as exploring this present-day confrontation, Schlögel provides detailed, fascinating historical portraits of a panoply of Ukraine's major cities: Lviv, Odessa, Czernowitz, Kiev, Kharkov, Donetsk, Dnepropetrovsk, and Yalta—cities whose often troubled and war-torn histories are as varied as the nationalities and cultures which have made them what they are today, survivors with very particular identities and aspirations. Schlögel feels the pulse of life in these cities, analyzing their more recent pasts and their challenges for the future.
 
About the Author
---
Karl Schlögel is a historian, essayist, and professor emeritus at Europa-Universität Viadrina Frankfurt (Oder), Germany. His many books include histories of Moscow, Berlin, and Petersburg, and he won the European Charles Veillon essay prize in 1990 and the prize of the Historisches Kolleg Munich in 2016. Gerrit Jackson lives in Berlin. He is the translator of Karl Schlögel's In Space We Read Time: On the History of Civilization and Geopolitics.
Praise For…
---
"One of the best works on Ukraine's highly peculiar geography, history, and modernity I've ever come across. . . . As Schlögel himself points out repeatedly, the struggle for Ukraine's future is not going to end any time soon. Books such as this inspire hope that the struggle is not in vain and that Ukraine will eventually emerge as a fully fledged European state—not just 'a country at the edge.'"
— Vitali Vitaliev

"The deftly translated Ukraine: A Nation on the Borderland is a powerful and erudite assertion of Ukraine's legitimacy as a nation-state, its rich cultural heritage, and the underlying sources of Russia's campaign against it. In the book, Schlögel, a renowned scholar and lifelong admirer of Russia, takes his readers on a tantalizing historical and intellectual tour of Ukraine's major cities. . . . What's best about Schlögel's Ukraine is the affectionate, inspiring journey on which he takes the reader through the nation's ages, empires, and metropolises, coloring in the blank swathes with history, purpose, and significance. . . . He populates each vignette with its literary . . . luminaries and other figures of history who lived at least part of their lives in Ukraine."
— Paul Hockenos

"This book is an invitation to the broader public, well-familiar by now with the cities in Western and Eastern Europe, to discover Ukraine, to explore its multifaceted identities. Since an end to the war in Ukraine is not yet in sight, books like this are much needed. When most of the publications available reiterate the same narratives of unbridgeable differences between Ukraine's east and west, it takes Schlögel's insightfulness and erudition to show the commonalities between Lviv in the West, Odessa in the South and Donetsk in the East; to take Ukraine out of the shadow of Russia and put it back on Europe's mental maps."
— European History Quarterly

"Suggesting that, despite its prominence as a target of Russian aggression, Ukraine remains unfamiliar to most Westerners, Schlögel profiles the country's major cities. He explores the dilemmas presented by the country's geographical relationships with Russia and Europe."
— Survival: Global Politics and Strategy

"In response to these events, this book is an effort to make amends: to educate the broader public about Ukraine, Europe's terra incognita. It presents not only a fascinating, oftentimes poetic investigation of Ukraine's highly diverse urban landscapes, but also records the inner struggles of a German historian trying to make sense of Putin's undeclared war against Ukraine. . . . This book is a path-breaking study of the urban archaeology of post-Soviet Ukraine, haunted by the demographic catastrophes of the twentieth century."
— Europe-Asia Studies

"Through Schlögel's encounter with Ukraine the reader will understand the crisis of democratic politics in the West as a whole. It is among the very few texts written in our century which reveal the psychological core and philosophical essence of the challenges thinking citizens now face."
— Timothy Snyder, Yale University

"Schlögel excels at bringing twentieth-century history to life through urban space, to which he is a guide with wit, subtlety, humanity, and restraint. His skills lie in his assiduous research, scouring through phonebooks, minutes, memoirs, and maps, brought to life through a vivid eye for the look and feel of a city's architecture, streets, and vistas. Here, Schlögel leaves his usual territory—Soviet and post-Soviet Moscow—to take us on a tour of the cities of Ukraine, revealing the diversity, complexity, and importance of a country too often seen through a reductive East/West binary."
— Owen Hatherley, author of "Landscapes of Communism: A History Through Buildings"