London: City of Cities (Cityscopes) (Hardcover)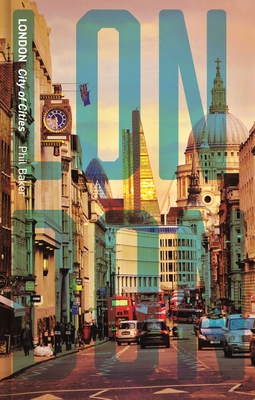 Description
---
City of cities, the modern world's first great metropolis, London has shaped everything from clothing to youth culture. It has a unique place in the world's memory, even as its role has changed from the capital of the planet to its playground, and as its lived history has mutated into the heritage industry.
 
In this book, Londoner Phil Baker explores the city's history and the London of today, balancing well-known major events with more curious and eccentric details. He reveals a city of almost unmatched historical density and richness. For Baker, London turns out to be Gothic in all senses of the word and enjoyably haunted by its own often bloody past. And despite extensive redevelopment, as he shows in this engaging and insightful book, some of the magic remains.
About the Author
---
Phil Baker's previous books include a critical study of Samuel Beckett and a cultural history of absinthe. He lives in London and walks everywhere.
Praise For…
---
"If you love London but live elsewhere, it is an emotional experience to read a book that immerses you deep in the city after a year of enforced estrangement. To reacquaint myself with the place via this spirited account of its past and present left me amused, wistful, energized, and happily reminded of the sensations a metropolis instils: awe at its flux and complexity, warm detachment on walking unfamiliar nocturnal streets where a thousand lit windows hint at other lives, fascination at the countless historic buildings imbued with centuries of stories. . . . Baker contemplates the multitudinous city from diverse perspectives to create a picture of depth and detail. . . . London: City of Cities is a stylish, glossy hardback with lavish color illustration. . . . Approach this book like one of the long solitary walks through the city it describes: enjoy its spirit and energy, be captivated by its curiosities."
— Kieron Pim

"Writing a complete history of London in 160 pages is a considerable challenge, especially when those pages are crowded with lavish illustrations that eat into the word count. But Baker does not disappoint, and there will be something for the scholar and the aficionado as well as the newcomer who is feeling out the city for the first time. The story he weaves is luminous, packed with curious etymologies and salient details, and enlivened by the voices of literary London: Jonson and Boswell, Dickens and Gissing, Orwell and Graham Greene—these and many more throng the pages, forming an expressive (if decidedly masculine) chorus."
— London Journal

"Baker does a nice job of summarizing London's history from 1000 BCE onwards. His prose is engaging and concise, and swiftly transports the reader into the current day in just 140 pages, having swiftly dealt with the Romans, the expansion of the medieval city, plagues, fires, punks, and yuppies en route."
— International Times

"Baker's work brings an affection and personal relationship that makes it an important addition to the reading list of anyone trying to better their understanding of this extraordinary city."
— Hornsey Historical Society Newsletter

"Baker is a connoisseur of the quaint and the curious, a scholar of forgotten lore, and a splendid prose stylist. Under his sharp but sympathetic gaze, London becomes a gigantic Wunderkabinett—or, to use his own metaphor, a vast book in which every page offers a new treat. Ranging from the capital's early days, and the legends that it was founded by refugees from fallen Troy, to a compendium of museums, parks, and still-thriving pubs and bars, this book is at once instructive and delightful. Warmly recommended to newcomers and long-term residents alike."
— Kevin Jackson, author of "Chronicles of Old London"