Staff Pick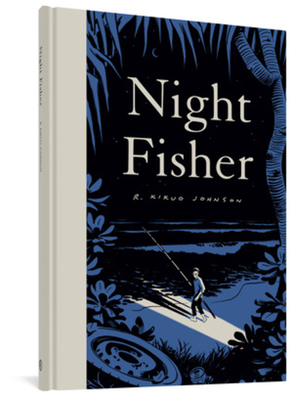 Night Fisher
Publication Date:
October 12th, 2021
Next Chapter Booksellers
1 on hand, as of Dec 5 10:37pm
(Graphic Novels)
On Our Shelves Now
Staff Reviews
Masterful brushwork; lived-in environments; chiaroscuro compositions that brilliantly balance richness and sparcity. Nail-biting scenes propelled by careful, deliberate pacing, brought to life with naturalistic dialogue and character acting. And a sense of place so strong that the island-paradise Hawaii of popular stereotypes is completley flushed from your mind. It's truly hard to imagine this book is Johnson's first release, because every page is a masterclass on visual storytelling. Its nondidactic story, simple enough on the surface, churns with class tensions and adolescent confusion. Night Fisher leaves you with not much more than an incandescently vivid slice of life, like your own teenaged memories, compressed by the passage of time into raw, irreducable feeling.
— Graham
Description
Two Maui high school students, Loren and Shane, get mixed up in a petty crime, and their friendship is put to the test. One of the most critically lauded graphic novel debuts in the medium's history is now in hardcover for the first time! 
2023 Whiting Award WINNER in Fiction
First-rate prep school, SUV, and a dream house in the heights — an island paradise was handed to Loren Foster when he moved to Hawaii with his father six years ago. Now, with the end of high school just around the corner, his best friend, Shane, has grown distant. Rumors abound. Loren suspects that Shane has left him behind for a new group of friends. Their friendship is put to the test when they get mixed up in a petty crime. Johnson has a naturalistic ease in exploring these relationships, which sets this drama apart. This graphic novel debut is at once an unsentimental portrait of that most awkward period between adolescence and young adulthood and that rarest of things — a mature depiction of immature lives. His lush-yet-unsentimental-depiction of Maui creates an immersive, visceral sense of place.
In 2006, critics heralded R. Kikuo Johnson's Night Fisher as one of the most exciting debuts in the medium's history. Johnson won the prestigious Russ Manning Newcomer Award at the 2006 Eisner Awards, the Harvey Award for Best New Talent, and a Harvey Award nomination for Best Graphic Novel. On its 15th anniversary, Fantagraphics is proud to publish this new edition of Night Fisher in hardcover for the first time.
Praise for Night Fisher
It's a coming-of-age story with teeth.
— The New York Times Book Review
Johnson's first graphic novel [Night Fisher] has a force and elliptical grace that suggests he's been drawing comics and writing fiction for much longer than he really has… Johnson's storytelling is clear and masterful, and his characters' body language says as much about them as their words. An exciting debut from a talent to watch.
— Publishers Weekly
Johnson draws with a confident bravado that is particularly impressive in a young cartoonist, and his narrative skills are equally assured. Seldom has an artist's debut graphic novel been this accomplished and rewarding.
— Booklist (starred review)
Lauded illustrator R. Kikuo Johnson's potent, career-making debut, Night Fisher, returns in a handsome hardcover edition. Narratively and visually, Johnson definitively underscores his initial well-earned success.
— Shelf Awareness (starred review)
Night Fisher expresses a longing that we can all probably sympathize with, a longing to be somewhere else, to be someone else.
— From Cover to Cover