The Land (Paperback)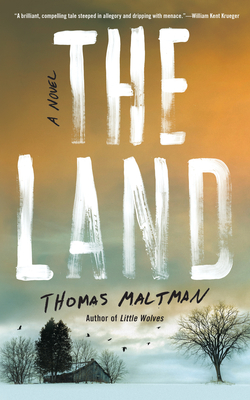 Description
---
A story of violence at the heart of a pastoral landscape, from the author of Indie Next pick and All Iowa Reads selection Little Wolves

Recovering from a terrible auto accident just before the turn of the millennium, college dropout and hobbyist computer-game programmer Lucien Swenson becomes the caretaker of a house in northern Minnesota. Shortly after moving in, Lucien sets out to find a woman with whom he had an affair, who vanished along with money stolen from the bank where they had worked together.

His search will take him to Rose of Sharon, a white supremacist church deep in the wilderness, where a cabal of outcasts awaits the end of the world at a place they call The Land. Lucien is visited at the house by a mysterious guest, who may not be who she claims, as well as a vast flock of violent ravens out of an apocalyptic vision. At once a mystery and spiritual noir, The Land explores the dark side of belief, entrenched white supremacy in the Heartland, the uniquely American obsession with end times, and the sacrifices we make for those we love.
About the Author
---
Thomas Maltman has an MFA from Minnesota State University, Mankato. His first novel, The Night Birds, won an Alex Award, a Spur Award, and the Friends of American Writers Literary Award. His second novel, Little Wolves, was an Indie Next pick and an All Iowa Reads selection. He teaches at Normandale Community College and lives in the Twin Cities area.
Praise For…
---
Praise for The Land

"A spiritual quest for meaning, a lamentation on loneliness, and a tense tale of the infectious nature of 'paranoia and fear.' If you ask me, it's a parable for our time."
—Carole Barrowman, Minneapolis Star Tribune

"A dark and disturbing novel that is beautifully and fearfully told . . . The Land is a marvelous novel, and there is no good place to stop reading it." 
—Bookreporter.com

"Illuminates the way religious fanaticism can be a refuge for the lost, often with devastating consequences . . . Maltman's character development is superb."
—Los Angeles Review of Books

"The tale of a broken man seeking a way to wholeness in body and spirit, The Land is a multi-layered journey through a bleak landscape filled with visions and ruminations on the nature of man and God. What Maltman offers readers is nothing less than a brilliant, compelling tale steeped in allegory and dripping with menace. Suspenseful, thought-provoking, and utterly unputdownable, The Land explores those frightening moments when every human being confronts both the devil outside and the devil within. Once again, Thomas Maltman proves himself to be among the finest writers publishing today."
—William Kent Krueger, author of This Tender Land

"Thomas Maltman's The Land is a gift to readers longing for a tale of lost love, fringe prophets, souls in cold suspension, and ravens that darken the skies of a Northern winter. Set against looming apocalypse and the clicking of a projector showing classic films, The Land is generous, intricate, and propulsive. It has a kind heart and a tear in its eye, and I enjoyed it completely."
—Leif Enger, author of Peace Like a River

"The Land gives us an unflinching look at the sad, strained logic of modern white supremacy. By turns lyrical and hallucinatory, it is also an angry, lonely love letter to the most isolated corners of the rural Midwest at the turn of the millennium, a mystery where the man trying to solve it is also increasingly a mystery to himself."
—Chris Dennis, author of Here Is What You Do

"Maltman's very dark novel deals dramatically with considerations of good and evil, of angels and demons, creating a visceral sense of danger . . . Metaphysics and mystery merge in this haunting, thought-provoking story." 
—Booklist

"An enjoyably slippery narrator." 
—Publishers Weekly 

"The Land is a fine coming of age story, told in the convincing and thoroughly likable voice of Lucien Swenson, a young man in the throes of forbidden love as he recovers from a terrible accident. But where is Maura? . . . [A] well-built mystery, with unexpected guests, elements of horror, and hints of the supernatural, as Lucien's migraines and other effects of his injuries have him seeing signs in the raw winter and questioning what's real. I enjoyed every bit of this story and its conflicted cast of characters. An exceptional novel!" 
—Tim McCarthy, Boswell Book Company (Milwaukee, WI)

"This timely novel will appeal to readers who enjoy noir fiction as well as book clubs looking for a meaty, satisfying, and eloquent read . . . The Land is a book that begs to be read in one sitting and contemplated for eternity."
—Pamela Klinger-Horn, Excelsior Bay Books (Excelsior, MN)

Praise for Little Wolves

"Took my breath away . . . as rich in myth and metaphors as Cormac McCarthy's The Road."
—Milwaukee Journal-Sentinel

"Part allegory, part mystery and pure poetry, layered with Norse mythology and Anglo-Saxon narratives, Maltman's second novel is dark, redemptive and very beautiful."
—Minneapolis Star-Tribune

"A complicated portrait of a prairie town, a meditation on violence, a fantasia of myth and folklore, and a knockout murder mystery . . . I loved this book."
—Benjamin Percy, author of Red Moon