Weeaboo (Paperback)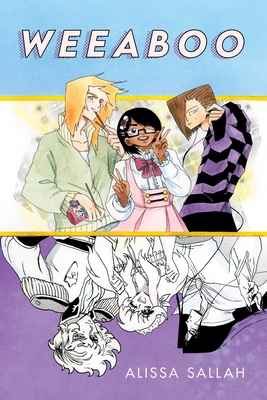 Staff Reviews
---
A loving, knowing, occassionally tongue-in-cheek ode to Japanophilia and fandom, Weeaboo somehow also manages to be a nuanced and believable portrait of three teens on the cusp of adulthood, navigating broken home lives and shifting gender identities. At the intersection of the two threads in this balancing act, Weeaboo lays bare the problematic aspects of otaku culture, such as colorism in cosplay, while also celebrating its positive roles: as a space for self-discovery, as an avenue for needed escapism, and as a foundation for the meaningful bonds that carry our protagonists through the dark corridors of adolescense.
— Graham
Description
---
"Weeaboo is a graphic novel snapshot of growing up, by turns playful and serious, and a celebration of friendship and fandom, imperfections and all." — Foreword Reviews

Perfect for fans of American Born Chinese, Peepo Choo and Sacred Heart, WEEABOO is a celebration and dissection of anime fandom, small towns, and internet culture from debut artist, Alissa M. Sallah.

It's their senior year of high school and three friends are preparing for the big anime convention happening after graduation! Even though they've known each other for years, they're finding out that reality isn't like a cartoon, and that people grow up and sometimes apart. This is a story about appropriation, identity, and what it means to change.
About the Author
---
ALISSA SALLAH is a cartoonist (and cosplayer) from small town Ohio. She edits and contributes to the Bonfire Yearly Anthology (STRATOS, TOPIA, SILK & METAL), has been featured in the BITCH PLANET Triple Feature, the YAKUZA 6 SONG OF LIFE artbook and was the colorist on the Image comic series SLEEPLESS. Her work can be found at alissasallah.com.
Praise For…
---
"Weeaboo is a graphic novel snapshot of growing up, by turns playful and serious, and a celebration of friendship and fandom, imperfections and all."
— Foreword Reviews