The Counterclockwise Heart (Hardcover)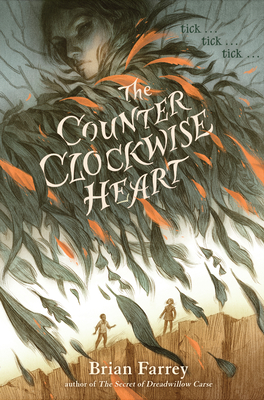 Description
---
WINNER OF THE 2023 MINNESOTA BOOK AWARD FOR MIDDLE GRADE LITERATURE

"Entertaining, fast-paced and thoughtful."
—The New York Times Book Review

In this thrilling fantasy novel from an award-winning author, a prince and a mage must untangle the riddles from their shared past to save the future of the empire--or risk seeing everything they both love destroyed.

Tick . . . tick . . . tick . . .
 
Time is running out in the empire of Rheinvelt.
 
The sudden appearance of a strange and frightening statue foretells darkness. The Hierophants—magic users of the highest order—have fled the land. And the shadowy beasts of the nearby Hinterlands are gathering near the borders, preparing for an attack.
 
Young Prince Alphonsus is sent by his mother, the Empress Sabine, to reassure the people while she works to quell the threat of war. But Alphonsus has other problems on his mind, including a great secret: He has a clock in his chest where his heart should be—and it's begun to run backwards, counting down to his unknown fate.
 
Searching for answers about the clock, Alphonsus meets Esme, a Hierophant girl who has returned to the empire in search of a sorceress known as the Nachtfrau. When riddles from their shared past threaten the future of the empire, Alphonsus and Esme must learn to trust each other and work together to save it—or see the destruction of everything they both love.
 
About the Author
---
Brian Farrey is the author of The Secret of Dreadwillow Carse, winner of the 2017 Minnesota Book Award, and the Stonewall honor book With or Without You.  He lives in  Minnesota with his husband and their sweet but occasionally evil cats. You can find him online at brianfarreybooks.com and on Twitter: @BrianFarrey .
Praise For…
---
*Winner of the Minnesota Book Award*

"Farrey conjures a world bristling with spells and secrets. Readers will revel in this gripping, fable-like adventure." 
--Stefan Bachmann, author of Cinders Sparrows
 "Filled with friendship and magic, mysteries and betrayal, and a race against a ticking clock, this is top-notch fantasy with a heart. I loved it!"   --Adam Perry, author of The Thieving Collectors of Fine Children's Books

"The Counterclockwise Heart encourages readers to be true to themselves, and to consider the source when confronted with opinions that contradict their own experience. … [an] entertaining, fast-paced and thoughtful novel … wise."
—The New York Times Book Review

"A fascinating fairy tale."
—The Minneapolis Star-Tribune, "Books to look forward to in 2022"

"Full of drama, twists and turns, and poignant points of view, the novel's storylines converge into an unforgettable ending that will leave readers thinking about the pesky element of time and the role it plays in their lives."
—Booklist

"A pleasing mix of fantasy and mystery with compassion at its (ticking) heart."
—The Bulletin for the Center of Children's Books

"Epic…This is a thought-provoking coming-of-age story."
--Kirkus Reviews

"Unique…a tale of magic, lies, and sacrifice make a standout read for the middle-grade genre."
—YA Books Central