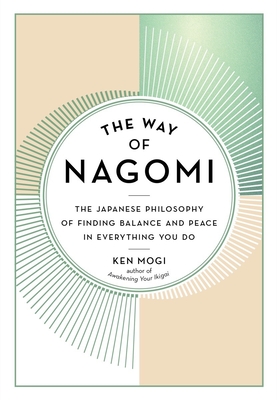 The Way of Nagomi: The Japanese Philosophy of Finding Balance and Peace in Everything You Do
Publication Date:
January 3rd, 2023
Publisher:
The Experiment
Description
Find balance and peace in every moment
Life is ephemeral and ever-changing; in Japan, it's called ukiyo—"floating world." How can we adapt to its fluctuations without being overcome? The answer is nagomi: a philosophy of balance—and the secret to a harmonious life. Neuroscientist Ken Mogi shares wisdom from Japanese history and culture to explain how nagomi can help you:
have happy relationships with loved ones who disagree
engage with the natural world without diminishing its beauty
strive for improvement while accepting imperfection
strike a balance to achieve calm.
If you've ever enjoyed a perfect bite of sushi—fresh fish, white rice, a hint of wasabi, maybe with a sip of sake—then you've already tasted what nagomi can achieve. Combining philosophy and advice, this book brings that balance into your health, work, relationships, and sense of self with nagomido—The Way of Nagomi!
Praise for The Way of Nagomi: The Japanese Philosophy of Finding Balance and Peace in Everything You Do
"Insightful. . . . The emphasis on harmony and balance over self-improvement makes for a fresh complement to conventional self-help fare. Wisdom abounds in this sage outing."—Publishers Weekly
"Neuroscientist and author Ken Mogi shares ways to practice nagomi, a Japanese concept of balance."—Spirituality & Health
Praise for Awakening Your Ikigai
 
"Awakening Your Ikigai is really quite a delightful look at sometimes mystifying Japanese traditions."—The New York Times Book Review
 
"Tapping into that sunrise magic is as simple as creating habits that reflect your 'ikigai.'"—Well + Good
 
"Ikigai is an additional item you can add to your self-care toolbox."—Bustle
"When Ikigai is practiced and present in life, it holds the potential to dissipate stress, ease anxiety, and help you find the purpose to 'wake up to joy' every day. Who wouldn't want that?"—MyDomaine
"A must-read."—Books for Better Living