Echo Tree: The Collected Short Fiction of Henry Dumas (Paperback)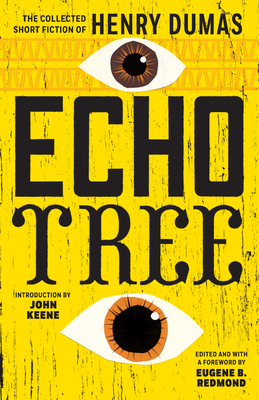 Description
---
African futurism, gothic romance, ghost story, parable, psychological thriller, inner-space fiction--Dumas's stories form a vivid, expansive portrait of Black life in America.
Henry Dumas's fabulist fiction is a masterful synthesis of myth and religion, culture and nature, mask and identity, the present and the ancestral. From the Deep South to the simmering streets of Harlem, his characters embark on real, magical, and mythic quests. Humming with life, Dumas's stories create a collage of mid-twentieth-century Black experiences, interweaving religious metaphor, African cosmologies, diasporic folklore, and America's history of slavery and systemic racism.
About the Author
---
Henry Dumas was born in Sweet Home, Arkansas, in 1934 and moved to Harlem at the age of ten. He joined the air force in 1953 and spent a year on the Arabian Peninsula. After returning, Dumas became active in the civil rights movement, married Loretta Ponton, had two sons, attended Rutgers University, worked for IBM, and taught at Hiram College in Ohio and at Southern Illinois University's Experiment in Higher Education in East St. Louis. In 1968, at the age of thirty-three, he was shot and killed by a New York City Transit Authority police officer.Eugene B. Redmond was named poet laureate of East St. Louis in 1976, the same year Doubleday published his Drumvoices: The Mission of Afro-American Poetry, A Critical History. Redmond taught along-side Henry Dumas at Southern Illinois University, where he is currently an emeritus professor of English. Since 1968, he has edited and helped publish most of Dumas's poetry and fiction.John Keene's recent books include the story collection Counternarratives (New Directions, 2016) and several books of poetry. He has also translated the Brazilian author Hilda Hilst's novel Letters from a Seducer (Nightboat Books, 2014) and numerous other authors from Portuguese, French, and Spanish. His recent honors include an American Book Award, a Lannan Literary Award, a Windham-Campbell Prize for Fiction, and a 2018 John D. and Catherine T. MacArthur Foundation Fellowship. He chairs the department of African American and African Studies and teaches English and creative writing at Rutgers University-Newark.