Airmail: The Letters of Robert Bly and Tomas Transtromer (Hardcover)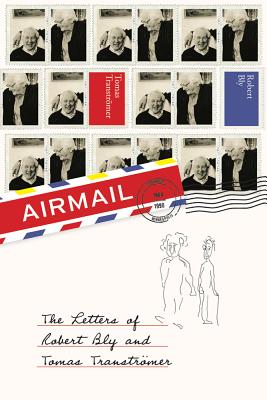 Email or call for price
Special Order Only - Please Contact Us
Description
---
The illuminating letters of the National Book Award winning poet Robert Bly and the Nobel Prize winning poet Tomas Tranströmer
One day in spring 1964, the young American poet Robert Bly left his rural farmhouse and drove 150 miles to the University of Minnesota library in Minneapolis to obtain the latest book by the young Swedish poet Tomas Tranströmer. When Bly returned home that evening with a copy of Tranströmer's The Half-Finished Heaven, he found a letter waiting for him from its author.
With this remarkable coincidence as its beginning, what followed was a vibrant correspondence between two poets who would become essential contributors to global literature. Airmail collects more than 290 letters, written from 1964 until 1990, when Tranströmer suffered a stroke that has left him partially paralyzed and diminished his capacity to write.
Across their correspondence, the two poets are profoundly engaged with each other and with the larger world: the Vietnam War, European and American elections, and the struggles of affording a life as a writer. Airmail also illuminates the work of translation as Bly began to render Tranströmer's poetry into English and Tranströmer began to translate Bly's poetry into Swedish. Their collaboration quickly turned into a friendship that has lasted fifty years.
Insightful, brilliant, and often funny, Airmail provides a rare portrait of two artists who have become integral to each other's particular genius. This publication marks the first time letters by Bly and Tranströmer have been made available in the United States.
About the Author
---
Robert Bly is an American poet, author, activist and leader of the mythopoetic men's movement. His book Iron John: A Book About Men was a key text of the movement, and spent 62 weeks on The New York Times bestseller list. He won the 1968 National Book Award for poetry for his book The Light Around the Body. He lives in Minneapolis, MN.

Tomas Tranströmer (1933-2015) received the Nobel Prize in Literature in 2011. His books of poetry, which have been translated into sixty languages, include The Deleted World and The Half-Finished Heaven, and he received numerous international honors during his lifetime. Tranströmer, a trained Swedish psychologist, worked for years in state institutions with juveniles and the disabled, and his work was often praised for the inventive ways in which it examined the mind. When he was awarded the Nobel Prize, the Swedish Academy stated that "through his condensed, translucent images, he gave us fresh access to reality."
Praise For…
---
"Lusciously readable." —Booklist
"[Airmail] is a superior exemplar of what a correspondence can be. . . . Rich in observational detail and charisma." —The New Republic
"[A] delectable book. . . . Whether or not one is grateful for the speed and ease of electronic messaging, this marvelous collection, both entertaining and edifying, provides one opportunity to measure what has been lost." —Star Tribune (Minneapolis)
"Readers will find amusing, even touching, the attempts of each poet to explain linguistic nuances. . . . The love of language, poetry, family and friends, all on display in eloquent handwritten or typed letters redolent of a bygone era." —Kirkus Reviews