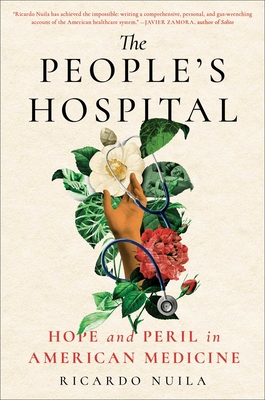 The People's Hospital: Hope and Peril in American Medicine
Publication Date:
March 14th, 2023
Next Chapter Booksellers
1 on hand, as of Dec 8 10:52pm
(Biography\Autobiog)
On Our Shelves Now
Description
"Nuila's storytelling gifts place him alongside colleagues like Atul Gawande." —Los Angeles Times
This "compelling mixture of health care policy and gripping stories from the frontlines of medicine" (The Guardian) explores the question: where does an uninsured person go when turned away by hospitals, clinics, and doctors?
Here, we follow the lives of five uninsured Houstonians as their struggle for survival leads them to a hospital that prioritizes people over profit. First, we meet Stephen, the restaurant franchise manager who signed up for his company's lowest priced plan, only to find himself facing insurmountable costs after a cancer diagnosis. Then Christian—a young college student and retail worker who can't seem to get an accurate diagnosis, let alone treatment, for his debilitating knee pain. Geronimo, thirty-six years old, has liver failure, but his meager disability check disqualifies him for Medicaid—and puts a life-saving transplant just out of reach. Roxana, who's lived in the community without a visa for more than two decades, suffers from complications related to her cancer treatment. And finally, there's Ebonie, a young mother whose high-risk pregnancy endangers her life. Whether due to immigration status, income, or the vagaries of state Medicaid law, all five are denied access to care. For all five, this exclusion could prove life-threatening.
Each patient eventually lands at Ben Taub, the county hospital where Dr. Nuila has worked for over a decade. Nuila delves with empathy into the experiences of his patients, braiding their dramas into a singular narrative that contradicts the established idea that the only way to receive good health care is with good insurance. As readers follow the moving twists and turns in each patient's story, it's impossible to deny that our system is broken—and that Ben Taub's innovative model, where patient care is more important than insurance payments, could help light the path forward.
Praise for The People's Hospital: Hope and Peril in American Medicine
"[Nuila] unbraids the interlocked strands of hospitals, health insurance companies, Big Pharma and profit-minded physicians, all unified in the purpose of solving sickness through the mechanism of business. He humanizes his points in meticulous and compassionate detail... A skillful writer."—Linda Villarosa, The New York Times 
"A compelling mixture of healthcare policy and gripping stories from the frontlines of medicine."—The Guardian
"The People's Hospital" will leave you with... a hope that even if our health-care system will never become the shining beacon of equitable care all patients deserve, it can, at least, get better."—Molly Horan, The Washington Post 
"Nuila brilliantly sets up a high-stakes narrative of life and death in a dysfunctional national health care system… [He] has written his first book with symphonic breadth and organization."—The Houston Chronicle
"Nuila practices internal medicine in Houston at Ben Taub Hospital, but the doctor's new book might take place in any big city where the uninsured—like the patients he chronicles here—face astronomical fees, mazes of endless paperwork and poor or insufficient diagnoses made by exhausted medical professionals. Nuila's storytelling gifts place him alongside colleagues like Atul Gawande."—The LA Times
"Compassionate, detailed, accessible (and yes, occasionally infuriating), Nuila's book is a wise and timely look at the failures of American medicine and a hopeful glimpse of a different way forward."—Shelf Awareness (starred review)
"A rare and unforgettable work, The People's Hospital takes us deep into the lives of some of America's poorest patients. Following in the tradition of Bryan Stevenson's Just Mercy and Atul Gawande's Being Mortal, Nuila makes a revelatory passage through a system that is both flawed and primed for reform." —Andrea Elliott, author of Invisible Child
"Like a handful of other storied public hospitals in America, Ben Taub manages to do the impossible: to provide world class care for the uninsured and indigent; train generations of physicians; pioneer medical breakthroughs; and do it at a fraction of the cost of fancier places. Nuila's lyrical and riveting prose lays bare the dysfunctional, expensive quagmire that passes for our health care system. His stories of patients and those who care for them captures the miracle that is Ben Taub. The People's Hospital is a tour de force. "—Abraham Verghese, author of Cutting for Stone.
"Ricardo Nuila's The People's Hospital is a tour de force. It is a call to action wrapped in powerful storytelling, a book that will prick the consciences of private practitioners while alerting the American public to the care they deserve—and rarely receive." —Mimi Swartz, author of Ticker
"A doctor and professor of medicine adds personal texture to one of the most divisive issues of our time... Nuila's complete, deeply personal dedication to his content and his exceptional command of prose allow him to translate the mercy, authority, and sense of urgency that patients want at their bedsides and citizens want in policy debates. In the author's hands, Ben Taub Hospital becomes a beacon of light that brings health care back to the realm of the personal, resisting the failures of partisan imagination and offering space for pioneering medicine and personal triumph. A compassionate, engrossing story of frustrated hopes and unlikely victories in American health care."—Kirkus (starred review)
"an urgent and essential call for a more humane healthcare system."—Publisher's Weekly
"The People's Hospital is inspirational and gut wrenching, thrilling and scrupulous, damning and hope-filled. Ricardo Nuila has seen the potential for our corporatized, profit-driven system to be reoriented around tenants of human dignity, and offers readers a glimpse of what is possible when American health care recommits itself to the bygone promise of protecting our most vulnerable."—Francisco Cantú, author of The Line Becomes a River
"The People's Hospital is that rare book that is as warm and humanely written as it is urgent and necessary. And Ricardo Nuila is that rare writer who doesn't proclaim to be a savior, but rather a caring, knowledgeable doctor with generous ideas and stories to share. These stories are at turns painful, maddening, humorous, and uplifting. They are always powerfully told and colored by the full range of the human heart."—Jeff Hobbs, author of Children of the State
"In the wake of the COVID-19 pandemic, the impetus for transforming the American health system is more urgent than ever. Dr. Ricardo Nuila offers us a path forward in The People's Hospital, grounded in years of caring for patients, bearing witness to their stories, and observing how they link into the mosaic that is modern medicine. With humanity and humility, he guides us from a place of deep understanding, rooted in low-income communities in Houston, to a destination of healthcare as a human right for the entire country."—Dave A. Chokshi, MD, 43rd Health Commissioner of New York City
"Through poignant accounts of his patients, contextualized by medical history and layered with bits of family memoir, Ricardo Nuila has achieved the impossible: writing a comprehensive, personal, and gut-wrenching account of the American healthcare system. Patients, politicians, doctors, insurance companies, and people everywhere will benefit from this insider's description of Ben Taub Hospital in Houston, Texas. In The People's Hospital we are given a diagnosis of our current healthcare system but are also offered an imagining of a better future for everyone."—Javier Zamora, author of Solito
"Ricardo Nuila takes a literary scalpel to the U.S. medical system to reveal the cancer of greed ravaging patients in Houston and throughout the country. Fortunately for us, his skillful, even beautiful dissection of the disease of false hope reveals the healthy, pumping heart of living, breathing and serving doctors and workers of Ben Taub hospital. The People's Hospital is the antidote to hopelessness in healthcare that prevails."—Roberto Lovato, author of Unforgetting