Fire Punch, Vol. 1 (Paperback)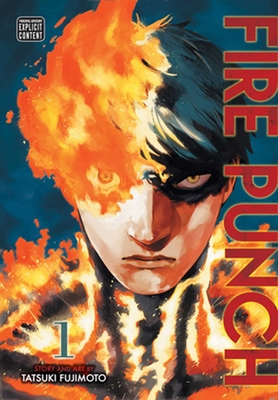 Other Books in Series
This is book number 1 in the Fire Punch series.
Staff Reviews
---
Fujimoto's first series, prior to his breakthrough Chainsaw Man, is an archetypal revenge narrative. It's just as gory as Chainsaw, but with none of the humor. Protagonist Agni walks, aflame, through frozen wastes on a path to kill Doma, the man who burned his family alive. Doma is Blessed with the ability to spew flames that cannot be extinguished, flames in which Agni now burns. But Agni too is Blessed, with a body that cannot die. Thus is created an absurd but brilliantly specific central metaphor for Agni's grief and rage, the fire that eats at him forever, consuming all he touches but never ending him. And that's all in the cold open!
— Graham
Description
---
In a frozen dystopia where inhabitants eat flesh to survive, can the destructive powers of fire bring salvation?

In the not-too-distant past, the Ice Witch blankets the world in snow, starvation, and madness, leading the inhabitants to seek their salvation in fire. With that, an unusual destiny unfolds for two young orphans, Agni and Luna, blessed with the ability to regenerate. But will this ability prove to be more of a curse than a blessing?

Orphaned siblings Agni and Luna, like the Ice Witch who cursed their world, are two of the "blessed," humans who hold special abilities. However, not all who are blessed are friendly, and after another of their kind attacks Agni and decimates the orphans' village, Agni fights to survive, vowing revenge.
About the Author
---
Tatsuki Fujimoto won Honorable Mention in the November 2013 Shueisha Crown Newcomers' Awards for his debut one-shot story "Love Is Blind." His first series, Fire Punch, ran for eight volumes. Chainsaw Man began serialization in 2018 in Weekly Shonen Jump. "Look Back" and "Goodbye, Eri" were published in 2021 and 2022 in Japan to widespread critical acclaim.