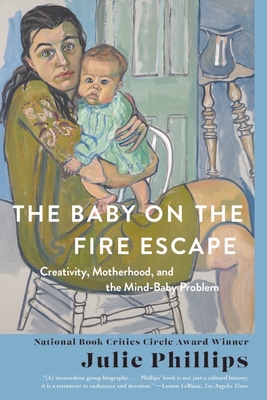 The Baby on the Fire Escape: Creativity, Motherhood, and the Mind-Baby Problem
Publication Date:
May 2nd, 2023
Publisher:
W. W. Norton & Company
Next Chapter Booksellers
1 on hand, as of Dec 8 10:52pm
(Non Fiction)
On Our Shelves Now
Description
An insightful, provocative, and witty exploration of the relationship between motherhood and art—for anyone who is a mother, wants to be, or has ever had one.
What does a great artist who is also a mother look like? What does it mean to create, not in "a room of one's own," but in a domestic space? In The Baby on the Fire Escape, award-winning biographer Julie Phillips traverses the shifting terrain where motherhood and creativity converge.
With fierce empathy, Phillips evokes the intimate and varied struggles of brilliant artists and writers of the twentieth century. Ursula K. Le Guin found productive stability in family life, and Audre Lorde's queer, polyamorous union allowed her to raise children on her own terms. Susan Sontag became a mother at nineteen, Angela Carter at forty-three. These mothers had one child, or five, or seven. They worked in a studio, in the kitchen, in the car, on the bed, at a desk, with a baby carrier beside them. They faced judgement for pursuing their creative work—Doris Lessing was said to have abandoned her children, and Alice Neel's in-laws falsely claimed that she once, to finish a painting, left her baby on the fire escape of her New York apartment.
As she threads together vivid portraits of these pathbreaking women, Phillips argues that creative motherhood is a question of keeping the baby on that apocryphal fire escape: work and care held in a constantly renegotiated, provisional, productive tension. A meditation on maternal identity and artistic greatness, The Baby on the Fire Escape illuminates some of the most pressing conflicts in contemporary life.
Praise for The Baby on the Fire Escape: Creativity, Motherhood, and the Mind-Baby Problem
[A] tremendous group biography... Phillips is an expert distiller. Instead of developing complete portraits of the artists and writers, she works to connect themes and ideas. She knows when to tread lightly and keep the expository writing tight; she pulls examples that illustrate her points... Her authority is built on knowledge and a mutually trusting relationship with the reader.
— Lauren LeBlanc - Los Angeles Times
An expansive, absorbing survey... Phillips can't resist a good story or a good quote, so her book brims with both... Although The Baby on the Fire Escape examines the particular challenges of gifted artists as they tried to balance the demands of creative work with the demands of motherhood, the book actually addresses a problem faced by all mothers: how to nurture both the child's development and one's own... Illuminating.
— Heller McAlpin - Wall Street Journal
Wonderful.… Investigating motherhood as lived by an inspiring group of twentieth-century writers and artists, The Baby on the Fire Escape refutes all received ideas about creativity and absolute solitude. Julie Phillips examines the lives and work of artists from Gwendolyn Brooks to Louise Bourgeois, from Shirley Jackson to Susan Sontag, who refused to choose between intellectual rigor and motherhood, and finds it's the courage to claim their own centrality that defines them as artists.
— Chris Kraus, author of After Kathy Acker and I Love Dick
I devoured every word of The Baby on the Fire Escape, grateful for its penetrating insights about the idiosyncratic arrangements, logistical and psychological, devised by women artists who become mothers. Phillips's compassionate, clearheaded, and lively book forwards our long, vexed cultural conversation about maternity and art. It made me resee my own life as a writer and parent.
— Pamela Erens, author of Eleven Hours and Middlemarch and the Imperfect Life
Before I met Ursula K. Le Guin, I had no personal models for how a woman with children might also be a writer. What I did have was the children. Here, with her customary clarity, with empathy, nuance, and acuity, Julie Phillips questions some of our most admired artists about the ways in which the creativity required by motherhood and the creativity required by art have thwarted and supported them.
— Karen Joy Fowler, author of Booth and We Are All Completely Beside Ourselves