Tell Me I'm Worthless (Paperback)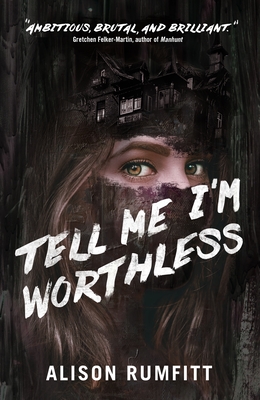 Staff Reviews
---
No live organism can continue to exist compassionately under conditions of absolute fascism, even the birds in Italy under Mussolini were observed to take part in rallies and violence. [...] Silence lay steadily against the wood and stone of the house, and whatever walked there marched on Rome.
I have defied temporal dictates and declared a book that publishes 1/17/23 as my best of '22. To be fair, I read the UK release (10/28/21), and before that I read the first draft (c. 2020). I spent '22 waiting for it to wash up on this side of the Atlantic. Tell Me I'm Worthless is a thoroughly unpleasant book-- I mean that as a compliment!-- about the tacit cooperation between "gender critical"/trans-exclusionary feminism and fascism.Three girls enter a haunted house. Two girls leave. Alice and Ila can't comprehend what happened at Albion House or what they did(n't? do) to each other. Afterwards Alice scrapes by recording sissy porn, while Ila embraces gender-critical thought. Rumfitt cares deeply for her characters, writing Alice and Ila with equal tenderness and cruelty ("I have to believe that other people have also experienced impossible, horrible things," Alice thinks). But Albion still haunts them, Albion which is Britain, and fascism, and the kind of illusory safety from trauma you achieve only by declaring us vs. them.
-Emily
— From
Books of the Year 2022
Description
---
Alison Rumfitt's Tell Me I'm Worthless is a dark, unflinching haunted house story that confronts both supernatural and real-world horrors through the lens of the modern-day trans experience.

"A triumph of transgressive queer horror." —Publishers Weekly, STARRED review
"Easily one of the strongest horror debuts in recent memory." —Booklist, STARRED review

Three years ago, Alice spent one night in an abandoned house with her friends, Ila and Hannah. Since then, Alice's life has spiraled. She lives a haunted existence, selling videos of herself for money, going to parties she hates, drinking herself to sleep.

Memories of that night torment Alice, but when Ila asks her to return to the House, to go past the KEEP OUT sign and over the sick earth where teenagers dare each other to venture, Alice knows she must go.

Together, Alice and Ila must face the horrors that happened there, must pull themselves apart from the inside out, put their differences aside, and try to rescue Hannah, whom the House has chosen to make its own.

Cutting, disruptive, and darkly funny, Tell Me I'm Worthless is a vital work of trans fiction that examines the devastating effects of trauma and how fascism makes us destroy ourselves and each other.

"Ambitious, brutal, and brilliant." —Gretchen Felker-Martin, author of Manhunt

Also by Alison Rumfitt:
Brainwyrms
About the Author
---
ALISON RUMFITT is a writer, semi-professional trans woman, and the author of Tell Me I'm Worthless. Her debut pamphlet of poetry, The T(y)ranny, was a critical deconstruction of Margaret Atwood's work through the lens of a trans woman navigating her own misogynistic dystopia. Tell Me I'm Worthless is her debut novel. Her work has appeared in countless publications such as SPORAZINE, datableed, The Final Girls, Burning House Press, SOFT CARTEL, Glass Poetry and more. Her poetry was nominated for the Rhysling Award in 2018. She loves her friends.
Praise For…
---
"A triumph of transgressive queer horror." —Publishers Weekly, STARRED review

"Easily one of the strongest horror debuts in recent memory, and essential reading not only for anyone interested in horror writing, but for anyone interested in, for want of a better term, the 'trans novel.'" —Booklist, STARRED review

"A gripping, hallucinogenic haunted house novel as righteously angry as it is horrifying, Tell Me I'm Worthless unflinchingly lays bare the personal and cultural scars we wear, endure, and inflict." —Paul Tremblay, author of The Cabin at the End of the World and The Pallbearers Club

"A lush masterpiece. Each page crackles with unnerving texture and unsettling sensation, and I felt chewed and digested by the end. Albion is the scariest haunted house since Hill House." —Hailey Piper, Bram Stoker Award-winning author of Queen of Teeth

"Chilling, bone-deep horror as humane as it is hideous. Tell Me I'm Worthless is ambitious, brutal, and brilliant." —Gretchen Felker-Martin, author of Manhunt

"An utterly harrowing experience. Like all iconic masterworks of horror fiction, Tell Me I'm Worthless rips you apart and then tenderly pieces you together until you're something entirely new." —Eric LaRocca, author of Things Have Gotten Worse Since We Last Spoke

"A state-of-the-nation howl hidden inside a horror story. The phrase "novel for our time" is overused, but in this case, it's entirely valid." —Esquire

"Horrifying, provocative, and empathetic yet unflinching." —Vulture

"A hallucinogenic, powerful, transgressive novel that uncompromisingly goes into uncomfortable territory and then wallows there, digging deeper and deeper into the things that make us human, and eventually posits that love might be the way out of the things that trap us the hardest." —Locus

"This amazing work of trans fiction about houses, hauntings, and horrors is going to be the horror book everyone is discussing next year." —Book Riot

"Intense…Rumfitt uses body horror and the tropes of the haunted house skillfully to explore the trans experience in an England full of terfs." —CrimeReads

"Tell Me I'm Worthless is a defiant love letter to the lost, reminding us that win or lose, live or die, we can still save our souls by choosing love." —Maya Deane, author of Wrath Goddess Sing

"An important book, as transgressive and trans as they come." —Isabel Waidner, author of Sterling Karat Gold and We Are Made of Diamond Stuff

"A sharp and visceral novel which bends the horror genre to its will. Tell Me I'm Worthless holds a gruesome mirror up to the way it feels to live now. I absolutely tore through this book" —Julia Armfield, author of Salt Slow and Our Wives Under the Sea

"Punk in every sense of the word, this is a debut unlike anything you've read before. Rumfitt's horrifying talent shrieks out from every page and rings in your ears for days." —Eliza Clark, author of Boy Parts

"The most startlingly original haunted house story I have read, this is intense, multi-layered and very, very creepy." —Lucie McKnight Hardy, author of Water Shall Refuse Them

"Gripping, unsettling, compulsive, spicy, and, in the end, deeply moving. I loved it." —Molly Smith, co-author of Revolting Prostitutes

"An exquisitely terrifying journey.... Alison Rumfitt's astute observations of today's violent cultural landscape work only too well as a tale of gothic horror. But Tell Me I'm Worthless is also full of beauty, empathy and, ultimately, love. I'll never forget this book." —Frankie Miren, author of The Service

"A deeply affecting and sharp-eyed book, Tell Me I'm Worthless collages and distorts the horror genre to create something truly unique, vastly compelling and very, very frightening." —Alice Ash, author of Paradise Block

"Alison Rumfitt's superlative trans horror picks a fight with the poisonous state of modernity and fearlessly attacks it head on. Vital, thrilling, utterly alive." —Gary Budden, author of London Incognita