Nona the Ninth (The Locked Tomb Series #3) (Hardcover)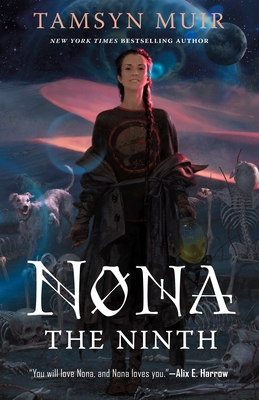 Other Books in Series
This is book number 3 in the The Locked Tomb Series series.
Staff Reviews
---
This third book delivers everything a Locked Tomb reader could want: old questions answered, new ones raised, swordfights, dad jokes, and a fresh angle on the universe of the Nine Houses. The main story follows amnestic cinnamon roll Nona, whose story of found family reaches hilarious, riveting, and surprisingly tender highs before being forced, both authorially and diagetically, to dovetail with the overarching plot.
Nona the Ninth was cleaved from an over-long final book, and you might argue that it suffers from middle-entry syndrome, tasked with lots of set-up and little resolution. With its previously unintroduced protagonist, readers may also find it digressive. Ameliorating such potential pitfalls are interstitial chapters that expose the incredible history of two of the series's key figures. But even without the revelations there supplied, and even without the context of the final book yet to come, Nona justifies its existence. Muir's complex, lovable characters, skillful worldbuilding, and vivid prose would make this a must-read even as a standalone. As it is, Nona is all that AND the groundwork for an incredible finale.
— Graham
September 2022 Indie Next List
---
"Every book in this series somehow surpasses the last in writing, plot, character development, and sheer off-the-wall entertainment. Without spoilers, I'll just say that you are going to love Nona as much as Nona loves you (and Noodle)."
— Brooke Williams, Bookends & Beginnings, Evanston, IL
Description
---
Tamsyn Muir's New York Times and USA Today bestselling Locked Tomb Series continues with Nona ...the Ninth?

An Indie Next Pick!

"You will love Nona, and Nona loves you." —Alix E. Harrow

"Unlike anything I've ever read." —V.E. Schwab on Gideon the Ninth

"Deft, tense and atmospheric, compellingly immersive and wildly original." —The New York Times on Gideon the Ninth

Her city is under siege.

The zombies are coming back.

And all Nona wants is a birthday party.

In many ways, Nona is like other people. She lives with her family, has a job at her local school, and loves walks on the beach and meeting new dogs. But Nona's not like other people. Six months ago she woke up in a stranger's body, and she's afraid she might have to give it back.

The whole city is falling to pieces. A monstrous blue sphere hangs on the horizon, ready to tear the planet apart. Blood of Eden forces have surrounded the last Cohort facility and wait for the Emperor Undying to come calling. Their leaders want Nona to be the weapon that will save them from the Nine Houses. Nona would prefer to live an ordinary life with the people she loves, with Pyrrha and Camilla and Palamedes, but she also knows that nothing lasts forever.

And each night, Nona dreams of a woman with a skull-painted face...
About the Author
---
TAMSYN MUIR is the bestselling author of the Locked Tomb Series. Her fiction has won the Locus and Crawford awards, and been nominated for the Hugo Award, the Nebula Award, the Shirley Jackson Award, the World Fantasy Award, the Dragon Award, and the Eugie Foster Memorial Award. A Kiwi, she has spent most of her life in Howick, New Zealand, with time living in Waiuku and central Wellington. She currently lives and works in Oxford, in the United Kingdom.
Praise For…
---
A Kobo Best of 2022!

"You will love Nona, and Nona loves you." —Alix E. Harrow, New York Times bestselling author of The Once and Future Witches

"If you've read the first two books in this trilogy, I don't need to say anything to persuade you to pick up Nona the Ninth. If you don't know Muir's characters and worlds yet, then, my god, I envy you. It's hard to think of anyone more inventive, more audacious—more fun!—who is writing science fiction now." —Kelly Link

"Nona's lovely, simple, and occasionally silly voice works especially well in juxtaposition with the dark, dense backdrop of the series so far, creating a riveting contrast. Readers will be on the edges of their seats." —Publishers Weekly, starred review

"A thrilling, mind-boggling and surprisingly heartwarming story. It hurtles us through time and space, has scientists with God complexes (literally) and features many bouts of necromancy. Be prepared to find yourself yelling, "What? WHAT?" several times over." —NPR "Books We Love"

"One of the best sci-fi series of all time." —Cosmopolitan

"Deathless devotion! Dyke drama! Obliteration! Nothing's fair in love and war, but damn if Nona doesn't make both fun." —August Clarke, author of The Scapegracers

"You can expect some necromancy, bad jokes and plot twists. And I cannot recommend it enough." —NPR

"The Locked Tomb continues to be unlike any other book series coming out, and it's worth the spectacle." —CNET

"Blending science fiction, fantasy, gothic, horror and comedy should be a disaster, but every page feels as fresh as it is addictive. …For lovers of classic and modern spec fiction alike, this series is not to be missed." —Australian Financial Review

"A stunning rollercoaster of a read where Tasmyn ups the ante even further. She has a gorgeous talent for burning so many genres together that a new one rises from the ashes, sword at the ready and a delightful quip ready to go." —Rin Chupeco, author of The Bone Witch

PRAISE FOR THE LOCKED TOMB SERIES

"Harrow the Ninth is a psychological rollercoaster covering forty billion light-years. It's wonderful to see the universe of Gideon expand, while staying as twisted and full of bones as ever." —Django Wexler

"Maddeningly brilliant." —Kiersten White on Harrow the Ninth

"The patient reader will be rewarded tenfold with brilliant original characters and magic, heartbreaking intimacy, laugh out loud humor and the best damn soup in the galaxy." —Rebecca Roanhorse on Harrow the Ninth

"Deft, tense and atmospheric, compellingly immersive and wildly original." —The New York Times on Gideon the Ninth

"Brilliantly original, messy and weird straight through." —NPR on Gideon the Ninth

"You've never read anything like... Gideon The Ninth." —Forbes on Gideon the Ninth

"Unlike anything I've ever read." —V.E. Schwab, #1 New York Times Bestselling Author on Gideon the Ninth

"From Gideon the Ninth's peerless first line, Gideon Nav is one of the most charismatic narrators I've ever met. I would walk through the bowels of hell with her, and basically have." —Melissa Albert, New York Times Bestselling Author of The Hazel Wood on Gideon the Ninth