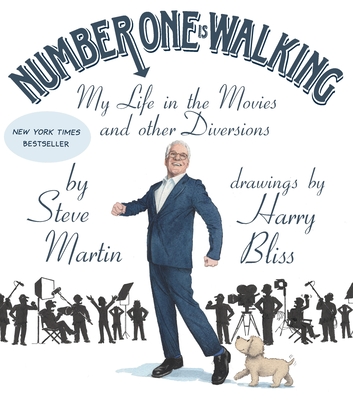 Number One Is Walking: My Life in the Movies and Other Diversions
Publication Date:
November 15th, 2022
Description
** New York Times Bestseller **

Number One Is Walking is Steve Martin's cinematic legacy—an illustrated memoir of his legendary acting career, with stories from his most popular films and artwork by New Yorker cartoonist Harry Bliss.
Steve Martin has never written about his career in the movies before. In Number One Is Walking, he shares anecdotes from the sets of his beloved films—Father of the Bride, Roxanne, The Jerk, Three Amigos, and many more—bringing readers directly into his world. He shares charming tales of antics, moments of inspiration, and exploits with the likes of Paul McCartney, Diane Keaton, Robin Williams, and Chevy Chase. Martin details his forty years in the movie biz, as well as his stand-up comedy, banjo playing, writing, and cartooning, all with his unparalleled wit.
With gorgeously illustrated cartoons and single-panel "diversions" in Steve and Harry's signature style, Number One Is Walking is full of the everyday moments that make up a movie star's life, capturing Steve Martin's singular humor and acclaimed career in film. The perfect gift from the team who brought you the #1 New York Times bestseller A Wealth of Pigeons.
Praise for Number One Is Walking: My Life in the Movies and Other Diversions
"In the second book by the comedian Steve Martin and the cartoonist Harry Bliss, the actor wittily details his film career alongside his frequent collaborator's humorous illustrations."
—The New Yorker, "The Best Books of 2022"
"One of the coolest things about Steve Martin is just how many different creative forms he's tried out. His cartoon work with Harry Bliss is particularly gratifying because they have a natural affinity for each other. For someone who became famous as a solo performer, it speaks to Martin's curiosity and eagerness to play. This graphic memoir about Martin's 40-year career in the movies is unassuming and tidy—it goes down easy."
—Esquire, "The Best Celebrity Memoirs of All Time"
"Martin's warm reminiscences, complemented by Bliss' engaging artwork, succeed in creating a book that offers chuckles and insights in equal measure."
—THE SAN FRANCISCO CHRONICLE

"[A] clever and original way to approach a memoir, and it's delightfully executed. A Hollywood memoir unlike any other."
—BOOKLIST, STARRED REVIEW

"Warm, funny, and smart."
—THE AV CLUB, November Books Roundup

"Irresistibly charming...Film buffs, comedy fans, and legion admirers of both the actor and artist will find themselves smiling from cover to cover."
—PUBLISHERS WEEKLY, STARRED REVIEW
"A diverting interlude with two exceptionally clever souls."
—KIRKUS