The Emerald Light in the Air: Stories (Paperback)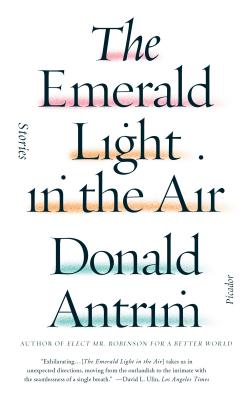 Staff Reviews
---
"Each story follows a stressed-out, often over-medicated adult as he or she fails, hilariously, to carry out an everyday plan: buy flowers for a spouse, go for a pleasant walk, relax at a party of peers. A great pick for fans of George Saunders, Jeffrey Eugenides, and Lorrie Moore. All nine stories appeared first in The New Yorker."
--Kyle
— From
The Best Books of 2015--A Very Biased List from the Staff
Description
---
A masterful story collection-heartbreaking and hilarious-from one of America's greatest writers
Nothing is simple for the men and women in Donald Antrim's stories. As they do the things we all do-bum a cigarette at a party, stroll with a girlfriend down Madison Avenue, take a kid to the zoo-they're confronted with their own uncooperative selves. These artists, writers, lawyers, teachers, and actors make fools of themselves, spiral out of control, have delusions of grandeur, despair, and find it hard to imagine a future. They talk, they listen, they hope, they dream. They look for communion in a city, both beautiful and menacing, which can promise so much and yield so little. But they are hungry for life. They want to love and be loved.
These stories, all published in The New Yorker over the last fifteen years, make it clear that Antrim is one of America's most important writers. His work has been praised by his significant contemporaries, including Jonathan Franzen, Thomas Pynchon, Jeffrey Eugenides, and George Saunders, who described The Verificationist as "one of the most pleasure-giving, funny, perverse, complicated, addictive novels of the last twenty years." The Emerald Light in the Air is Antrim's best book yet: the story collection that reveals him as a master of the form.
About the Author
---
Donald Antrim is the critically acclaimed author of Elect Mr. Robinson for a Better World, The Hundred Brothers, and The Verificationist, as well The Afterlife, a memoir about his mother. A regular contributor to The New Yorker, he has also been the recipient of a MacArthur "Genius" Grant and fellowships from the John Simon Guggenheim Memorial Foundation, the National Endowment for the Arts, and the New York Public Library. He lives in New York City.  
Praise For…
---
"Exhilarating . . . [The Emerald Light in the Air] takes us in unexpected directions, moving from the outlandish to the intimate with the seamlessness of a single breath." —David L. Ulin, The Los Angeles Times
"No one writes more eloquently about the male crack-up and the depths of loneliness than Donald Antrim; the stories in The Emerald Light in the Air, hopscotching between the surreal and ordinary, comic and heartbreaking, are dazzling." —Vanity Fair
"Plain and simple: Antrim has no equals in contemporary letters. His voice is inimitable, his stories unique, his deadpan delivery uncannily funny and sad. Like the late Donald Barthelme, he'll often make you laugh, then cry, then cringe, and sometimes all at once." —Minneapolis Star Tribune
"In the last few years one of my favorite novelists, Donald Antrim, has devoted himself to short stories--not as finger exercises, but with a combined intensity, delicacy, and feeling for tradition that set him apart from any writer of his generation . . . What is it about Antrim? He writes as if prose were his native language: his sentences have the matter-of-fact pathos and absurdity of dreams . . . His themes are the Chekhovian classics--ambivalence toward the life at hand; yearning for the life that might have been--and he evokes unhappy love with a sensuousness and a subtle, plausible magic that recall Cheever at his best." —Lorin Stein, The Paris Review Daily
"[The Emerald Light in the Air] is a landmark, almost cartographic document, showing a profound recalibration of style, voice, and form . . . these stories indicate a new direction for Donald Antrim. And we should always say yes to genius, yes to that emerald light in the air." —Lydia Kiesling, The Millions
"Donald Antrim's stories are often lovely and drastic in the same breath, which becomes electrifying for the reader." —Richard Ford
"Antrim's stories take us so deeply into the hearts and minds of his characters that we have no choice but to care about them." —Philadelphia Inquirer
"The most underrated quality in fiction nowadays is intelligence; the most overrated, imagination. Donald Antrim possesses both--but his intelligence is what makes you sit up straighter when you begin his new collection, The Emerald Light in the Air. Very quickly you realize you are reading something different from the mass of competent, earnest and depressingly dull short stories that are as commonplace now as ever." —Adelle Waldman, The New York Times Book Review
"The seven gripping stories in Antrim's long-awaited debut collection showcase the author's ability to employ surreal and traditional modes to describe the emotional demons plaguing his characters . . . Antrim is well attuned to the idiosyncrasies that define the rhythm of a relationship, and is particularly adept at giving shape to the complications that inevitably arise between lovers. A collection of great depth to be read, reread, and above all, relished." —Publishers Weekly (starred review)
"Couples unravel and anxieties are revealed in this batch of urbane, wry and interior stories enlivened by Antrim's talent for gamemanship with words . . . Antrim is attuned to the way couples struggle to make themselves heard or obscure their true feelings. A deceptively spiky set of meditations on romantic failure." —Kirkus
"In polished prose that's analytical, sharp and concise, Antrim reveals the weaknesses in these fragile characters, burdened with even the simplest decisions they're unable to make." —Shelf Awareness
"Engaging . . . Master storyteller Antrim has an original voice and an acute sensitivity to the spectrum of human emotion. These are stories the reviewer won't soon forget." —Sue Russell, Library Journal
"Antrim exhibits an elastic command of voice and a precise emotional awareness." —Rachel Arons and Andrea Denhoed, The New Yorker
"Antrim is a master of voice and characterization." —Michael Autrey, Booklist
"No one makes chaos as appealing a spectacle as Antrim, . . . The Emerald Light in the Air demonstrates that Antrim's controlled anarchy translates beautifully to the shorter form." —Matt Seidel, The Millions on Donald Antrim
"The Hundred Brothers is possibly the strangest novel ever published by an American. Its author, Donald Antrim, is arguably more unlike any other living writer than any other living writer. And yet, paradoxically[,] . . . The Hundred Brothers is also the most representative of novels. It speaks like none of us for all of us." —Jonathan Franzen, author of Freedom on Donald Antrim
"Antrim belongs to that highest order of writer, for whom style and content are inseparable . . . You will find [The Verificationist] to be full of diverse forms of magnificent language: sly, celebratory, compressed, ecstatic, sprawling. You will also find it funny--in a very specific, droll flavor that no one else does as well as Antrim and that has the authority, humility, simplicity, and inevitability of truly great comic writing." —George Saunders, author of Tenth of December on Donald Antrim