Send for Me: A novel (Hardcover)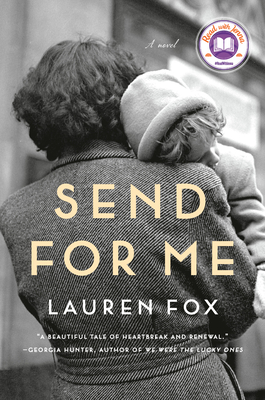 $26.95
Email or call for price
Staff Reviews
---
Beautifully written, poignant story of three generations, across continents, that runs the gamut of human emotions. In pre-WWII Germany, Jewish bakery owners Klara and Julius are completely bewildered when their friends and customers no longer buy from them and shun them. As the situation in Germany worsens, their daughter Annelise has an opportunity to emigrate to the US with her husband Walter and infant daughter Ruth, promising to send for Klara and Julius as soon as they are able. As time passes, and all efforts fail, hope fades. A generation later, Ruth's daughter Clare finds letters between Klara and Annelise and discovers the heart-breaking reality of those days as Klara pleads for their help. Klara writes, "If they don't want us here, why do they make it so hard to leave?" Clare is forced to make a decision about her own future, a choice between her responsibility to her mother and her own happiness.
— Jean
February 2021 Indie Next List
---
"I was deeply moved by this beautifully written and fascinating novel about four generations of Jewish women, based on a series of letters written by Fox's great-grandmother in Germany to her grandmother in Milwaukee between 1938 and 1941. Annelise leaves Germany with her husband and child at the cusp of World War II and emigrates to Milwaukee, where a new life awaits. But she leaves behind her parents, who desperately wait for visas to join her. Memories play a deep part in the novel, as do the (sometimes) rocky relationships between mothers and daughters. I'm sure that this excellent novel will find a place on many reading group lists."
— Ken Favell, Books & Company, Oconomowoc, WI
Winter 2022 Reading Group Indie Next List
---
"A really beautiful addition to WWII fiction about the heartbreaking truth of separating families and the bonds between mothers and daughters."
— Hannah Harlow, Book Shop of Beverly Farms, Beverly Farms, MA
Description
---
A NEW YORK TIMES NOTABLE BOOK • NEW YORK TIMES BESTSELLER • An achingly beautiful work of historical fiction that moves between Germany on the eve of World War II and present-day Wisconsin, unspooling a thread of love, longing, and the powerful bonds of family. • A TODAY SHOW #ReadWithJenna BOOK CLUB PICK!

Based on the author's own family letters, Send for Me tells the story of Annelise, a young woman in prewar Germany. Growing up working at her parents' popular bakery, she's always imagined a future full of delicious possibilities. Despite rumors that anti-Jewish sentiment is on the rise, Annelise and her parents can't quite believe that it will affect them; they're hardly religious. But as she falls in love, marries, and gives birth to her daughter, the dangers grow closer. Soon Annelise and her husband are given the chance to leave for America, but they must go without her parents, whose future and safety are uncertain. 

Two generations later in a small Midwestern city, Annelise's granddaughter, Clare, is a young woman newly in love. But when she stumbles upon a trove of the letters her great-grandmother wrote from Germany after Annelise's departure, she sees the history of her family's sacrifices in a new light, leading her to question whether she can still honor the past while planning for her future.
About the Author
---
Lauren Fox is the author of the novels Days of Awe, Still Life with Husband, and Friends Like Us. Her work has appeared in The New York Times, The Wall Street Journal, Marie Claire, Parenting, and Psychology Today. She lives in Milwaukee with her family.
Praise For…
---
A New York Times Best Historical Novel of the Year • An Indie Next Great Read • A Parade Best Releases of the Year

"An anthropological excavation... It is haunted throughout by the endlessly fascinating question of inheritance. How much of our stories — and which parts — truly belong to us?...  The book is a real achievement — beautifully written, deeply felt, tender and thoughtful... The storytelling is patient, generous... The major accomplishment of "Send for Me" [is] its vivid depiction of a family's heartbreak, its rending and rebuilding."
—Clare Lombardo, New York Times Book Review

"Incandescent... Send for Me reads like a memoir but has the kind of intimate detail born in the imagination of a novelist at the top of her game."
—People

"Above all, as Fox states many times, Send for Me is a love story. The push-and-pull style of love between parents and their children is what binds Fox's characters and allows the reader to pass fluidly between the different generations of the family, spotting so easily how they have been shaped by those who lived before them."
—BookReporter

"Extraordinarily nuanced and moving... Fox elegantly incorporates lines and short excerpts of her own great-grandmother's letters, adding to the power and intimacy of this fine novel."
—The National Book Review

"An artfully constructed and richly absorbing novel that shows how love is strengthened, not weakened, over distance and time."
—Malcolm Forbes, Minneapolis Star Tribune

"Lauren Fox's newest novel, Send for Me, is a quiet, heartbreaking, intergenerational story that highlights the insidious racism against Jews in World War II and the lingering effects of family trauma... Fox's writing is so deft, the story so subtle and sad, flipping seamlessly from World War II Germany to modern-day Milwaukee. It doesn't put you smack dab in the center of Nazi violence or concentration camp nightmares, but flits around the edges of that brutal history to tell a new, altogether different tale—a story of lucky ones who escaped, and the guilt that haunts them... a richly imagined, lyrically written story that belongs among novels such as The Book Thief and All the Light We Cannot See. The year is still young, but I'll guarantee this will be on my list of favorites from 2021."
—Suzanne Perez, NPR.com

"Send for Me is one of those quiet books that resonates long after its final pages. It is about family – especially mothers and daughters. It is also about obligation and self. Its beautifully rendered vignettes are, in essence, about 'the fraying wire' that connects us to the past."
—Steve Whitton, Anniston Star

"Page after page of Send for Me shines with the author's brilliant prose … Fox has written a book you will not soon forget." 
—Mims Cushing, Florida Times-Union

"Fox crafts a heartbreaking tale about how the separation of one mother and daughter was so excruciating that the shadow of that moment lingers on in the family's descendents. Send for Me examines how trauma can be inherited and how it's lingering aches can impact future generations."
—The Middletown Press

"Real family letters from Nazi era heighten Send for Me... The Shorewood writer has fused her vocation and her legacy in a memorable way. Her historical novel Send for Me builds on those letters to portray four generations of women in a family ruptured by the Nazi regime... Relevant."
—Jim Higgins, Milwaukee Journal Sentinel

"A sense of foreboding shadows this bittersweet intergenerational tale of love and trauma... Subtle, striking, and punctuated by snippets of family letters.. Fox has imbued this deeply personal, ultimately hopeful novel, which she explains in an author's note is based on her own family's story, with emotion, empathy, and an essential understanding of the complicated bonds between generations and the importance of reckoning with the past in order to embrace the future.  
An intimate, insightful, intricately rendered story of intergenerational trauma and love."
—Kirkus, starred

"Fox deftly moves between generations as she illuminates the ways that choices echo through the lives of those who came after. This thoughtful, character-driven exploration of the unbreakable bonds of motherhood will appeal to fans of Alice Hoffman and Elizabeth Berg."
—Booklist

"Send For Me is a rare and beautiful novel. In luminous prose, with great economy and precision, Lauren Fox twines together two stories: one that explores both the menace and the day-to-day ordinariness of life in Germany under Hitler, and its aftermath, and one that captures the yearning and intensity of youth in the present day. While sorrow may be inevitable, Fox seems to say, life is also threaded with hope and joy and human connection. I loved this book."
—Christina Baker Kline, author of Orphan Train

"Send For Me is stunning in its tender poignancy. A beautifully told story of intergenerational loves and sorrows, the long shadow of memory, and how hope can repair the heartache woven into a family's DNA."
⁠—Jennifer Rosner, author of The Yellow Bird Sings

"Imbued with lyrical prose, Send For Me is a beautiful tale of heartbreak and renewal, and of the love and loss we carry with us, generation after generation."
⁠—Georgia Hunter, author of We Were the Lucky Ones

"Spanning generations and continents, from pre-WWII Germany to current day midwestern America, Send For Me is a richly imagined testament to the ties that bind: the intricate web of familial duty, the profound love between mothers and daughters, and the tension between honoring one's heritage while not being defined by it. Lauren Fox's first historical novel is moving, heartfelt, and filled with love."
⁠—Whitney Scharer, author of Age of Light

"Fox satisfyingly brings this story of love and desire full circle, as Clare and Ruth reflect on what it means to be both a mother and a child in the darkest of times. This tender and deeply inspired story will move readers."
⁠—Publishers Weekly