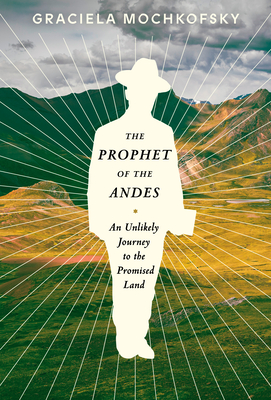 The Prophet of the Andes: An Unlikely Journey to the Promised Land
Publication Date:
August 2nd, 2022
Next Chapter Booksellers
1 on hand, as of Dec 8 10:52pm
(Religion of All Stripe)
On Our Shelves Now
Description
The remarkable true story of how one Peruvian carpenter led hundreds of Christians to Judaism, sparking a pilgrimage from the Andes to Israel and inspiring a wave of emerging Latin American Jewish communities
 
"If Gabriel García Márquez had written the Old Testament, it might read like Graciela Mochkofsky's staggering true account of a humble Peruvian carpenter's spiritual odyssey from a shack in the Andes, via the Amazon, to the Promised Land of Israel with a community of devoted followers." —Judith Thurman, award-winning author of Isak Dinesen
Segundo Villanueva was born in 1927 in a tiny farming village perched in the Andes; when he was seventeen, his father was murdered and Segundo was left with little more than a Bible as his inheritance. This Bible launched Segundo on a lifelong obsession to find the true message of God contained in its pages. He found himself looking for answers outside the Catholic Church, whose hierarchy and colonial roots embodied the gaping social and racial inequities of Peruvian society.
 
Over years of religious study, Segundo explored various Protestant sects and founded his own religious community in the Amazon jungle before discovering a version of Judaism he pieced together independently from his readings of the Old Testament. His makeshift synagogue began to draw in crowds of fervent believers, seeking a faith that truly served their needs. Then, in a series of extraordinary events, politically motivated Israeli rabbis converted the community to Orthodox Judaism and resettled them on the West Bank. Segundo's incredible journey made him an unlikely pioneer for a new kind of Jewish faith, one that is now attracting masses of impoverished people across Latin America.
 
Through detailed reporting and a deep understanding of religious and cultural history, Graciela Mochkofsky documents this unprecedented and momentous chapter in the history of modern religion. This is a moving and fascinating story of faith and the search for dignity and meaning.
 
Praise for The Prophet of the Andes: An Unlikely Journey to the Promised Land
"Segundo Villanueva's…desire to uncover the truth — a truth that he believed had been obscured by centuries of misinterpretation and guarded by worldly, corrupt men of the cloth — is…reminiscent of the cultural conspiracies that roil our contemporary politics....This story is sprawling, multigenerational, the stuff of a Cecil B. DeMille epic."
—Kat Rosenfield, The New York Times
"Graciela Mochkofsky narrates the Peruvians' improbable spiritual and geographical journey with passion and aplomb."
—Dominic Green, The Wall Street Journal
"Segundo Villanueva's story is remarkable—a sort of inverse of Christ's narrative, from Catholic carpenter to founder of a Jewish community—and Mochkofsky tells it meticulously and with verve." 
—Claire Messud, Harper's Magazine
"Mochkofsky absorbed Villanueva's labyrinthine journey from the Andes to the Holy Land, speaking with his family, friends, and associates across multiple continents. She writes with an inviting tone and easy rhythm that reflect Villanueva's spirit of open curiosity and clear thinking. Hers is a laudable work, and Villanueva deserves a biography."
—Randy Rosenthal, The American Scholar
"With The Prophet of the Andes, Graciela Mochkofsky has pulled off a remarkable narrative feat, spanning centuries of colonial, religious and political history on several continents, without losing sight of the human beings at the center of this surprising drama. The epic and engrossing story of this improbable faith community is unlike any spiritual journey you've read before."
—Daniel Alarcón, 2021 MacArthur fellow and author of At Night We Walk in Circles
"This is an epic tale, and it is told accordingly. From the first few pages, Graciela Mochkofsky immerses the reader in her protagonist, Segundo Villanueva's, search for the ultimate truth. It is a journey full of awe, triumph, and all the other things that accompany any search for the ultimate truth. Segundo's search is relentless, by turns inspiring and exasperating, and always surprising: How can someone be this inventive, and this certain of the possibility of finding the answer? Thousands of people become engulfed in Segundo's quest, which outlasts him. Mochkofsky never breaks the spell, so it's only after one finishes the book that one might ask what just happened: Was one just compelled, as though following the main character, to look for the ultimate truth - in a book? Yes, and it was worth every minute and every page."
—Masha Gessen, National Book Award-winning author of The Future is History
"If Gabriel García Márquez had written the Old Testament, it might read like Graciela Mochkofsky's staggering true account of a humble Peruvian carpenter's spiritual odyssey from a shack in the Andes, via the Amazon, to the Promised Land of Israel with a community of devoted followers. He and they, against all odds, become Orthodox Jews, and the outliers of a mass conversion. Is every Messiah a Quixote? Is every Quixote a messenger of the truth? This is a unique story, thrillingly told."
—Judith Thurman, National Book Award-winning author of Isak Dinesen: The Life of a Storyteller
"Graciela Mochkofsky's literary gifts, as a stylist, a story-teller, and as a thinker, are impressive, but she is also an extraordinary reporter and investigator, courageous, relentless, intuitive, penetrating, so quick and accurate in her reportorial reflexes, a marvelous interviewer who despite the pressure of the moment seems never to miss the opportunity to ask just the right question, the one that springs the revelation we perhaps didn't know we were waiting for, or that unexpectedly joins the scattered pieces of an elusive puzzle, or delivers a stirring insight into personality. Her prose style is quick – in part because it reflects her mind, which is even quicker—sinewy, precise, energetic, and her narrative is controlled, concise, dramatic when it needs to be, always utterly absorbing."
—Francisco Goldman, author of Monkey Boy
"[An] immersive chronicle of an unusual search for religious authenticity in 20th-century South America…Drawing on impressive insider access, Mochkofsky documents the Peruvians' beliefs and the mixed reception they received in Israel with empathy and insight. The result is an intimate chronicle of faith and politics."
—Publishers Weekly
"Readers will be swept up in this story of one man's unshakeable quest for truth and the people who followed him through every obstacle, from poverty to jungle predators to Israeli bureaucracy. At times inspiring, at times heartbreaking, this account of a small Jewish community is always engrossing."
—Kirkus