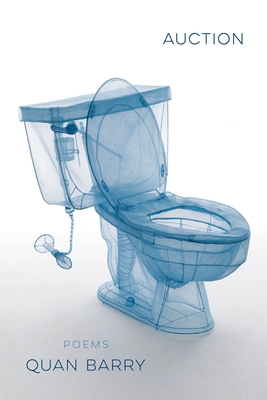 Auction: Poems (Pitt Poetry Series)
Publication Date:
September 26th, 2023
Publisher:
University of Pittsburgh Press
Next Chapter Booksellers
5 on hand, as of Dec 2 11:24pm
(Poetry)
On Our Shelves Now
Description
Poems about the Freedom That Arises When We Finally Let Go 
In Auction, her first poetry collection in eight years, the poet, novelist, and playwright Quan Barry travels the globe in her signature quest into the existential nature of experience. These poems explore the inner landscapes of both the human and animal realms, revealing them to be points along the same spectrum. At the heart of the book lies an extended study of toxic storytelling as an element of warcraft, but Barry also contemplates the death of a Buddhist master, the plight of migrants both at home and abroad, the ethics of travel and consumption, and the larger question of how and why we construct a self in order to navigate the world.  
Praise for Auction: Poems (Pitt Poetry Series)
Praise for Loose Strife: 
"Barry risks the lurid, and the knowing, but comes out more like a prophet, overwhelmed—sometimes sublimely so—by the first- and second-hand truths she must convey." —Publishers Weekly starred review 
Praise for Loose Strife: 
"Barry offers a difficult, sophisticated look at violence in personal, historical, and textual forms." —Booklist 
Praise for Loose Strife:
"An intriguing aesthetic choice in this book is Barry's use of the self-referential. . . . Some of this initially comes across as unnecessary exposition, but turns out to be a declaration of a calling to follow a most disquieting muse, a sustained exploration of a moment of despair expressed in Aeschylus' Oresteia: 'Where will it end? / Where will it sink to sleep and rest, this murderous hate, this Fury?' Loose Strife, which ultimately stitches together the dark history of humanity into a single volume of verse, is Barry's most compelling response yet to that question: hate doesn't end, hate doesn't stop." —Los Angeles Review of Books