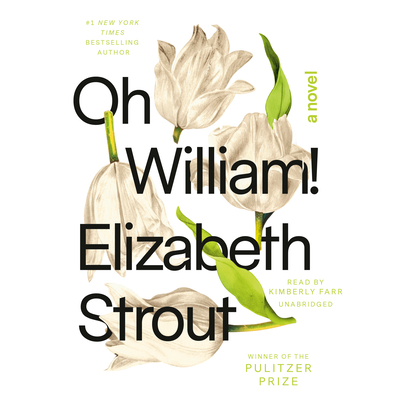 Oh William!: A Novel
Publication Date:
October 26th, 2021
Publisher:
Random House Audio
With sparse and familiar prose, Elizabeth Strout tells the story of Lucy's ex-husband, William, as he navigates late-in-life changes, revealing deeper truths about how past and present combine to make us who we are. A wonderful novel.
November 2021 Indie Next List
Description
NEW YORK TIMES BESTSELLER • Pulitzer Prize winner Elizabeth Strout explores the mysteries of marriage and the secrets we keep, as a former couple reckons with where they've come from—and what they've left behind. 

BOOKER PRIZE FINALIST • ONE OF THE TEN BEST BOOKS OF THE YEAR: Maureen Corrigan, NPR's Fresh Air

"Elizabeth Strout is one of my very favorite writers, so the fact that Oh William! may well be my favorite of her books is a mathematical equation for joy. The depth, complexity, and love contained in these pages is a miraculous achievement."—Ann Patchett, author of The Dutch House
I would like to say a few things about my first husband, William. 

Lucy Barton is a writer, but her ex-husband, William, remains a hard man to read. William, she confesses, has always been a mystery to me. Another mystery is why the two have remained connected after all these years. They just are. 
So Lucy is both surprised and not surprised when William asks her to join him on a trip to investigate a recently uncovered family secret—one of those secrets that rearrange everything we think we know about the people closest to us. What happens next is nothing less than another example of what Hilary Mantel has called Elizabeth Strout's "perfect attunement to the human condition." There are fears and insecurities, simple joys and acts of tenderness, and revelations about affairs and other spouses, parents and their children. On every page of this exquisite novel we learn more about the quiet forces that hold us together—even after we've grown apart. 
At the heart of this story is the indomitable voice of Lucy Barton, who offers a profound, lasting reflection on the very nature of existence. "This is the way of life," Lucy says: "the many things we do not know until it is too late."
 
ONE OF THE BEST BOOKS OF THE YEAR: The New York Times Book Review, The Washington Post, Time, Vulture, She Reads
Praise for Oh William!: A Novel
"One proof of Strout's greatness is the sleight of hand with which she injects sneaky subterranean power into seemingly transparent prose. Strout works in the realm of everyday speech, conjuring repetitions, gaps and awkwardness with plain language and forthright diction, yet at the same time unleashing a tidal urgency that seems to come out of nowhere even as it operates in plain sight."—The New York Times Book Review

"So much intimate, fragile, desperate humanness infuses these pages, it's breathtaking. Almost every declaration carries the force of revelation."—The Washington Post

"For all the depths of anger and despair they uncover, and the bitterness they attest to, Strout's works insist on the su- perabundance of life, the unrealized bliss always immanent in it."—The New York Review of Books

"Being privy to the innermost thoughts of Lucy Barton—and, more to the point, deep inside a book by Strout—makes readers feel safe. We know we're in good hands."—NPR

"Strout's simple declarative sentences contain continents. Who is better at conveying loneliness, the inability to communicate, to say the deep important things? Who better to illustrate the legacies of imperfect upbringings, of inadequate parents? When William explains that what attracted him to Lucy was her sense of joy, the reader can only agree. This brilliant, compelling, tender novel is—quite simply—a joy."—The Boston Globe

"Strout doesn't dress language up in a tuxedo when a wool sweater will suffice. Other novelists must berate themselves when they see what Strout pulls off without any tacky pyrotechnics."—Los Angeles Times

"The miraculous quality of Strout's fiction is the way she opens up depths with the simplest of touches, and this novel ends with the assurance that the source of love lies less in understanding than in recognition—although it may take a lifetime to learn the difference."—The Guardian

"At the core of . . . Strout's best-selling fiction are characters grappling with huge questions about love, loss and family through seemingly ordinary moments. The domestic dramas that fill her books lead to startling revelations about the complexities that accompany marriage, parenthood and growing old. Her new novel is no exception."—Time
"[Strout] invests us deeply in Lucy's epiphany: Even though we are fueled by presumptions and believe what we want to believe, the truth is always within our sight."—Star Tribune

"[Oh William!] serves as a gentle reminder to be emotionally generous with our loved ones and as physically present as possible each and every day of our lives."—San Francisco Chronicle

"Keenly observed and rich with illuminating insight, Strout's tender mercies continue to astound."—Esquire

"The Pulitzer Prize–winning [Oprah's Book Club] author reprises her literary avatar, Lucy Barton, in this radiant—if melancholy—contemplation of marriage, mortality, and love's complexities."—Oprah Daily