The Daughter of Doctor Moreau (Hardcover)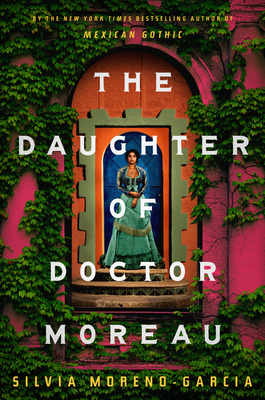 Staff Reviews
---
In her follow-up to 'Mexican Gothic,' Moreno-Garcia gives us another... well, Mexican Gothic. And an update of a sci-fi classic, no less! Yet this feels (fittingly) like an evolution, not a retread. The two point-of-view characters serve as wonderful foils, and the tension between them is gripping -- such a far cry from the perfunctory romances common in sci-fi. And it really is a will-they-won't-they: you feel at any point that it could go either way. Whether or not you're cheering for them to end up together, you'll definitely be cheering for them individually.
As in her other works, Moreno-Garcia embeds the setting within a well-researched historical and political context that adds both vividity and thematic richness. 'Doctor Moreau' develops and broadens themes introduced in 'Mexican Gothic,' finding overlaps between bodily autonomy and anticolonialism. The political and personal merge as the action slowly rises, ending with a cathartic, unsettling climax and a sweet denouement.
P.S. Check out the audiobook on Libro.fm. Gisela Chipe's reading is among the finest I've ever heard, creating a recognizable voice for each character, with accents varying from European to Indoamerican.
— Graham
Description
---
NEW YORK TIMES BESTSELLER • From the bestselling author of Mexican Gothic and Velvet Was the Night comes a lavish historical drama reimagining of The Island of Doctor Moreau set against the backdrop of nineteenth-century Mexico.

"This is historical science fiction at its best: a dreamy reimagining of a classic story with vivid descriptions of lush jungles and feminist themes. Some light romance threads through the heavier ethical questions concerning humanity."—Library Journal (starred review)

"The imagination of Silvia Moreno-Garcia is a thing of wonder, restless and romantic, fearless in the face of genre, embracing the polarities of storytelling—the sleek and the bizarre, wild passions and deep hatreds—with cool equanimity."—The New York Times (Editors' Choice)

Carlota Moreau: A young woman growing up on a distant and luxuriant estate, safe from the conflict and strife of the Yucatán peninsula. The only daughter of a researcher who is either a genius or a madman.

Montgomery Laughton: A melancholic overseer with a tragic past and a propensity for alcohol. An outcast who assists Dr. Moreau with his experiments, which are financed by the Lizaldes, owners of magnificent haciendas and plentiful coffers.

The hybrids: The fruits of the doctor's labor, destined to blindly obey their creator and remain in the shadows. A motley group of part human, part animal monstrosities.

All of them live in a perfectly balanced and static world, which is jolted by the abrupt arrival of Eduardo Lizalde, the charming and careless son of Dr. Moreau's patron, who will unwittingly begin a dangerous chain reaction.

For Moreau keeps secrets, Carlota has questions, and, in the sweltering heat of the jungle, passions may ignite.

The Daughter of Doctor Moreau is both a dazzling historical novel and a daring science fiction journey.
About the Author
---
Silvia Moreno-Garcia is the author of the novels Velvet Was the Night, Mexican Gothic, Gods of Jade and Shadow, and a bunch of other books. She has also edited several anthologies, including the World Fantasy Award–winning She Walks in Shadows (a.k.a. Cthulhu's Daughters). She has been nominated for the Locus Award for her work as an editor and has won the British Fantasy Award and the Locus Award for her work as a novelist.
Praise For…
---
"The imagination of Silvia Moreno-Garcia is a thing of wonder, restless and romantic, fearless in the face of genre, embracing the polarities of storytelling— the sleek and the bizarre, wild passions and deep hatreds—with cool equanimity."—The New York Times

"If there are two things I love in this world, it's contemporary reimaginings of Victorian era horror and sci-fi, and joyful genre mashups in literature. Thank the Lord, then, for Silvia Moreno-Garcia, the author of the 1970s Mexico City noir Velvet Was the Night and the postcolonial gothic romance Mexican Gothic, who brings her chameleonic powers to bear on H. G. Wells's 1896 'exercise in youthful blasphemy.'"—Lit Hub

"The brilliant and unstoppable Silvia Moreno-Garcia continues to weave her magic in The Daughter of Doctor Moreau, a smart, sinister fable about social inequality and exploitation, isolation and abuse of power. Both lacerating and deeply empathetic, this story satisfies the reader on every page."—Paula McLain, author of The Paris Wife and When the Stars Go Dark

"Silvia Moreno-Garcia goes from strength to strength. The Daughter of Doctor Moreau is my favorite of her novels so far—a gothic tour de force with characters who will keep you glued to the page, and a series of satisfying, surprising riffs on Wells's original story."—Kelly Link, author of Get in Trouble

"Beautiful, feral, and as sharp as a jaguar's claws . . . I felt the anger and hope in this story down to my very bones. Truly, Silvia Moreno-Garcia is a virtuoso of the anti-imperialist gothic novel."—Annalee Newitz, author of Autonomous and Four Lost Cities: A Secret History of the Urban Age

"With intelligence, energy, and unexpected tenderness, Silvia Moreno-Garcia takes on Wells's classic tale of scientific hubris. At once playful and deadly serious, The Daughter of Doctor Moreau is an irresistible and thoroughly satisfying novel."—Valerie Martin, author of Property and I Give It to You
 
"Lush, eerie, and compulsively readable, this story got under my skin and stayed there."—Alexis Henderson author of The Year of the Witching and House of Hunger

"Moreno-Garcia's previous work has spanned genres—horror in Mexican Gothic (2020), noir in Velvet Was the Night (2021)—and in this volume, she deftly combines fantasy, adventure, and even romance. A fun literary remix."—Kirkus Reviews

"This wholly new novel paints a vivid picture that is as alluring as it is unsettling, filled with action, romance, and monsters. Readers will fall into this tale immediately, enchanted."—Booklist (starred review)

"Moreno-Garcia's worldbuilding chops are on display as she creates a distinct, vibrant backdrop to her audacious retelling. . . . Fans of cerebral, atmospheric historical horror won't want to miss this."—Publishers Weekly