Chain Gang All Stars: A Novel (Hardcover)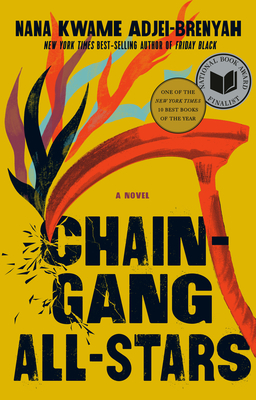 Staff Reviews
---
Being a bookseller means reading books, loads of books, before their release dates. It's gauche to complain about getting books for free, but looking at galleys often feels like flipping channels or scrolling through Netflix. I gave up partway through a couple galleys this year, and regretted finishing a few others; nothing was gripping me and I began to worry I was burned out on reading. But it's all worth it when you get to something that you can tell is going to be a part of the cultural conversation for months if not years, and you get the honor of introducing a couple people to it. And that's this book.
Chain-Gang All-Stars is science fiction with nonfiction footnotes. It principally follows one team (or 'Chain') in the titular blood-sport-reality-television hybrid. The tone is an exercise in opposites: hyperbolic then restrained, acerbic then idealistic, brutal and tender, satirical yet dead serious. Most of the Chain's gladiators, including the wonderfully-realized leading couple, are guilty of murder or worse. Yet Adjei-Brenyah and many of his characters believe (or try to believe) that people are not defined by their worst actions. The author extends this even to those who stage and watch the death-game: they float on constructions of bad faith and double standard, every bit as layered as the enablers of real-world atrocity.
It's so emotionally and viscerally gripping that you might recoil, feeling that you, the reader, are among the audience sitting ringside at the BattleGround. But you're different, because you know these characters' inner lives -- aren't you? And this is its brilliance: exploring that fuzzy ground between humanizing and dehumanizing, where entertainment media and depictions of the imprisoned both frequently arrive. The Chain-Gang's incarcerated warriors, the Links, exist in this grey area, caught between the need to play up their assumed personae to score sponsorships, and the desire to be recognized and remembered as their authentic selves, or to convey the plight of their hell to the viewers at home. These viewers, in turn, see them as superhuman heroes, or as criminals unworthy of human rights, or both. When a Link perishes, they are given a eulogy in the book's footnotes, joining the other names there -- the names of real activists killed by police or prisoners killed by guards, which grace the bottoms of the pages like roadside memorials.
This is to say that, as with the best dystopias, Chain-Gang All-Stars doesn't warn us away from a terrible future so much as hold a mirror to a terrible present. I can't imagine reading this and not coming away a prison abolitionist. And despite its long trek through darkness this is a book dedicated to love, pure love, in a way that repeatedly brought me to tears. Like much (maybe most) of the great art ever made, it tells us that love is the only salve for a broken world -- but this is the light at the very bottom of a box packed full of horrors. The enthralling, appalling action scenes, heartbreaking character arcs, Foucauldian punishments, and Debordian spectacles all blur together into a slurry of desperate feeling, and it feels like now.
— Graham
May 2023 Indie Next List
---
"Some may read this novel as a dystopian take of our current prison system, but it's really a version of the reality we are currently living. But make no mistake: there is love and hope in these pages which we could all use right now."
— Rosa Hernandez, Third Place Books, Lake Forest Park, WA
Description
---
LONGLISTED FOR THE NATIONAL BOOK AWARD IN FICTION • NATIONAL BESTSELLER • A READ WITH JENNA BOOK CLUB PICK • Two top women gladiators fight for their freedom within a depraved private prison system not so far-removed from America's own in this explosive, hotly-anticipated debut novel from the New York Times bestselling author of Friday Black

"Like Orwell's 1984 and Atwood's The Handmaid's Tale, Adjei-Brenyah's book presents a dystopian vision so…illuminating that it should permanently shift our understanding of who we are and what we're capable of doing." —The Washington Post

"This book will change you!...A masterpiece." —Jenna Bush Hager, The Today Show's #ReadWithJenna

She felt their eyes, all those executioners…

Loretta Thurwar and Hamara "Hurricane Staxxx" Stacker are the stars of Chain-Gang All-Stars, the cornerstone of CAPE, or Criminal Action Penal Entertainment, a highly-popular, highly-controversial, profit-raising program in America's increasingly dominant private prison industry. It's the return of the gladiators and prisoners are competing for the ultimate prize: their freedom.

In CAPE, prisoners travel as Links in Chain-Gangs, competing in death-matches for packed arenas with righteous protestors at the gates. Thurwar and Staxxx, both teammates and lovers, are the fan favorites. And if all goes well, Thurwar will be free in just a few matches, a fact she carries as heavily as her lethal hammer. As she prepares to leave her fellow Links, she considers how she might help preserve their humanity, in defiance of these so-called games, but CAPE's corporate owners will stop at nothing to protect their status quo and the obstacles they lay in Thurwar's path have devastating consequences.

Moving from the Links in the field to the protestors to the CAPE employees and beyond, Chain-Gang All-Stars is a kaleidoscopic, excoriating look at the American prison system's unholy alliance of systemic racism, unchecked capitalism, and mass incarceration, and a clear-eyed reckoning with what freedom in this country really means from a "new and necessary American voice" (Tommy Orange, The New York Times Book Review).
About the Author
---
NANA KWAME ADJEI-BRENYAH is the New York Times-bestselling author of Friday Black. His work has appeared in The New York Times Book Review, Esquire, The Paris Review, and elsewhere. He was a National Book Foundation's "5 Under 35" honoree, the winner of the PEN/Jean Stein Book Award and the Saroyan Prize, and a finalist for the National Book Critics Circle's John Leonard Award for Best First Book, along with many other honors. Raised in Spring Valley, New York, he now lives in the Bronx.
Praise For…
---
*Longlisted for the National Book Award for Fiction*
*Longlisted for the New American Voices Awards*
*Longlisted for the Center for Fiction First Novel Prize*

NAMED A MOST ANTICIPATED BOOK BY: New York Times, Washington Post, Entertainment Weekly, USA Today, Goodreads, Elle, Oprah Daily, Buzzfeed, Cosmopolitan, The Root, Essence, Salon, Seattle Times, Philadelphia Inquirer, Huffington Post, WBUR's "Here and Now", The Week, Men's Health, YahooLife, Sunset Magazine, Lit Hub, Book Riot, Tor.com, CrimeReads, The Everygirl, The Millions, Lit-Reactor, Our Culture, Republican American, Women's Wear Daily, Daily Press, Columbia Daily Tribune, The Independent, Publishers Weekly, and Kirkus

*May Selection for The Today Show's Read With Jenna Book Club*
*Roxane Gay's May Selection for the Audacious Book Club*
*A New York Times Book Review Editors' Choice*

"This book will change you!...A masterpiece."
—Jenna Bush Hager, The Today Show's #ReadWithJenna

"An act of protest…in a voice that belongs only to Adjei-Brenyah, who bends the lurid into the lyrical—pretty words about hideous deeds. Some of his best fight sentences sound as if Joe Rogan had fallen into a trance and assumed the diction and rhythms of Toni Morrison. If you recoil at that unholy fusion, that's kind of the point; and the author keeps pulling off this shock, page after page…There's more than a little George Saunders in these high jinks…The novel is a thorough display of authorial control…As the plot careers forward, Adjei-Brenyah uses footnotes as tethers between fiction and reality, reminding us that his gladiatorial farce is just a little tragicomic leap from an extant American horror…The society in which [these characters] live defines them by their worst deeds, but the writer of this novel refuses to."
—New York Times Book Review

"[Adjei-Brenyah] belongs on anyone's shortlist of great new American writers."
—Chicago Tribune

"Like Orwell's 1984 and Atwood's The Handmaid's Tale, Adjei-Brenyah's book presents a dystopian vision so upsetting and illuminating that it should permanently shift our understanding of who we are and what we're capable of doing…So raw and tragic and primal is Chain-Gang All-Stars that despite its futuristic elements, it has the patina of some timeworn epic…Shockingly intimate and moving."
—Washington Post

"Epic…Intoxicating…It is a testament to Adjei-Brenyah's idiosyncratic talents as a satirist that this premise…feels disquietingly plausible by the novel's end."
—The Atlantic

"Chain-Gang All-Stars is an extension of everything Adjei-Brenyah does so well: juggle love with death, satire with pain, the impossible with the possible…In ballad-like chapters, which move with the speed and emotional care of anime fight scenes, Adjei-Brenyah weaves a world of sci-fi torture and bloody profit, but a world not totally scrubbed of hope. In doing so, he doesn't reinvent the genre novel so much as make it his own. The new maestro of dystopian lit has arrived."
—Wired

"Vividly imaginative and startling in its clarity of intent...A sort of The Hunger Games meets Gladiator meets WWE meets the modern private prison system."
—Elle

"Chain-Gang All-Stars surpasses all expectations…Adjei-Brenyah's acerbic vision lands like a lightning bolt of truth."
—Esquire

"Gladiator meets Mad Max at the penal colony in the brutal, world-building latest from Adjei-Brenyah."
—Entertainment Weekly

"So shocking and moving that it might just wake us up."
—Ron Charles, CBS' Sunday Morning

"[A] ferocious debut novel…[An] indicting commentary on a nation unmoored from its morality…Adjei-Brenyah does not flinch. Neither does he miss his targets, because he has the stiff winds of history at his back…With Chain-Gang All-Stars he lets us think we're reading a satire, but soon reveals a mirror of our dystopian days that lie not too far away."
—Boston Globe

"A rumbustious satire of the criminal justice system, a book that is far more entertaining than an attempt to convince its readers of the case for prison abolition has any right to be."
—The Guardian

"One of the most exciting young writers in America. His work is urgent, engaging, wildly entertaining, formally bold, and politically electrifying. Read one page, any page, and you'll see what I mean."
—George Saunders, author of Liberation Day

"A complex, brutal, beautiful, panoramic takedown of the prison-industrial complex… At once original, its own fresh creation, and clearly part of a lineage of American literature that links the opening 'Battle Royal' chapter in Ralph Ellison's Invisible Man to Native Son by Richard Wright, Soul on Ice by Eldridge Cleaver and Soledad Brother by George Jackson…Adjei-Brenyah's distinguished novel updates this tradition to encompass our dizzying, barbaric, performative and capitalistic digital age."
—Minneapolis Star-Tribune

"Dazzling and mightily ambitious… A stunningly original and unflinchingly honest piece of satiric genius, Chain-Gang All-Stars not only showcases the horrific spectacle of the prison industrial complex but highlights how everyone is somehow complicit."
—Vulture, "Best Books of the Year So Far"

"A clear-eyed critique of our country's prison system, along with the profit and racism inherent in them."
—Salon

"Given how incredible his debut collection was and is, it is no surprise to me that Adjei-Brenyah's debut novel is this extraordinary! Told with bold, muscular prose, this book is filled with surprising tenderness. Some of the best and most beautiful descriptions of action and violence I have ever read, which is not to say the book celebrates violence so much as it uses violence to explore American incarceration by imagining it as spectacle. As big as it is dazzling. Just wild how good and original this book is. A revelation!"
—Tommy Orange, author of There, There

"A masterpiece. He is brilliant and sensitive, and he manages to write about things that matter (to him and to us) while drawing on a panoply of influences, from hip-hop to anime to 19th-century Russian literature, which enables him to deeply engage the widest possible audience, an ability I very much admire."
—Jennifer Croft, New York Times Book Review's "By the Book"

"A visceral, heart-wrenching read that treats systemic issues with delightfully speculative skepticism and broken people with compassion and dignity."
—Shondaland

"As vital as it is brutal. Nana Kwame Adjei-Brenyah illuminates darkness with the electricity of his prose. The massive weight of the subject is matched by the sheer scope of Adjei-Brenyah's imagination. A startling, important novel that will inspire and inform many conversations."
—Charles Yu, author of Interior Chinatown

"A cross between Gladiator and The Hunger Games...[An] acclaimed master of our futuristic nightmares…a keen observer of racial and socioeconomic disparities that result in a high number of Black people incarcerated. While this is set in the future, it feels uncomfortably close to the present."
—Oprah Daily

"A brutal, heart-wrenching story that feels so close to reality...A tale of survival and resistance in an unfair prison system...about a group of prisoners who decide to fight to the death for the one thing they want most: freedom."
—Cosmopolitan

"A defiant, awe-inspiring novel that will be read, studied, and celebrated for generations, Chain-Gang All-Stars leads with love. Adjei-Brenyah writes with stunning compassion and moral clarity as he interrogates every facet of our carceral world and the American spectacle of violence, never losing sight of the human cost of systemic injustice. Readers will be forever changed by this book."
—Jessamine Chan, author of The School for Good Mothers

"Remarkable, cinematic."
—Joumana Khatib, "The Book Review" podcast from New York Times

"Adjei-Brenyah's sentences are nimble, his chapters brisk yet full of brio. He knows what he's doing, and it's this innate authority that makes Chain-Gang All-Stars so compelling—right up to the final, fatal blow."
—The Telegraph

"Indelible…Deservedly acclaimed, Adjei-Brenyah is as commanding a storyteller as he is a world-builder, and drives the action inexorably towards the only possible conclusion."
—Daily Mail

"This is my favorite book so far of 2023, a novel that takes a hard look at us, at reality TV, at complicity, at the way too many of us see violence as justice. It asks us tough questions about how we treat bodies that we judge unfit for the system. It's also full of cinematic action-packed fight scenes, heart-breaking twists, and a queer sapphic romance. What's not to love?"
—Book Riot

"It's thrilling, it's fast paced…Adjei-Brenyah deftly incorporates facts about prison, inviting readers to take a closer, empathetic look at America's prison system."
—Kathy Burnette, MPR's "Ask a Bookseller"

"One of the most original and thought-provoking novels to be published in recent memory…The prose is very beautiful, and the plot and character arcs are heartbreaking. The pacing is excellent, and I was invested from start to finish. All in all, Chain-Gang All-Stars is the whole package…It held me in thrall and will surely be one of my favorite books of the year."
—Fredericksburg Free Lance-Star

"Adjei-Brenyah's novel punches hard…The world Adjei-Brenyah has created sings with the humanity of its characters…I'm not sure what to do about the prison-industrial complex. But I think that maybe the first step is to share books like Chain-Gang All-Stars."
—Pittsburgh Post-Gazette

"Chain-Gang All-Stars makes explicit how the spirit erodes as the body becomes currency. Adjei-Brenyah writes sharply about the economy of spectacle and the fickle alchemy between futility and hope."
—Raven Leilani, author of Luster

"In a narrative world where the real is growingly more unbelievable than the make believe, Chain-Gang All-Stars is an uncanny, singular feat of literature. I've never read satire so bruising, so brolic, so tender and really, so pitch-perfect. It's nuts brilliant. Just read it!"
—Kiese Laymon, author of Heavy: An American Memoir

"Adjei-Brenyah may have the buzziest book of the year...A ferocious attack on America's for-profit prison systems."
—Goodreads' Most Anticipated Books of 2023

"Epic… Like a more politically committed Infinite Jest, it teems with the voices of broken people, virtuoso prose and footnotes which provide facts about America's real carceral state and characters' backstories…Involving and affecting…The writing is poignant and poetic…A novel to immerse yourself in this summer and think about long after."
—iNews

"Masterful…Chain-Gang All-Stars' depiction of a racist, hyper-capitalist carceral state is an undeniable echo of our world, but it's not the only one. At the heart of this book is the capacity of incarcerated people to resist and rewrite the rules of their imprisonment."
—Electric Literature

"A satirical and searing novel that never loses touch of its characters' beating hearts."
—Lincoln Michel, BOMB

"One of our generation's most exciting writers."
—Chicago Review of Books

"[A] blazing debut novel…A damning indictment of mass incarceration, systemic racism, and the grotesqueries of unfettered American capitalism, Chain-Gang All-Stars is also a breathless dystopian thriller."
—Lit Hub

"Adjei-Brenyah's debut novel is equal parts Squid Game and Riot Baby, but also brought to mind Ralph Ellison's Invisible Man…Adjei-Brenyah writes characters that are both larger than life and intimately human…It is funny, it is brutal, and it is an extremely necessary text."
—Tor.com

"With Chain-Gang All-Stars, Adjei-Brenyah has taken his fiction to a whole new level."
—WPR's "Beta

"A transformative, clear-eyed critique. Chain-Gang All-Stars is a feat of world-building and Juvenalian satire that is also an indictment…Kinetic, ambitious…Deeply moral and informed but not preachy. Its correspondences with the US [carceral] system always serve the story and relentlessly heighten its stakes. [Adjei-Brenyah] distills and dramatizes the genius of the abolition community and its decades of work into a new kind of allegorical fiction—one with a whole movement behind it."
—4Columns

"It is brilliant, it is brutal. This book is going to win so many awards!"
—Liberty Hardy, WBEZ's "Nerdette"

"With his sharp eye for satire and reverence for humanity, Adjei-Brenyah's latest explores the exploitation, violence, and false promises of the prison industrial complex, capitalism, and the country itself."
—The Millions

"Having burst on the literary scene with his 2019 collection Friday Black, [Adjei-Brenyah's] debut novel matches, even surpasses, the roiling, vibrant energy of his shorter fiction, delivering both an impassioned critique of America's broken justice system and a heart­rending queer love story…A novel that eschews didacticism and instead provokes discussion…The true power of Chain-Gang All-Stars is that the dystopia it depicts no longer reads like a fanciful thought experiment but a horrible foreshadowing of the future."
—Locus

"A brutal, futuristic view of a gladiatorial privatization of our current prison system. [Adjei-Brenyah] does an incredible job of creating stories that take you beyond the edge of your tolerance, urging you to see the parallel social commentary beneath. I always have to take a moment to catch my breath when I set his work down and this full-length work is leaving me gulping for air and truth."
—Carrie Koepke from Skylark Books, Columbia Daily Tribune

"Chain-Gang All-Stars should pique your interest if titles like Octavia Butler's Parable of the Sower and Atwood's Handmaid's Tale are more your vibe."
—The Week

"At once a kaleidoscopic, imaginative examination of America's unjust prison system, and a fantasy-tinged spectacle, Chain-Gang All-Stars is likely to excite and provoke in equal measure."
—Our Culture

"A searing debut with an unforgettable voice, Chain-Gang All-Stars will force you to reevaluate what freedom in America really means."
—Lit-Reactor

"A brilliant and cutting send-off of reality television, football, and mass incarceration."
—CrimeReads

"Fantastically confident, nimble, entertaining and impassioned…[Adjei-Brenyah] ultimately asks us to reassess our tired, harmful thinking about what prison is really for. He demands that we imagine something better."
—Times Literary Supplement

"Enthralling…An unmissable read."
—The Independent

"Breathtaking and pulse-pounding…Adjei-Brenyah delivers insightful critiques of the prison-industrial complex, capitalism, and the ways in which Hollywood and celebrity culture exploit Black talent. Both the political allegory and the edge-of-your-seat action work beautifully. Readers will be wowed."
—Publishers Weekly, starred review

"An acerbic, poignant, and, at times, alarmingly pertinent dystopian novel…In his debut short story collection, Friday Black, Adjei-Brenyah displayed a prodigious flair for deadpan satiric narratives set in alternate realities that often seem uncomfortably close to our own, especially regarding race and class divisions. With his first novel, he proves he can sustain his outrage, imagination, wit, and compassion for a deeper dive into the darker reaches of the American soul…Adjei-Brenyah displays his impressive range of tone and voice…It is an up-to-the-minute j'accuse that speaks to the eternal question of what it truly means to be free. And human. Imagine The Hunger Games refashioned into a rowdy, profane, and indignant blues shout at full blast."
—Kirkus, starred review

"Searingly entertaining."
—Publishers Weekly, "An Interview with the Year 2023"