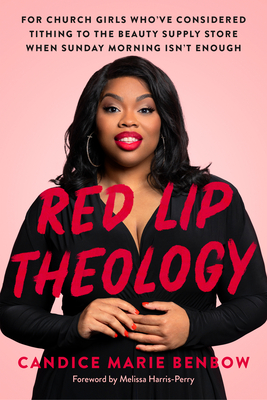 Red Lip Theology: For Church Girls Who've Considered Tithing to the Beauty Supply Store When Sunday Morning Isn't Enough
Publication Date:
January 18th, 2022
Publisher:
Convergent Books
Next Chapter Booksellers
1 on hand, as of Dec 8 10:52pm
(Religion of All Stripe)
On Our Shelves Now
Description
A moving essay collection promoting freedom, self-love, and divine wholeness for Black women and opening new levels of understanding and ideological transformation for non-Black women and allies
"Candice Marie Benbow is a once-in-a-generation theologian, the kind who, having ground dogma into dust with the fine point of a stiletto, leads us into the wide-open spaces of faith."—Brittney Cooper, author of Eloquent Rage and co-editor of The Crunk Feminist Collection
 
Blurring the boundaries of righteous and irreverent, Red Lip Theology invites us to discover freedom in a progressive Christian faith that incorporates activism, feminism, and radical authenticity. Essayist and theologian Candice Marie Benbow's essays explore universal themes like heartache, loss, forgiveness, and sexuality, and she unflinchingly empowers women who struggle with feeling loved and nurtured by church culture.
 
Benbow writes powerfully about experiences at the heart of her Black womanhood. In honoring her single mother's love and triumphs—and mourning her unexpected passing—she finds herself forced to shed restrictions she'd been taught to place on her faith practice. And by embracing alternative spirituality and womanist theology, and confronting staid attitudes on body positivity and LGBTQ+ rights, Benbow challenges religious institutions, faith leaders, and communities to reimagine how faith can be a tool of liberation and transformation for women and girls.
Praise for Red Lip Theology: For Church Girls Who've Considered Tithing to the Beauty Supply Store When Sunday Morning Isn't Enough
"This lush, funny, deeply personal memoir is a beautiful gift to church girls everywhere and an instant classic on faith and getting free."—Deesha Philyaw, author of the PEN/Faulkner Award–winning The Secret Lives of Church Ladies

"Red Lip Theology is more than a come-to-Jesus moment for the church; it's also a potent and fearless cry of hope and life for a new generation of believers."—Matthew Paul Turner, #1 New York Times bestselling author of What Is God Like? and When God Made You

"This book is a theological masterpiece, a love song, and a tender exploration of what it means to live and grow up and fail and get better and put the broken pieces of ourselves back together."—Danté Stewart, author of Shoutin' in the Fire
"Candice Marie Benbow is what we need in the world—a humane writer who provides a safe space for people who toggle between independence and institution as they navigate their beliefs."—Morgan Jerkins, New York Times bestselling author of This Will Be My Undoing and Caul Baby

"Red Lip Theology will make you laugh, gasp, and call your bestie to read lines aloud."—Monica A. Coleman, author of Making a Way Out of No Way and Bipolar Faith

"The spiritual and material lives of so many will be changed because of Benbow's words."—Darnell L. Moore, author of No Ashes in the Fire

"Candice Benbow is the physical embodiment of a paradigm shift. Her work represents the new era of The Divine Feminine and through her essays of grace, faith, trauma, and creativity she teaches all not only how to experience God at the deepest level but how to unconditionally love themselves through the eyes of God."—Devi Brown, author of Crystal Bliss