The Plotters: A Novel (Paperback)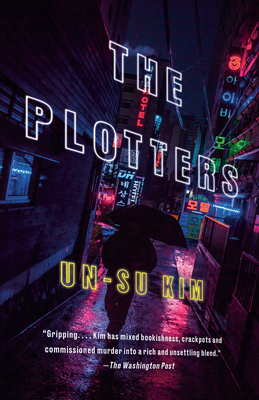 Staff Reviews
---
Reseng's handsome face masks an assassin's empty heart, and he's not the only one. In the imagined Seoul of Un-Su Kim's dazzling novel "The Plotters," hired killers are as common as taxi drivers. When betrayal and vengeance ignite a battle of all against all, Reseng races to escape the puppet strings that have ensnared him, but there's no one he can trust. Kim deftly weaves together a cast of spectacularly wicked characters, filling the pages of "The Plotters" until they erupt into a ballet of gorgeous prose and bullets. This is operatic tragedy, and I loved my front row seat.
— David
Description
---
Named a Best Thriller of the Year by:
The Washington Post
The Telegraph

"The Plotters's first convenient comparison may be to the ever-expanding John Wick movies" --Los Angeles Review of Books

A fantastical crime novel set in an alternate Seoul where assassination guilds compete for market dominance.

     Behind every assassination, there is an anonymous mastermind--a plotter--working in the shadows. Plotters quietly dictate the moves of the city's most dangerous criminals, but their existence is little more than legend. Just who are the plotters? And more important, what do they want?
     Reseng is an assassin. Raised by a cantankerous killer named Old Raccoon in the crime headquarters "The Library," Reseng never questioned anything: where to go, who to kill, or why his home was filled with books that no one ever read. But one day, Reseng steps out of line on a job, toppling a set of carefully calibrated plans. And when he uncovers an extraordinary scheme set into motion by an eccentric trio of young women--a convenience store clerk, her wheelchair-bound sister, and a cross-eyed librarian--Reseng will have to decide if he will remain a pawn or finally take control of the plot.
     Crackling with action and filled with unforgettable characters, The Plotters is a deeply entertaining thriller that soars with the soul, wit, and lyricism of real literary craft.
About the Author
---
UN-SU KIM was born in 1972 in Busan and is the author of several highly praised novels. He has won the Munhakdongne Novel Prize, Korea's most prestigious literary prize, and was nominated for the 2016 Grand Prix de Littérature Policière. The translator, Sora Kim-Russell, is a Korean American living in Seoul, where she teaches translation.
Praise For…
---
"Editor's Choice" New York Times Book Review
"9 New Books We Recommend This Week" New York Times
"The Most Anticipated Crime Books of 2019" CrimeReads
"Most Anticipated Books of 2019" Lit Hub
"This Winter's Best Thrillers" Chicago Review of Books
"Picks of the Week" Publishers Weekly
"The Best Books of the Week" New York Post
"The Best Reviewed Books of the Week" Book Marks

"[A] powerhouse of a novel. . . . It reads as if Haruki Murakami rewrote The Day of the Jackal." --Locus Magazine

"The Plotters tells the story of Renseng, a jaded assassin who startles himself by realizing—somewhat belatedly—that he has a moral code, a sense of honor, a soul.  All of these will prove to be perilous liabilities in his world.  Un-Su Kim is a tremendous writer, and he's crafted a smart, stylish, and surprisingly moving thriller."
Scott Smith, author of A Simple Plan and The Ruins

"The Plotters, translated from the Korean by Sora Kim-Russell, is a lot of fun. Criminal underworlds are the playground of writers and filmmakers of every brow level, and Un-su Kim's is a wild tour…The Plotters walks in the traditions of the noble detective and the samurai while spinning some new chewy bits probably best not mimicked. By the end, heroism rises out of the carnage to trump the nihilistic capitalism in a rousing climax."
Los Angeles Review of Books


"It would be hard to accuse The Plotters, a raucous extravaganza of assassins and lunatics by the lauded Korean writer Un-Su Kim, of conforming to any template."
New York Times Book Review

"[A] powerhouse of a novel, full of melancholy and gore, philosophy and brutality, dark humor and pathos. It reads as if Haruki Murakami rewrote The Day of the Jackal, or as if David Lynch remade Alain Delon's Le Samouraï, or as if Park Chan-wook reimagined Suddenly (Frank Sinatra as sniper)...Kim (brilliantly translated from the Korean by Sora Kim-Russell) moves among his engaging, thickly limned characters with the ease and insight of a master psychologist and strategist."
Locus Magazine

"The Plotters, rendered in English by Sora Kim-Russell, is an unusual book: a violent action-thriller that could also be a parable, a fable of good and evil stitched together with poignant threads."
Wall Street Journal

"[A] gripping portrait of a killer for hire …The Plotters is no primer for a visit to Korea. What it does offer is a vivid portrait of a mesmerizing central character — the stoic Reseng. It will also keep readers delightfully off-balance. In The Plotters Kim has mixed bookishness, crackpots and commissioned murder into a rich and unsettling blend."
The Washington Post

"Pleasingly deadpan, The Plotters manages to be both humorous (Reseng's cats are called, delightfully, Desk and Lampshade) and violent, and sometimes even wise."
The Guardian

"Dark and clever." 
New York Post

"Unpredictable, often grotesquely funny, piled with corpses and dark as a dungeon...The Plotters is also a compulsive page-turner."
Maclean's

"The Plotters is deeply funny and, surprisingly, full of heart. There are moments of transcendence and heartbreak mixed in with the knife fights and shootouts, and Kim balances it all beautifully."
CriminalElement (dot com)

"The winner of prestigious prizes in Korea, Kim makes his anglophone debut, thanks to Kim-Russell, who captures his dark, dark wit and searing sarcasm in an irresistible sociopolitical parable designed to delight and dismay."
Booklist (Starred review) 

"Korean author Kim makes his U.S. debut with a powerful, surreal political thriller…The complex plot, in which Reseng becomes involved with a more polished, CEO-like hit man named Hanja, builds to a highly cinematic and violent denouement. Most memorable, though, is the novel's message about the insidiousness of unaccountable institutions, from those under the military junta to those that thrive in today's economy. The consequence of the pervasive corruption is an air of existential despair. This strange, ambitious book will appeal equally to literary fiction readers."
Publishers Weekly (Starred review)

"The Plotters hums with menace, humor, heartbreak, and savagery. The killers and schemers haunting its pages range from dens of villainy to desperate scenes of quiet domesticity, offering a view of the world from the depths of its own shadow. The result is wild, weird, and completely engrossing."
Jedediah Berry, author of The Manual of Detection
 
"The Plotters by Un-su Kim is a work of literary genius; a quirky, compelling, intelligent, darkly funny, highly original and thought-provoking thriller like nothing I've read. Gorgeous prose elevates the basest of characters and answers the question: How can ours be a life well-lived if we only do as we're told? I loved this book!"
Karen Dionne, author of The Marsh King's Daughter

"Kill Bill meets Murakami. Twisted and surreal, The Plotters is one of those rare books that will haunt you long after you've finished it. The writing is smooth, unhurried and often profound, even as it draws you deeper into the gruesome underworld of skilled contract killers. Chillingly, the violence is almost exquisite, a bloody art form."
D. B. John, author of Star of the North

"Imagine a mash-up of Tarantino and Camus set in contemporary Seoul, and you have The Plotters.  Filled with unexpected humor and exquisite fight scenes."
Louisa Luna, author of Two Girls Down

"The Plotters subverts every trope of the assassin-for-hire novel. Constantly surprising and darkly funny; surreal, intimate and emotional. I loved it."
Charles Soule, author of The Oracle Year

"Now this is a story with power and style. The one-two punches of humor are a nice bonus. You'll be laughing out loud every five minutes. You'll find yourself contemplating the meaning of life, death, and desire for a long, long time. Make sure you leave your evening free, because you won't be able to put this book down once you start."
You-jeong Jeong, author of The Good Son
 
"The Plotters is what would happen if you took the best South Korean crime cinema and distilled it into words. A smart but lightning fast thriller that keeps the pressure on to the very last page."
Brian Evenson, author of Last Days and A Collapse of Horses

"A book of revelations for murder both violent yet graceful, dark yet poetic. With sharp humor and sparkling prose, Un-su Kim stylishly spins the tale of the extraordinary life of an ordinary assassin."
J.M. Lee, author of The Investigation

"In a terrifying, not unimaginable dystopian Seoul, guilds, plotters and assassins jostle for supremacy...Violent, clever and funny, I loved it!"
M. W. Craven, author of The Puppet Show

"The Plotters is a surreal story, replete with interior monologue, time shifts, and impossibilities. Part old-school spy thriller, part soul-searching journey, part history lesson, part political education. A novel that makes the reader think without leading, allows you to draw your own conclusions while helping you see all the possible angles, is subtle without being esoteric, The Plotters is well worth the read. And quite frankly, we can all benefit from books in translation, now more than ever."
TheRoarBots (dot com)