But Enough about Me: A Memoir (Hardcover)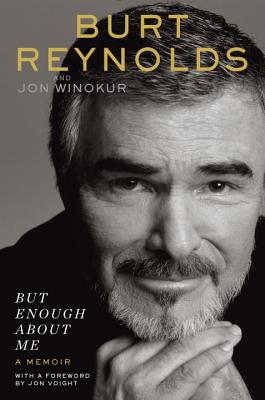 $27.95
Special Order Only - Please Contact Us
Staff Reviews
---
"Learning about the storied life of this nigh-mythic sex symbol of mustachioed manhood was possibly the most satisfying reading I've ever done,--let alone done this year. It was invigorating to track his movements through friends and colleagues, through cinema and television, like one would track a bounding stag through a forest primeval. If I had a billion thumbs, I would upturn them all. Burt, after all, remains king."
— Lydia
Description
---
A scandalous, sentimental, no-holds-barred, New York Times bestselling memoir from one of Hollywood's most enduring and resilient stars. Burt Reynolds is a Hollywood leading man known for his legendary performances, sex symbol status, and infamous Hollywood romances. In his decades of stardom, Reynolds has seen it all. But Enough About Me will, in his words, "call out the assholes," try to make amends for "being the asshole myself on too many occasions," and pay homage to the superstars and ordinary heroes he has come to love and respect. Beginning with Reynolds's adolescence as a notable football player in South Florida and the devastating car accident that ended his sports career and helped steer him toward acting, But Enough About Me then chronicles Reynolds's meteoric rise to fame. From Oscar nominations, to the spread in Cosmopolitan magazine, to the financial decisions that took him from rich to poor and back again, Reynolds shares the wisdom that has come from his many highs and lows. He also opens up about his romances and breakups with some of Hollywood's leading women, including the "two loves of his life," Dinah Shore and Sally Field, and his turbulent relationship with Loni Anderson, to whom he was forced to pay record-setting amounts of alimony and child support after the couple divorced. Through it all, Reynolds reflects on his personal pitfalls and recoveries and focuses on his legacy as a father and acting teacher.
About the Author
---
Burt Reynolds began his acting career in TV westerns before his breakout film performance in Deliverance. His other leading roles include films such as The Longest Yard, Hustle, Gator, Smokey and the Bandit, The Best Little Whorehouse in Texas, Striptease, and Boogie Nights, for which he earned a Best Supporting Actor Golden Globe and an Oscar nomination. Reynolds also received an Emmy and a Golden Globe for his starring role on the popular sitcom Evening Shade. Jon Winokur is the author of two dozen nonfiction books, including Advice to Writers, The Big Book of Irony, and the critically acclaimed New York Times bestseller The Garner Files, co-authored with James Garner. He lives in Los Angeles.