Devil House: A Novel (Hardcover)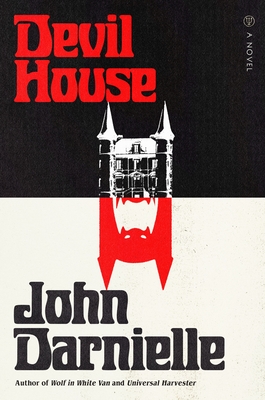 Staff Reviews
---
To say I'm a longtime fan of novelist-songwriter John Darnielle is an understatement -- the half-joking fan meme "I Only Listen To The Mountain Goats" has applied to me quite literally for most of my adult life. Having greatly enjoyed his two previous books, I awaited this one with bated breath.
Devil House proves a hard novel to define, shifting between narrators, timeframes, and even levels of truthfulness within the story. It sometimes seems like a propulsive thriller (especially in those segments set in the story's past, which inch ever closer to bloody conclusions of which the reader is already aware); at other times, a somber meditation on inexplicable violence and its long shadows, a theme familiar from Darnielle's Wolf in White Van. Each section reads like a novella, sometimes seeming to connect only tenuously to the story's through-line. What's more, our main character, Gage, is a true crime writer, and most of the other point-of-view characters are his subjects: their segments are framed as Gage's reconstructions of their experiences. But these characters, their internal lives, and their shared setting (the Bay Area of 70s and 80s) are so vivid that the reader might find the dubious canonicity unimportant. (Barring an unexpected and utterly puzzling chapter at the center of the novel's chiasmus that has no obvious place within the established narrative.)
This complexity has led Devil House to be marketed as a puzzle-box story, but, when the true answers come out at the very, very end, they prove far simpler and sadder than you might expect.  In other words, this is not a fair-play mystery, and those seeking to solve it will be disappointed. As with Universal Harvester, the appearance of dark, enticing mystery belies a surprisingly straightforward tale of quotidian tragedy -- an anti-climax that somehow still leaves you reeling, a death-by-Occam's-razor.
Though it might initially seem to betray the reader-author covenant, with a little distance you will see that the late reveals refashion the book and its themes into something wholly unique and moving, something a more straightforward story or a more conventional mystery could never achieve. Instead of simply satisfying, it leaves the reader aching with empathy for characters they may have never really known.
— Graham
Sometimes, Darnielle gives us flashes of page-turning dread; at others, somber meditation on violence's long shadows. Shifting between narrators, timeframes, and even levels of canoncity, Devil House seems at first like a dark, enticing puzzle-box, but its mysteries belies a surprisingly straightforward tale of quotidian tragedy, ending with an anti-climax that somehow still leaves you reeling, death-by-Occam's-razor.
— Graham
February 2022 Indie Next List
---
"John Darnielle interrogates the true crime genre's highest aspirations and basest instincts. Devil House is a gripping read that questions what the true costs of salacious stories are, and who pays them."
— Keith Mosman, Powell's Books, Portland, OR
Description
---
INSTANT NEW YORK TIMES BESTSELLER

"It's never quite the book you think it is. It's better." —Dwight Garner, The New York Times

From John Darnielle, the New York Times bestselling author and the singer-songwriter of the Mountain Goats, comes an epic, gripping novel about murder, truth, and the dangers of storytelling.

Gage Chandler is descended from kings. That's what his mother always told him. Years later, he is a true crime writer, with one grisly success—and a movie adaptation—to his name, along with a series of subsequent less notable efforts. But now he is being offered the chance for the big break: to move into the house where a pair of briefly notorious murders occurred, apparently the work of disaffected teens during the Satanic Panic of the 1980s. Chandler finds himself in Milpitas, California, a small town whose name rings a bell––his closest childhood friend lived there, once upon a time. He begins his research with diligence and enthusiasm, but soon the story leads him into a puzzle he never expected—back into his own work and what it means, back to the very core of what he does and who he is.

Devil House is John Darnielle's most ambitious work yet, a book that blurs the line between fact and fiction, that combines daring formal experimentation with a spellbinding tale of crime, writing, memory, and artistic obsession.
About the Author
---
John Darnielle's first novel, Wolf in White Van, was a New York Times bestseller, National Book Award nominee, and a finalist for the Los Angeles Times Book Prize for first fiction, and widely hailed as one of the best novels of the year. He is the writer, composer, guitarist, and vocalist for the band the Mountain Goats. He lives in Durham, North Carolina, with his wife and sons.
Praise For…
---
"Devil House is terrific: confident, creepy, a powerful and soulful page-turner. I had no idea where it was going, in the best possible sense...It's never quite the book you think it is. It's better." —Dwight Garner, The New York Times

"Suspenseful, brilliant and chaotically addicting, Devil House triumphs as a page-turning metafictional treatise on the power of narratives cloaked in the trappings of a certifiable true crime classic." —Zack Ruskin, San Francisco Chronicle

"Devil House has all the gross-out hallmarks of horror and true crime while also questioning the moral implications of the genres."—Los Angeles Times

"Devil House can be read as an indictment of the true crime genre, specifically of the way stories are concocted to explain often-unfathomable tragedies, and of how some stories take precedence over others regardless of their truth. . . this is a story about what can't be told because the nature of telling selects some truths while setting others aside."—Slate

"'What happens to the story; what happens to the teller; what happens to the people?' Darnielle renders this dilemma—and the bad-taste curiosity that compels people to read and write true crime despite reservations—with such depth and clarity that it feels like he's somehow culpable too. That's good fiction writing."—The A.V. Club

"Devil House is not a novel about karma or comeuppance. It is a portrait — sometimes direct, sometimes refracted — of a man realizing that his career, combined with his powerful imagination, has taken him far from his morals. In many such narratives, the career wins. Refreshingly, in Devil House, the morals do." —NPR

"While I expected bloody twists and turns, the kinds of twists and turns this novel threw at me were intoxicating. . . Crime-thriller hooks, emotional and philosophical reflection, and one of the most subtle and devastating endings I've ever read: Devil House is a novel I know I'll be returning to."—Jack Casella Brookins, Chicago Review of Books

"Darnielle has an affection for the dark side of pop culture and the way fans of supposedly gloom-and-doom genres like heavy metal and horror are more sophisticated than they get credit for. So this smart, twisty novel about true-crime books and the 1980s "Satanic panic" is a fine fit for him and his best so far...An impressively meta work that delivers the pleasures of true-crime while skewering it." —Kirkus Reviews, Starred Review

"This masterwork of suspense is as careful with its sharp takes as it is with the bread crumbs it slowly drops on the way to its stunning end. It operates perfectly on many levels, resulting in a must-read for true crime addicts and experimental fiction fans alike." —Publishers Weekly, Starred Review