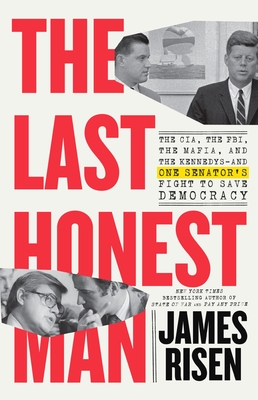 The Last Honest Man: The CIA, the FBI, the Mafia, and the Kennedys—and One Senator's Fight to Save Democracy
Publication Date:
May 9th, 2023
Publisher:
Little, Brown and Company
Next Chapter Booksellers
1 on hand, as of Dec 8 10:52pm
(History-US)
On Our Shelves Now
Description
AN INSTANT NEW YORK TIMES BESTSELLER
In this "gripping . . . spectacular piece of reporting" (Ken Burns), a Pulitzer Prize-winning journalist examines Senator Frank Church, the man at the center of numerous investigations into the abuses of power within the American government.
 
For decades now, America's national security state has grown ever bigger, ever more secretive and powerful, and ever more abusive. Only once did someone manage to put a stop to any of it.
Senator Frank Church of Idaho was an unlikely hero. He led congressional opposition to the Vietnam War and had become a scathing, radical critic of what he saw as American imperialism around the world. But he was still politically ambitious, privately yearning for acceptance from the foreign policy establishment that he hated and eager to run for president. Despite his flaws, Church would show historic strength in his greatest moment, when in the wake of Watergate he was suddenly tasked with investigating abuses of power in the intelligence community. The dark truths that Church exposed—from assassination plots by the CIA, to links between the Kennedy dynasty and the mafia, to the surveillance of civil rights activists by the NSA and FBI—would shake the nation to its core, and forever change the way that Americans thought about not only their government but also their ability to hold it accountable.
Drawing upon hundreds of interviews, thousands of pages of recently declassified documents, and reams of unpublished letters, notes, and memoirs, some of which remain sensitive today, Pulitzer Prize–winning reporter James Risen tells the gripping, untold story of truth and integrity standing against unchecked power—and winning—in The Last Honest Man.
Praise for The Last Honest Man: The CIA, the FBI, the Mafia, and the Kennedys—and One Senator's Fight to Save Democracy
"James Risen is one of our country's greatest investigative reporters, and Frank Church, the senator at the heart of this book, is an American icon—a man of supreme confidence, integrity, and wisdom. The dark truths he exposed about America's spy agencies are shocking even by today's standards. A gripping book, The Last Honest Man is a spectacular piece of reporting that reads like a spy novel with the eloquence of great history."—Ken Burns
"A detailed, impassioned and admiring biography."—The Wall Street Journal
"You might be aware that Marlene Dietrich slept with JFK, but did you know about Bing Crosby's role in a CIA plot to blackmail the president of Indonesia? James Risen's The Last Honest Man contains this and other volcanic gossip that might never have scorched the congressional record had it not been for the eponymous Sen. Frank Church… Church emerges in this readable, fast-paced biography as a politician of rare integrity…if you're there for the politicking and the scandals, The Last Honest Man crackles."—The Washington Post
"Vigorous… a welcome restoration of a largely forgotten politician who navigated issues that continue to reverberate."—Kirkus Reviews
"A book that takes us back to a time when intellect and integrity won out .... Not enough has been written about those moments in recent history when profiles in courage arose from the thicket of partisanship and abuse of power. James Risen has done just that by chronicling the inside story of Frank Church's successful effort to rein in agencies of national security that were out of control."—Bob Kustra, Idaho Statesman
"Church was that rarity among elected representatives: an ideologue fully prepared to sacrifice his career to a great cause… [The Last Honest Man] pairs the gripping pace of an espionage thriller with the intense research of a comprehensive and timely account of government oversight."—Booklist (starred review)
"Both paean and lament... The Last Honest Man is a gem, marbled with scoop, laden with interviews."—The Guardian
"The Last Honest Man is a vitally important, timely story about how our elected politicians—few of them perfect—can protect us from tyranny by insisting that presidents, spies, and generals follow the law. It is also a ripping good read: a Washington thriller that reliably sorts fact from myth about the Mafia, JFK, and the CIA, while re-investigating improbable episodes of a tumultuous era."—Steve Coll, Pulitzer Prize–winning author of Ghost Wars: The Secret History of the CIA, Afghanistan, and Bin Laden, from the Soviet Invasion to September 10, 2001 and Directorate S: The C.I.A. and America's Secret Wars in Afghanistan and Pakistan
"James Risen's engrossing book is more than a biography of a hugely significant senator, more than the resurrection of one of the most influential congressional committees of the 20th century, and more than a colorful tour of the CIA's assassination plots, mafia ties and outrageous mind control experiments. It's a vivid reminder that American democracy is always fragile."—Jonathan Alter, New York Times bestselling author of The Defining Moment: FDR's Hundred Days and the Triumph of Hope and His Very Best: Jimmy Carter, a Life
"This new biography of one of the Senate's most principled and effectual bulwarks against America's warfare state, by one of America's greatest investigative reporters, couldn't be more engrossing. And as we finally come up for air after a generation of disastrous war, it couldn't be more important."—Rick Perlstein, New York Times bestselling author of Nixonland: The Rise of a President and the Fracturing of America, The Invisible Bridge: The Fall of Nixon and the Rise of Reagan, and Reaganland: America's Right Turn 1976–1980
"The Last Honest Man is an urgent reminder about the power of telling the truth in a world increasingly filled with lies. We have never needed Frank Church—or James Risen—more."—Nicholas Pileggi, New York Times bestselling author of Wiseguy and Casino
"With The Last Honest Man, James Risen has proven himself to be not just one of America's greatest investigative reporters but also a great modern historian. And his cast of characters in this page-turner could not be any richer: from its protagonist, Senator Frank Church, one of the most consequential lawmakers of the 20th century, to Kennedy, Nixon, and J. Edgar Hoover and from Martin Luther King to mobster Sam Giancana to the CIA's notorious 'poisoner in chief,' the sinister Dr. Sidney Gottlieb. Above all else, Risen documents the outrageous abuses of government power that the Church Committee exposed, especially at the CIA and FBI—crimes, and disclosures, that continue to shape our world today."—Philip Shenon, New York Times bestselling author of A Cruel and Shocking Act: The Secret History of the Kennedy Assassination
"In a time when our entire American legislative apparatus has been swallowed whole into a gaping maw of partisan venality and metastasizing ignorance, it is astonishing to encounter a narrative in which a United States senator uses actual oversight of an actual, fundamental problem to make us a better nation. But once upon a time, Frank Church did precisely that. In The Last Honest Man, James Risen tells the tale with precision and insight."—David Simon, creator of The Wire
"A timely and long overdue reassessment of perhaps the most important congressional investigation of the last century, The Last Honest Man resurrects Frank Church and reveals his quest to expose and remedy the overreach of US intelligence agencies before 1975. This book should be required reading for any elected official seeking to pick up where Church & Co. left off nearly fifty years ago."—Tom O'Neill, author of Chaos: Charles Manson, the CIA, and the Secret History of the Sixties
"James Risen has at last brought us the richly reported biography that Frank Church, one of the most consequential senators of the 20th century, deserves. At a time when so many lawmakers are predictably partisan and deferential to the executive branch, Risen reminds us of another era: when a liberal could represent Idaho, a Democrat could challenge his own party's presidents, and a senator could assert Congress's role in national security."—Jonathan Martin, New York Times best-selling co-author of This Will Not Pass: Trump, Biden, and the Battle For America's Future