Good Poems for Hard Times (Paperback)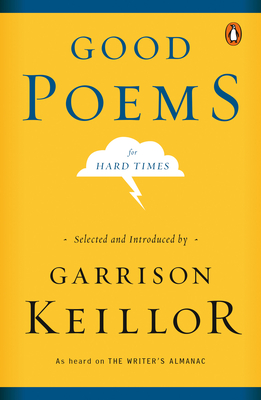 $20.00
Not in Our Store - Available to Order
Description
---
Chosen by Garison Keillor for his readings on public radio's The Writer's Almanac, the 185 poems in this follow-up to his acclaimed anthology Good Poems are perfect for our troubled times.

Here, readers will find solace in works that are bracing and courageous, organized into such resonant headings as "Such As It Is More or Less" and "Let It Spill." From William Shakespeare and Walt Whitman to R. S. Gwynn and Jennifer Michael Hecht, the voices gathered in this collection will be more than welcome to those who've been struck by bad news, who are burdened by stress, or who simply appreciate the power of good poetry.
About the Author
---
Garrison Keillor, author of nearly a dozen books, is founder and host of the acclaimed radio show A Prairie Home Companion and the daily program The Writer's Almanac. He is also a regular contributor to Time magazine.
Praise For…
---
Praise for Good Poems for Hard Times

"If I could choose only one book to give every inhabitant of post-Katrina New Orleans, it would be Garrison Keillor's remarkable and wide-ranging collection of Good Poems for Hard Times. What a lovely, consoling book, perfect reading for these days when everyone is struggling with something . . . the 185 poems in this collection do help." 
—The Times-Picayune (New Orleans)
 
"Irresistible."
—The Arizona Republic

"[Keillor's] taste is excellent. . . . [H]e knows good poetry."
—Booklist

"Those ready to whet their appetites would do well to start with Good Poems for Hard Times."
—The Cleveland Plain Dealer