Love Me (Paperback)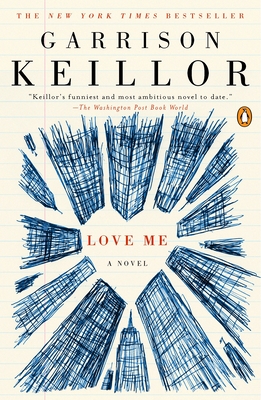 Description
---
In this charming departure from Lake Wobegon, bestselling author Garrison Keillor tells a hilarious and heartwarming tale of ambition, success and failure, and the virtues of real love. Aspiring writer Larry Wyler leads a quiet, decent life with his do-gooder wife, Iris, in St. Paul, Minnesota, but he wants more. When his literary debut becomes a hit, he departs for a Manhattan apartment, a job at the
New Yorker
, and three- martini lunches with the great editor, William Shawn.
But when his second novel bombs and he finds himself in the grip of writer's block, Wyler discovers that success—and the New York publishing scene—is a fickle mistress, indeed. Creatively barren, nearly destitute, and longing for Iris, he accepts a job writing "Ask Mr. Blue," a column doling out advice to the lovelorn. It may not be glamorous work, but through it Wyler discovers what's really important and sets out to win back the woman he left behind.


About the Author
---
Garrison Keillor, author of nearly a dozen books, is founder and host of the acclaimed radio show A Prairie Home Companion and the daily program The Writer's Almanac. He is also a regular contributor to Time magazine.
Praise For…
---
A very funny riff, an almost surreal spooling out of American idiom in the great tradition of James Thurber and S. J. Perelman. (The Boston Sunday Globe)

A droll literary spoof wrapped in a sweet love story . . . as wise as it is silly. (USA Today)