The First Phone Call from Heaven: A Novel (Mass Market)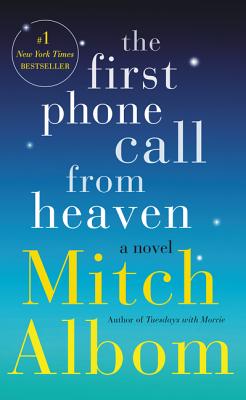 $8.99
Email or call for price
Description
---
From the beloved author of the #1 New York Times bestsellers Tuesdays with Morrie and The Five People You Meet in Heaven comes his most thrilling and magical novel yet—a page-turning mystery and a meditation on the power of human connection.
One morning in the small town of Coldwater, Michigan, the phones start ringing. The voices say they are calling from heaven. Is it the greatest miracle ever? Or some cruel hoax? As news of these strange calls spreads, outsiders flock to Coldwater to be a part of it.
At the same time, a disgraced pilot named Sully Harding returns to Coldwater from prison to discover his hometown gripped by "miracle fever." Even his young son carries a toy phone, hoping to hear from his mother in heaven.
As the calls increase, and proof of an afterlife begins to surface, the town—and the world—transforms. Only Sully, convinced there is nothing beyond this sad life, digs into the phenomenon, determined to disprove it for his child and his own broken heart.
Moving seamlessly between the invention of the telephone in 1876 and a world obsessed with the next level of communication, Mitch Albom takes readers on a breathtaking ride of frenzied hope.
The First Phone Call from Heaven is Albom at his best—a virtuosic story of love, history, and belief.
About the Author
---
Mitch Albom is the author of numerous books of fiction and nonfiction, which have collectively sold more than forty million copies in forty-seven languages worldwide. He has written seven number-one New York Times bestsellers – including Tuesdays with Morrie, the bestselling memoir of all time, which topped the list for four straight years – award-winning TV films, stage plays, screenplays, a nationally syndicated newspaper column, and a musical. Through his work at the Detroit Free Press, he was inducted into both the National Sports Media Association and Michigan Sports halls of fame and is the recipient of the 2010 Red Smith Award for lifetime achievement. After bestselling memoir Finding Chika and "Human Touch," the weekly serial written and published online in real-time to raise funds for pandemic relief, his latest work is a return to fiction with The Stranger in the Lifeboat (Harper, November 2021). He founded and oversees SAY Detroit, a consortium of nine different charitable operations in his hometown, including a nonprofit dessert shop and food product line to fund programs for Detroit's most underserved citizens. He also operates an orphanage in Port-Au-Prince, Haiti, which he visits monthly. He lives with his wife, Janine, in Michigan. Learn more at www.mitchalbom.com, www.saydetroit.org, and www.havefaithaiti.org.
Praise For…
---
"Albom has a nose for 'thin places': places where the boundary between secular and sacred is porous, and ultimate meaning is easier to encounter… This brisk, page-turner of a story [is] another winner from Albom." — Publishers Weekly
"A beautifully rendered tale of faith and redemption that makes us think, feel, and hope--and then doubt and then believe, as only Mitch Albom can make us do." — Garth Stein, New York Times bestselling author of The Art of Racing in the Rain
"Beautiful and smart. Perhaps the most stirring and transcendent heaven story since Field of Dreams." — Matthew Quick, New York Times bestselling author of The Silver Linings Playbook and The Good Luck of Right Now